Wanhua, Peak See Potential for Speed in 3D Printed, TPU Shoes
Wanhua Chemical Group Co. Ltd. wanted to get a running start on innovation at K 2019, using the show to introduce a 3D printed shoe with Chinese athletic footwear maker Peak Sports.
Weiqi Hua, executive vice president and chief technology officer. Wanhua Chemical Group Co. Ltd.and Peak Sports are collaborating on producing 3D printed shoes at K 2019. Plastics News photo by Marco Stepniak.
Wanhua, which is based in Yantai, China, is supplying three different grades of thermoplastic polyurethane as a solution for the footwear industry. The two companies said at a joint Oct. 17 news conference that they plan to expand on their collaboration.
The prototype shoe, dubbed "The Next," is entirely 3D printed with TPUs, allowing it to be both customizable and 100 percent recyclable. They touted that as an advancement in an industry where current manufacturing processes make it very difficult to recycle shoes.
Wanhua is displaying the futuristic-looking footwear at its booth at Düsseldorf.
For the chemical company, it's part of a strategy to get closer to end customers to try to better understand their markets and help speed development of new materials.
"We are trying to cultivate this cooperation and understanding for the downstream industries," said Weiqi Hua, Wanhua's executive vice president and chief technology officer.
Peak, which introduced what it called the first 3D printed basketball shoe in 2017 with NBA player Dwight Howard, said it sees the collaboration with Wanhua as a way to deepen its understanding of materials and manufacturing.
Kui Cai, design director for Peak Sports USA Design Center, said Peak initially saw 3D printing as a design tool, but it now sees it as a potential to have a bigger impact on the company's business.
"We believe through innovation, design and development of [the] manufacturing process, we can bring our design to the next level," Cai said. "We found Wanhua a very strong partner that is really good with materials and methods."
"It's just the beginning of our collaboration with Wanhua," he said at the Oct. 17 news conference. Peak is based in Quanzhou, China.
"Together with Wanhua Chemical, we breached the bottlenecks of the existing 3D printing material solutions and will bring global consumers a sneaker where the bulk of the materials are 3D printed [and] that is stylish, comfortable, customizable and recyclable," Cai said.
It's not an exclusive collaboration. Hua said Wanhua is interested in working on the 3D printed shoe material technology with other footwear makers.
He said Wanhua paid for the materials development for the project because it wanted to better understand the market.
Wanhua supplies three grades of 3D printable TPUs for the shoe: TPU filaments, TPU powders and TPU coatings and adhesives.
It said it optimized the TPUs to use fused deposition modeling technology to make the shoe uppers and selective laser sintering technology to make the midsoles.
Both technologies allow much more customization of shoes, a key feature for Peak in the development of the shoe market, Cai said.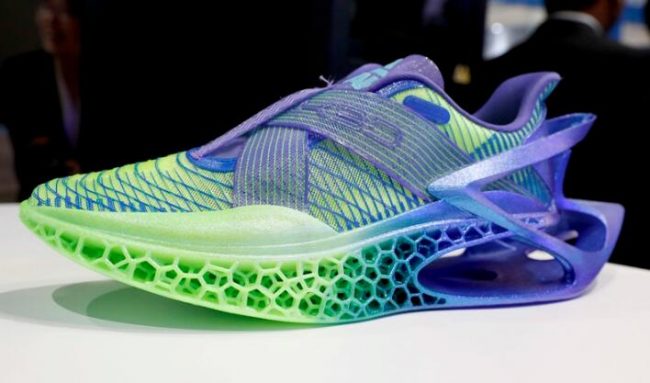 Peak Sports USA Design Center and material supplier Wanhua Chemical Group Co. Ltd. are collaborating on producing thermoplastic polyurethane 3D printed shoes at K 2019.Plastics News photo by Marco Stepniak
Wanhua said it believed that mass production of 3D printed shoes would be possible in China, with the development of the additive manufacturing industry in that country.
"Mass production, especially in China, is possible," Hua said. "There are a lot of 3D manufacturing centers. As well as the technology … Wanhua can offer a full spectrum materials solution."
Cai also said using entirely TPU materials will help Peak make shoes that are much more easily recyclable.
"The fashion industry and the sports industry is actually one of the most polluting industries," Cai said. "Every year we make a lot of shoes — 20 billion pairs of them — and because of the materials it is super difficult to recycle them."
The footwear designer admitted to the journalists and a crowd of showgoers who assembled to watch that he felt "super guilty" about this.
"I don't want my creations to make even more of a negative impact on our ecosystem," he said.
Wanhua suggested it sees significant market potential in the shoe market for 3D printing technology to begin to spread.
Five years ago, the wearable electronics market barely existed, but today Wanhua supplies a lot of materials to that industry, Hua said. 3D printing and footwear could be similar, he said.
"The shoe industry is very innovative, and it's very fashionable. It's a very driven industry," Hua said. "It's full of exciting stories."
Source: Plastics News