Voxel8 Announcing Series B Investment Round from DSM Venturing and HP Tech Ventures to Advance Multi-Material Digital Manufacturing
CAMBRIDGE, Mass. — Voxel8 announces that it has raised Series B funding. Led by DSM Venturing, the venture investment arm of DSM, the round includes participation from HP Tech Ventures and existing investors Braemar Energy Ventures and ARCH Venture Partners.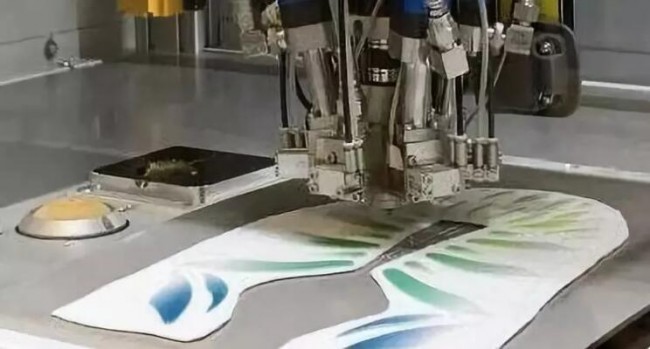 Image Courtesy: Voxel8
Voxel8 has created multi-material digital manufacturing technologies that are revolutionizing the design and production of footwear, apparel, and smart textiles. Co-founded in 2014 by Harvard University professor Dr. Jennifer Lewis, Voxel8 leverages more than a decade of research and 30+ patents on printing structural and functional materials.
Voxel8 has recently introduced their ActiveLab® Digital Fabrication System, a multi-material digital manufacturing system that enables product development, wear testing and production runs of
high-performance athletic footwear uppers and other textiles. This technology gives users the power to digitally design and fabricate shoe uppers and fundamentally transforms how footwear and athletic apparel is developed and produced. Benefits include dramatically shorter design cycle times, reduced manufacturing reorder lead times, and significantly reduced costs for labor, tooling, freight and tariffs. In addition, customers can design shoes and other textile products incorporating complex designs and structural features, with little or no incremental manufacturing costs. With lower costs, athletic footwear companies can establish manufacturing facilities closer to major end user markets, such as North America and Europe, responding rapidly to changing consumer demand.
"Our digital manufacturing systems are revolutionizing how footwear and athletic apparel is designed, manufactured, and sold to consumers across the globe. We are excited to work with this team of
world-class and experienced investors. Their global reach, expertise, and funding will accelerate the rapid adoption of Voxel8's technology for high-volume production of athletic footwear and apparel." — Travis Busbee, CEO and co-founder of Voxel8.
INVESTOR QUOTES
"Voxel8 is an excellent addition to our portfolio. Its multi-materials digital manufacturing platform is poised to dramatically impact the footwear and the sports apparel markets, strategic to DSM. We are excited to help Voxel8 become a leading innovation platform in these markets." — Pieter Wolters, Managing Director, DSM Venturing
"Voxel8 is uniquely differentiated as a leader in multi-material digital manufacturing, which we believe will meaningfully expand the realm of possibilities for digitally manufacturing a wide range of products. Within the athletic footwear market alone, over 2.5 billion pairs of athletic shoes are manufactured globally each year. Voxel8 is well-poised to capture substantial market share in athletic shoe upper manufacturing and, more broadly, medical and smart textiles." — Jiong Ma, Braemar Energy Ventures
"We believe Voxel8 is well positioned to have a profound impact on the way footwear, apparel, and other industries design and manufacture using textiles. We look forward to helping Voxel8 advance its goals for the digital transformation of those industries and beyond." — Robert Portilla, Partner at HP Tech Ventures "Voxel8 has made amazing progress since the first round of financing in 2015. We are confident to invest again in Voxel8 as the team pushes its game-changing ActiveLab® technology into multiple lines of busi- ness with huge market potential." — Clint Bybee, Arch Venture Partners.
Source: VOXEL8