voxeljet Expands its 3D Printing Materials Portfolio for Direct Parts from High Speed Sintering (HSS)
voxeljet AG  (the "Company", or "voxeljet"), a leading provider of high-speed, large-format 3D printers and on-demand parts services to industrial and commercial customers, today announced the launch of a number of new speciality materials for its High Speed Sintering line of 3D printers.
Dr. Ingo Ederer, Chief Executive Officer of voxeljet, commented: "We are really excited about the speed we see in the qualification of new materials for our High Speed Sintering (HSS) process. In less than nine months we were able to qualify various grades of Polyamide powders and are successfully printing several types of Thermoplastic Polyurethane. We are also working on some very customer specific materials including Polypropylene – which is one of the most widely used plastic materials in the world. Polypropylene features extremely interesting properties and addresses a broader set of applications. We are successfully printing PP on our smaller VX200 HSS systems and do expect a smooth transition to our larger and automated production system VJET XHSS, which we anticipate making commercially available at the end of 2019."
 R&D to Lead the Industry – Combining Advanced Materials and Industrial 3D Printing Technologies
Polypropylene is one of those most versatile polymers available with applications in virtually all of the plastics end-use markets. PP does not present stress-cracking problems and offers excellent electrical and chemical resistance at higher temperatures. Bumpers, cladding, and exterior trim are also available manufactured from polypropylene. Polypropylene developed for such applications provides low coefficient of linear thermal expansion and specific gravity, high chemical resistance and good weatherability, processability and impact/stiffness balance.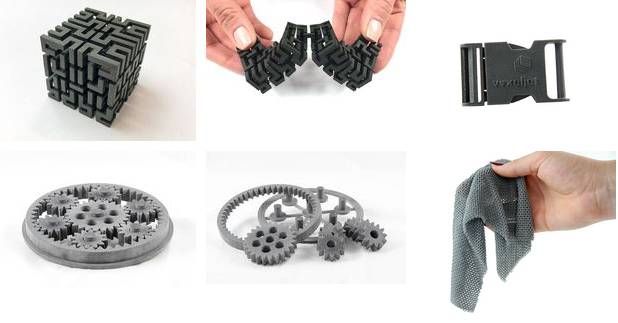 Potential Applications of Polypropylene
Automotive applications
Electrical/Electronic applications
Industrial applications
Consumer products
Household goods
Thermoplastic Polyurethane (TPU) is an elastomer that is fully thermoplastic. Like all thermoplastic elastomers, TPU is elastic and melt-processable and allows for the printing of ultra-flexible objects with very high levels of precision and resolution. But more so than any other thermoplastic elastomer, TPU can provide a considerable number of physical property combinations, making it an extremely flexible material adaptable to dozens of uses such as construction, automotive and footwear. This versatility results from the unique structure of TPU and leads to high resilience, good compression set, plus resistance to impacts, abrasions, tears, weather, and even hydrocarbons.
Potential Applications of Thermoplastic Polyurethane
Sporting goods
Industrial parts
Hydraulic seals and gaskets
"We believe these technology and material combinations have the potential to change our industries in the long-term. voxeljet has always been committed to bring the best innovations to our customers at every level and we are doing so in a powerful way," Dr. Ederer concluded.
Source: BusinessWire