Case l FMI Instrumed is Scaling for Growth
FMI Instrumed invests in GE Additive Arcam EBM and Concept Laser DMLM additive machines to meet the growing demand for spinal and other orthopedic implants
As populations grow older, and the number of surgeries increase, the orthopedic implants market is expected to grow significantly year on year.  For several years, FMI Instrumed – a contract manufacturer of choice for the global medical instruments and implant industries – has been expanding its additive manufacturing capabilities, in response to this increase in demand from its customers in the sector.
Already an early pioneer in additive and investing significantly in its own R&D and through partnerships since 2012, FMI Instrumed has been able to anticipate the adoption of additive in the medical device sector and plan its business strategy accordingly.
 The solution
Today, FMI Instrumed's machine portfolio strategy incorporates both electron beam melting (EBM) and direct metal laser melting (DMLM) technologies.
In 2016, FMI acquired its first Concept Laser M2 cusing Multilaser, followed by a second Concept Laser M2 machine in 2017, allowing for the commercial, serial production of titanium spinal implants to commence at its facility in Schiedam, north of Rotterdam, in the Netherlands. During this period FMI Instrumed acquired its first three Arcam EBM Q10plus machines, in cooperation with a strategic US-based partner, and manufactured 30,000 spinal implants at its other site in Tilburg.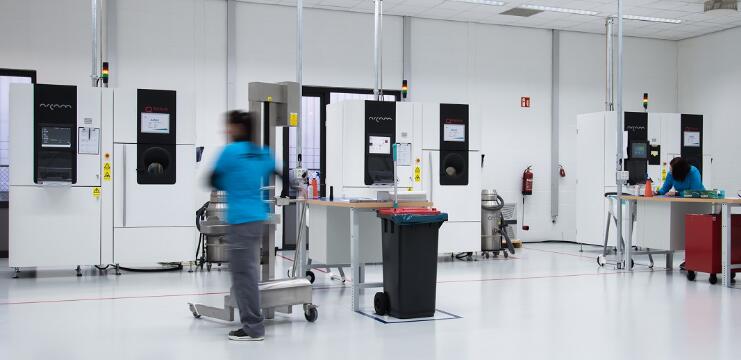 "We don't regard additive manufacturing as a standalone process, it forms an integral part of our entire production process," says Henk Jansen, managing director at FMI Instrumed.
For that reason, in both facilities all five additive machines sit alongside traditional CNC milling machines and other post-processing tools.  This 'all under one roof' strategy allows for a smooth process from powder to a fully-finished product.
"Having the knowledge and choice of both EBM and DMLM technologies at our disposal also means that we can remain flexible and define the most suitable approach for each existing and future customer," adds Jansen.
Once an implant has been additively manufactured, there are several processes from machining, cleaning and finishing to go through. In addition to machining capacity, it is also vital to have appropriate quality assurance processes and procedures in place.
FMI Instrumed is ISO 13485, ISO 9001 certified and FDA registered, and for compliance all the company's processes are validated, and all products manufactured are traceable.
 Outcomes
"Additive manufacturing allows us make things with and for our customers that we could not previously make before. Using titanium powder, we can manufacture implants with complex geometries and porous structures to encourage bone growth. That complexity and innovation cannot be achieved using traditional techniques, such as milling," continued Jansen.
FMI Instrumed continues to work closely with a wide range of customers in the medical industry to develop new, next generation products and solutions that address the orthopedic implants market, such as titanium cups for hip and knee implants.
For the longer term, the plan is to explore the potential for additive across the wider FMI group and how it might transfer the knowledge and expertise gained in the medical device sector to other industries.
Source: GE