Major Orthodontic Laboratory – NEO Chosed Carbon's Dental Solution
One of the largest family-owned orthodontics laboratories (lab) in the U.S., New England Orthodontic Laboratory (NEO Lab) recently selected Carbon's dental solution to produce a variety of 3D-printed orthodontics dental parts. Founded in 1976, NEO Lab operates from a 30,000-square-foot facility with 25 digital technicians. Driven by their mission to stand behind their high-quality products and do what is best for their customers, NEO Lab has built a strong reputation for delivering high-quality thermoformed orthodontics appliances to dentists.
A $3.4B market in 2016,¹ the global orthodontics supplies market is estimated to grow steadily to become a $5.9B market by 2023. Driven by the need to serve the growing demand of their orthodontics customers, NEO Lab was seeking to add a new printer to make 3D-printed thermoforming models and functional appliances such as expanders, retainers, and maintainers.
NEO Lab's existing staff quickly became productive on Carbon's dental solution, by fully leveraging the initial on-site training on software, materials, and hardware provided by the Carbon team. NEO Lab's staff also took advantage of follow-up resources, such as dedicated dental experts and Carbon Knowledge Academy classes. Within one week of printer installation, NEO Lab was already making the following parts using Carbon's Digital Light Synthesis™ (DLS) technology:
– Thermoforming models – Figure 1a
– Acrylic wire appliances (retainers and space expanders) – Figure 1b
– Full metal appliances that are laser welded together directly on the 3D-printed models (maintainers and space expanders) – Figure 1c
Powered by their first M Series printer, clearly-defined standard operating procedures, and 100% inclusive service and support, NEO Lab accelerated the Carbon solution, making more than 1,300 thermoforming models and functional appliances within the first month of installation. The process workflow adopted by NEO Lab for all their thermoforming models is highlighted in Figure 2.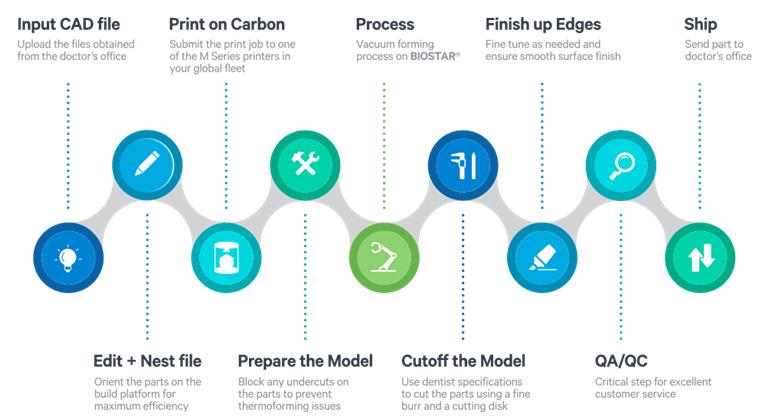 Reference:¹http://www.dentistrytoday.com/news/industrynews/item/2661-global-orthodontics-market-to-reach-5-9-billion-by-2023
Sources: Carbon