3D Systems' VSP Orthopaedics Receives FDA 510(k) Clearance — Opening the Door to Personalized Treatment of Complex Musculoskeletal Disease
3D Systems (DDD) announced that the Food and Drug Administration (FDA) has provided 510(k) clearance to its new VSP Orthopaedics solution — enabling surgeons to obtain a clear 3D visualization of a patient's anatomy and develop a personalized surgical plan, prior to entering the operating room. The expansion of 3D Systems' VSP service-based approach into the field of orthopaedic surgery builds on its VSP technology and anatomic modeling leadership – having helped with more than 120,000 unique patient cases in its 25 years of experience.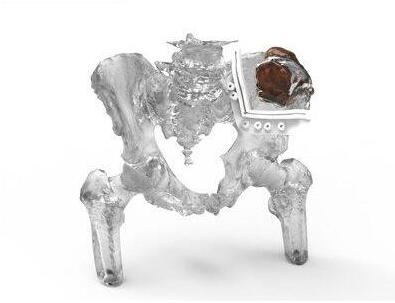 3D Systems' FDA cleared VSP Orthopaedics solution enables surgeons to obtain a clear 3D visualization of a patient's anatomy and develop a personalized surgical plan, prior to entering the operating room.
The new VSP Orthopaedics solution is available exclusively through Onkos Surgical's My3D™ Personalized Solutions Platform and enables surgeons to devise a precise plan for tumor resection that in some cases allows for the preservation of the native joint. Virtual surgical planning of the patient's 3D anatomy, allows the surgeon to essentially perform the surgery digitally before entering the operating room. Following the online planning session between 3D Systems' biomedical engineers and the surgeon, patient-specific models, personalized surgical tools, and instruments are designed and 3D printed for use within the sterile field. In clinical applications where VSP is used today, the solutions have been shown to improve surgical accuracy and outcomes — saving time in the operating room which benefits both the surgeon and the patient.1,2,3 3D Systems fully expects that VSP Orthopaedics will deliver the same benefits to Orthopaedic surgeons and patients.
"Throughout the years, the power and innovation of our VSP solutions has been demonstrated through improved patient outcomes in a variety of surgical specialties," said Radhika Krishnan, senior vice president, software & healthcare, 3D Systems. "Our 3D printing technologies combined with the renowned expertise of our biomedical engineers, in collaboration with surgeons, can have a positive impact on a patient's life — even before they ever enter the operating room. Based on the success we've seen with our personalized healthcare solutions in other surgical specialties, we are confident in the positive impact on patient care this technology will have for the orthopaedic community. The opportunity to leverage our capabilities with Onkos' passion for providing differentiated solutions for oncologists will translate into meaningful innovation for musculoskeletal oncology surgeons and patients."
As a pioneer in the personalized medicine space, 3D Systems established VSP in 2012 as a service-based approach to personalized surgery, combining expertise in medical image processing, surgical planning, design, and 3D printing.
"As an early stage investor in Onkos, 3D Systems understands our passion for developing innovation," said Patrick Treacy, CEO, Onkos Surgical. "The VSP Orthopaedics System, which is available exclusively through our My3D Personalized Solutions platform is a great example of how we're harnessing the power of advanced surgical planning and personalization to create novel solutions that musculoskeletal patients deserve."
Source: PR Newswire