Frustum Releases Windows-based Version of GENERATE
Frustum, developer of generative design software GENERATE, has announced a new version of its flagship application. Previously accessible only via a browser-based interface, the new release of GENERATE is designed for Windows and is touted as an enterprise-grade version of the software.
Frustum GENERATE combines topology optimization and simulation algorithms to refine and lightweight mechanical parts. Unlike some topology optimization offerings, GENERATE creates manufacturable geometry that's ready for STL export. The core of GENERATE is Frustum's TrueSOLID volumetric geometry kernel, which is also licensed to Siemens and integrated within Solid Edge and NX.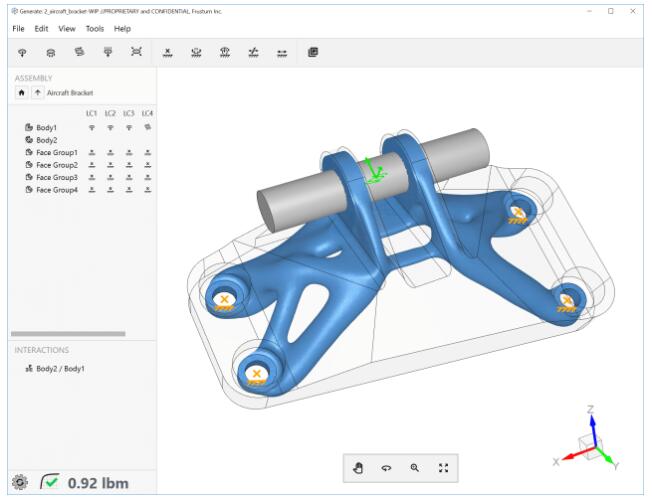 The new desktop version of GENERATE also introduces what Frustum is calling interactive generative design. In this paradigm, any changes to the model (such as material swaps, new load cases, or re-positioning a component) trigger an immediate update to the generative result.
Other features of the new Windows-based GENERATE include:
– Native CAD file import
– Real-time finite element analysis (FEA)
– Support for multiple loads and constraints
– Single and multi-body optimizations
– STL export with user-defined resolution
– Standard and user-defined material library
– Multi-threaded 64-bit architecture
– Optionally GPU enabled with NVIDIA
"With GENERATE, designers and engineers can interactively specify the functional requirements of their design, and the design will automatically be modeled to meet those requirements," said Frustum CEO Jesse Coors-Blankenship. "The design output is functional and does not have to be remodeled in CAD. We developed GENERATE on a multi-threaded architecture that was built from the ground up to deliver faster design output by leveraging both CPU and GPU computing optionally. GENERATE will redefine how manufacturers get products to market, reduce materials costs and improve the overall performance of products."
The new release will complement the browser-based version of GENERATE, which will continue to be limited in functionality. No details have been released concerning if or how the Windows-based GENERATE will affect Frustum's licensing model. Currently, "Free" users can operate the online platform in an extremely limited capacity, while "Professional" users pay $100/month to get the full experience of the software: on-demand cloud credits, unlimited projects and, most importantly, the option to download their designs. "Enterprise" users receive the additional options of on-premise computing, self-managed encryption, Amazon Web Services (AWS) GovCloud and unlimited cloud credits.
Source: Engineering.com