Functional Electronics Through Concurrent Multi-material 3D Printing for Aerospace Industry
Currently, there are several big players specializing in aerospace additive manufacturing, leading the charge towards better materials, designs and features. However, in a field where outer space is the limit for innovation and discovery, many opportunities remain unexplored.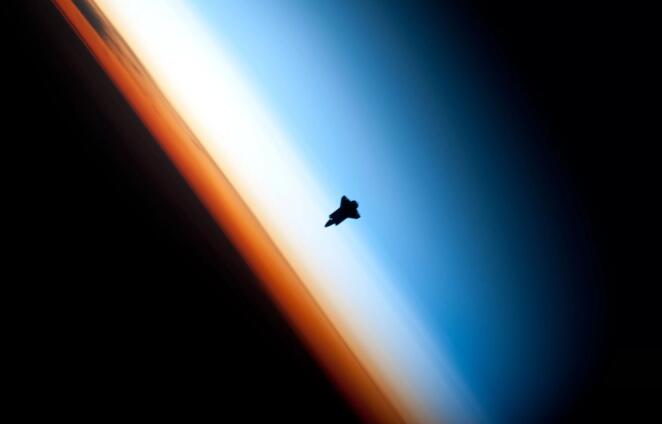 A space shuttle silhouetted against Earth's horizon. Credit: NASA/Crew of Expedition 22, Wikimedia Commons.
Nano Dimension offers aerospace firms capabilities to produce functional electronics through concurrent multi-material 3D printing. This type of printing offers several unique benefits:
 Rapid PCB Fabrication
All modern aerospace crafts are heavily dependent on electronic systems for vital operations such as fly-by-wire mechanisms, radar, cockpit displays and flight computers.
PCBs are an essential mainstay of such systems. Improving the performance of critical PCB components can improve flight performance of air and spacecrafts, while the harsh environmental conditions some PCBs face in flight means that there is no room for design flaws. Furthermore, in combat theatres, such as on an aircraft carrier, there is also the need to quickly produce new "limp-home" PCBs near the point of need so that aircraft systems remain serviceable.
Given these circumstances, there are few other situations where rapid PCB prototyping and fabrication is more critical.
Nano Dimension's flagship DragonFly Pro 3D Printer aces at addressing these challenges by offering unprecedented flexibility, security, and speed for rapid PCB fabrication. With a complete suite of dedicated software, award-winning inks and the DragonFly Pro printer that concurrently prints both conductive and dielectric inks for each PCB layer, fabrication and prototyping can be done securely and reliably in-house while taking no more than a day for many parts.
The benefits are immediately obvious when compared to a traditional workflow, where the PCB designs are outsourced for printing – entailing significant transport costs and weeks-long holdups while exposing the designs to intellectual property breaches.
 Molded Interconnect Devices (MIDs)
In its typical form, a MID is a 3D dielectric exoskeleton with electrical and mechanical functions combined in one component. Such a design can translate to dramatic improvements in size, shape or miniaturization of parts, all key in a rapidly changing aviation sector.
Using the DragonFly Pro to print MIDs has several benefits over both traditional structures and subtractive MID manufacturing methods.
First, the duration of each prototype iteration can be reduced from several weeks to about a day.
Second, the DragonFly Pro solves the traditional constraint of only being able to place electrically conductive traces on external surfaces of MIDs. With concurrent, multi-ink printing, conductive traces can be printed into the dielectric exoskeleton to enable further miniaturization and design customization, especially if electrical components such as resistors and quad-flat no-leads (QFNs) are embedded within the MID.
These specific advantages, coupled with time, cost and security improvements, positions the DragonFly Pro 3D Printer well to be a centerpiece of any aerospace manufacturing and R&D team.
 Endless Design Possibilities
Apart from producing existing designs with greater efficiency and security, Nano Dimension's DragonFly Pro 3D Printer is also an important catalyst for creativity and innovation.
With the level of flexibility the DragonFly Pro offers in printing non-planar electronics and multi-layer PCBs, designers can print almost any functional electronic structures they can invent. Novel electronic elements, such as coils, antennas, electromagnets and flexible components, can also be included within the design and printed with minimal pauses for manual component placements.
This improves the likelihood of R&D teams realizing more breakthroughs and disruptive technologies, rather than making piecemeal improvements on existing products.
Source: Nano Dimension