AMotion Center Installs New DMP Factory 500 Metal 3D Printer
The AMotion Center (GF Additive Novazzano S.R.L.), part of the GF group which also includes GF Machining Solutions, made an investment in the millions and has added a new DMP Factory 500 of the latest generation to its metal 3D printer fleet in the Stabio (Switzerland) facility.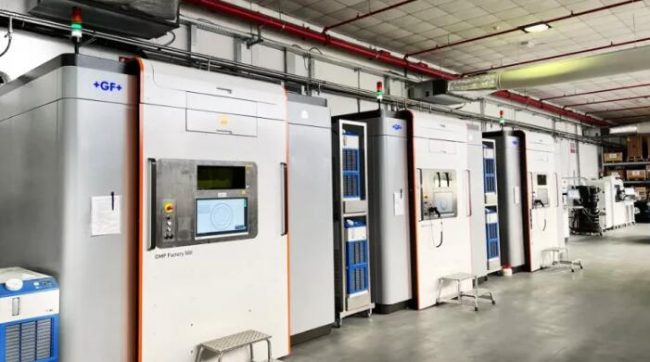 DMP Factory 500
In order to extend its production capacity in metal 3D printing due to increased customer demand, the AMotion Center in Stabio has acquired a state-of-the-art DMP Factory 500 manufacturing system. With this capacity expansion, the AMotion Center is now able to process Inconel 625 in addition to alloys such as Alloy X, Inconel 718. The machine has a printing volume of 500 x 500 x 500 mm and has been developed by GF Machining Solutions in cooperation with 3D Systems.
AMotion Center installs new DMP Factory 500 metal 3D printer expanding capacity for series production in metal 3D printing at Stabio facility
3D Systems' DMP Factory 500 solution
Inconel 625 (IN625) is a nickel-based superalloy used in products for high-temperature applications. IN625 has high strength and corrosion resistance at high temperatures, making it ideal for applications in the motorsport, aerospace and energy sectors to withstand the high requirements and stresses. In addition, the AMotion Center is one of the first manufacturers in the world to process this alloy in a printing space of 500 x 500 x 500mm for prototype and series production.
The AMotion Center is part of GF Casting Solutions and specializes in the series production of complex components made of superalloys using the 3D printing process. Especially for (small) series for aerospace, industrial gas turbines and motorsports, the AMotion Center's team of professionals can rely on many years of expertise and synergies with the precision casting process. From prototypes to series production including machining to ready-to-install solutions, the AMotion Center offers everything in compliance to the high NADCAP quality standards.
Source: 3D Printing Media
For press release, welcome to send to 3D Science Valley at 2509957133@qq.com