3D Systems & Saremco Dental AG Enter Strategic Partnership to Advance Digital Dentistry
February 21, 2022, 3D Systems (NYSE:DDD) and Saremco Dental AG announced a strategic partnership to accelerate innovation in digital dentistry. This effort brings together the power of 3D Systems' industry-leading NextDent® digital dentistry solution with Saremco's materials science expertise – enabling dental laboratories and clinics to address a variety of indications with unparalleled accuracy, repeatability, productivity, and lower total cost. To facilitate these capabilities, the companies are also announcing the immediate availability of CROWNTEC™ material to be used with 3D Systems' award-winning NextDent 5100 dental 3D printer and industry-leading software for the production of patient-specific permanent crowns.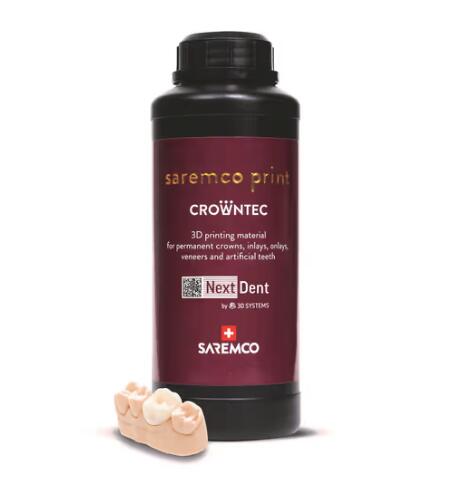 Employing CROWNTEC as part of the NextDent digital dentistry solution enables production of permanent crowns that are 30% stronger than those produced using previous generations of C&B materials while reducing material waste.
CROWNTEC is recognized as a new generation of composite resin that can be used to additively manufacture biocompatible permanent restorations including crowns, inlays, onlays, veneers, and artificial teeth for dentures. This CE-marked Class IIa material, which also recently received 510(k) clearance is offered in a variety of shades to match the patient's teeth for a natural-looking aesthetic. It does not contain any volatile organic compounds thus contributing to CROWNTEC's excellent biocompatible properties. Employing CROWNTEC as part of the NextDent digital dentistry solution enables dental laboratories and clinics to produce these dental devices that are 30% stronger than those produced using previous generations of crown & bridge (C&B) materials while reducing material waste.
"Our goal is to enable dental professionals to become more efficient and by doing so, ultimately improve patient outcomes," said Stef Vanneste, vice president and general manager, dental, 3D Systems. "3D Systems has established itself as the leader in digital dentistry solutions which includes our extensive portfolio of NextDent materials. As we innovate to meet our customers' application needs, this strategic partnership plays a key role in helping to enhance our materials portfolio. In Saremco, we found a partner that not only shares our values and beliefs in regard to innovation but also possesses expertise in digital dentistry. Their CROWNTEC material is a strong complement to our NextDent material portfolio, and is yet another step in helping dental professionals improve patient outcomes."
"The pursuit of continuous innovation is our primary focus," said Franca Schmid, owner and chief executive officer, Saremco Dental. "For over 30 years, we have specialized in the development of light-curing resins for restorative dentistry. In recent years, we have been able to transfer our extensive know-how in the field of light curing to 3D printing technology and successfully develop it further. Especially with CROWNTEC's superior physical properties, and wide range of indications we reached a new milestone. We are therefore particularly pleased about the strategic cooperation with 3D Systems, a partner with strong sales and innovation capacities. Furthermore, 3D Systems offers the entire digital workflow and thus excellently complements our resin-focused orientation."
CROWNTEC is available to 3D Systems' NextDent digital dentistry solution customers in the United States, European Union, and select other markets (depending on regulatory approvals) in five shades including CROWNTEC, SW (bleach-color), B1, A1, A2, and A3. CROWNTEC complements 3D Systems' materials portfolio of 30 unique NextDent resins – the largest number available from any dental 3D printing material supplier. The portfolio includes NextDent C&B Micro Filled Hybrid (MFH) – a biocompatible Class IIa material developed for creating provisional crowns, bridges, and artificial teeth. With the addition of CROWNTEC, dental laboratories and clinics now have access to an ideal aesthetic solution for these indications, with the advantage of being able to produce permanent crowns.
Source: 3D Systems
For press release, welcome to send to 3D Science Valley at 2509957133@qq.com