Stratasys Announces Multiple Products for Enhanced Rapid Prototyping at TCT Show
Stratasys released two new materials for its J750 3D printing system at TCT Show.
Following the announcement of an eyewear-specific material , Stratasys has introduced Agilus 30, a rubber-like material, and Digital ABS Plus, an engineering-grade material.
With these two materials, Stratasys is confident the range of applications that manufacturers can 3D print has been further expanded. The company has outlined Agilus 30 as an ideal option for prototyping, allowing for advanced design and functional performance testing. It is said to be able to withstand flexing and bending and also offers improved surface texture and a more rubber-like feel.
"The Agilus has been tested by companies ranging from high end automotive companies, companies that manufacture gas and water pumps, so they're printing the membranes, gaskets and seals," John Jones, Stratasys EMEA Materials Business Manager, told TCT. "There has been usage as well in F1, because of the tear resistance improvement as a digital material. It's going to meet the needs of many industries."
"We are using the new Agilus30 rubber-like material on our Stratasys J750 3D printing solution to simulate the installation and performance of rubber-like parts in our high performance vehicles and support equipment," commented Neil Oately, Head of Design and Development, McLaren Racing in a Stratasys press release. "The superior tear resistance of the Agilus30 enables us to include highly flexible articulated interconnections within unit construction rigid mountings which we could not do previously."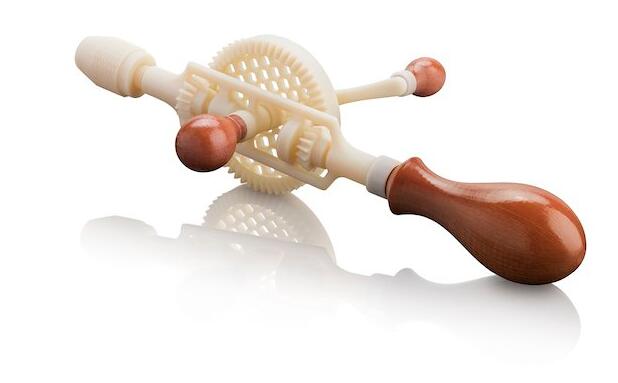 Working Hand Drill Prototype in Digital ABS Plus.Photo credit: Yoram Reshef.
Meanwhile, the Digital ABS Plus material will also allow users to manufacture better, more realistic prototypes. Stratasys emphasises the material's strength, which will enable the production of manufacturing tools, moulds, snap-fit parts for high or low temperature use, electrical parts and product casting. It stimulates a range of durable production plastics, including standard ABS, with an enhanced toughness and Izod Notched Impact (90 – 115J/m, 1.69 – 2.15 ft lb/inch).
"Adding these materials with advanced performance increases the system's overall versatility, enabling designers and engineers to more accurately evaluate the viability of their designs well before production," said Zehavit Reisin, Vice President for the Rapid Prototyping Solutions Business Unit, Stratasys.
Stratasys also announced the VeroFlex Rapid Prototyping Eyewear Solution at TCT Show, an attempt to enable a quicker entry to market for manufacturers.
It combines the company's J750 Multi-colour 3D printing system and VeroFlex, a new specially formulated 3D printing material. Offering both stiffness and flexibility, VeroFlex is ideal for the prototyping of eyewear products and the testing these components must endure prior to commercial release. These include drop tests, lens-mounting, stress tests and wearability tests. As per customer feedback, Stratasys suggests that the material could save more than a year in time during the development phase of a product.
"We're very pleased to share with the people the VeroFlex," Andy Middleton, President EMEA, Stratasys said. "Rapid prototyping has been around for [more than] 20 years, moving from unpredictable and poor quality to amazing quality. And now the whole industry is going into a much more vertical space – we are one of the companies pioneering going into those verticals, but on the VeroFlex side, we're getting into a very high value, niche market, by combining a rigid material with a certain level of flexibility, which gives it high strength.
"It's adored by our customers, and then being able to use it in colour, with surface textures, particularly as eyewear is a huge business. We selected it simply because of the versatility of the printer, the customisation required, turnaround time, and go-to-market pressure."
The VeroFlex material, available in cyan, magenta, yellow, white, black, and clear, also brings greater design freedom. Manufacturers can create and mix solid, opaque, transparent and colour shades in addition to simulating true-to-life textures such as wood grains, leather, stitching, bone, carbon-fibre, and photo-realistic images.
Source: TCT Magazine