Lego and Stanley Black and Decker Invest in Evolve Additive Solutions
Evolve Additive Solutions is a Minneapolis based 3D printing OEM who wants to make polymer 3D printing a manufacturing reality. Evolve is a Stratasys spin out that we wrote about before. Its STEP (Selective Thermoplastic Electrophotographic Process) 3D Printing process has significant claimed advantages over existing technologies. Just last week we gave you an update on Evolve and what the company is up to. Evolve claims that it can manufacture isotropic parts at a lower cost than traditional manufacturing with multimaterial capabilities as well as in full color. This is truly an everything but the kitchen sink startup that has been working on its technology for nine years. If their system performs on the factory floor as indicated it could be capable of making 3D printing a true manufacturing technology.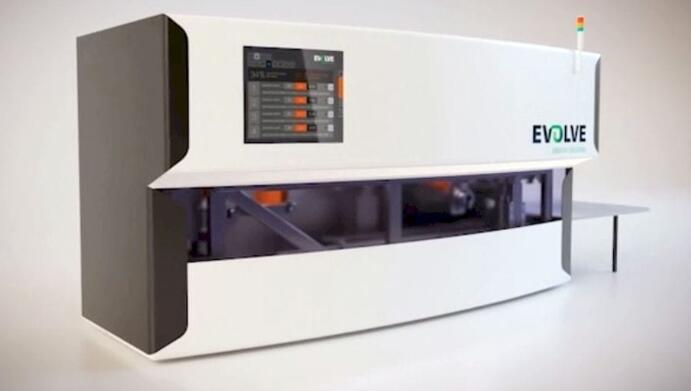 A staggering quote from a previous article of ours is:
"Current system specs include a 24 x 13 x 6 inch build envelope, working with ABS and soluble support materials to 600 dpi dimensional accuracy. Minimum feature size is at a 42 micron voxel size, with layer height of .001 to .003 inches and a 22 micron particle size.
A case study with Vistatek points to a notable improvement in using STEP to create a 2,000 part run of an ABS bracket, comparing results to injection molding. Stats provided from Vistatek's experience include:
Industrial Fiber Optic Manufacturer Injection Molding Stats
Mold Cost = $2,000
Time to Mold Creation: 2-8 weeks
Cycle time = 25 seconds per part
Cost Per Part = $2.64 (Part cost includes amortization of the mold)
Est. time to 2000 parts = 2-8 weeks
Evolve Stats
768 parts per build
3 hour build
Cycle time = 14 seconds per part
Cost Per part = $1.38
Est. time to 2000 parts = 1 day"
Truly some impressive claims by the company. Work in 3D printing long enough and you'll be jaded and more than a little cautious, however. The LEGO Brand Group and Stanley Black and Decker Ventures are already convinced. These two companies along with an undisclosed investor have invested $19M in Evolve. This investment will let the company further target the "Consumer, Automotive, Industrial and Medical" markets.
According to Per Hjuler, business development at the LEGO Brand Group"LEGO Brand Group has invested in Evolve because it is an attractive investment opportunity, which can benefit the LEGO brand. The LEGO Group has been using Additive Manufacturing technology for more than 20 years. Today, the company mainly employs the technology to create prototypes in the development of new products and we believe that the technology will become an even more important supplement to the current Injection Moulding capabilities in the future. With Evolve Additive Solutions we have found a very competent partner within this area,"
According to Tim Hatch Chief Technology Officer for Stanley Engineered Fasteners. The  LEGO Brand Group is the company that holds LEGO and other LEGO investments by the Kristiansen family in stewardship. This group is part of KIRKBI which is the family's investment vehicle owns stakes in cleaner ISS and vacuum cleaning company Nilfisk. LEGO itself, still 75% owned by the family has very deep experience in injection molding and with polymers. The company has made billions of ABS LEGO bricks and is a huge operator of injection molding and tooling. For the family group to then invest in Evolve is a huge plus for the company. The 19 million itself should greatly aid their development but the association with LEGO and Stanley should also open doors for them. Stanley using the technologies for its fasteners division where they have a lot of SKU, a lot of geometric variation and a lot of products to develop is also a huge plus.
Evolve certainly looks like it is gearing up to make a huge impact on the 3D Printing market. So far Carbon, Formlabs and Desktop Metal all have many millions more than Evolve. Evolve is focusing on many millions of $1 polymer parts, however. This gives existing polymer 3D printing companies such as Envisiontec time to entrench themselves in their niches at higher per part cost. While the previous generation of 3D printing companies focused on a few areas that were ideally suited to their technology such as Envisiontec's jewelry and hearing aid focus Evolve seems to want broad-spectrum markets in lower part costs and more variations of polymers.
Similar to HP's targeting of the metal market Evolve seems to want to manufacture value add polymer parts at scale. Meanwhile Desktop Metal seems to be focused on in the office and near office metal printing. Formlabs seems to want to rule the Pro desktop market in more technologies and then move to clustered manufacturing. Carbon wants to see Addidas succeed and then probably will roll out Polyurethane 3D printed parts for similar applications in anything from footwear to braces and seats.
EOS is doubling down on metal and polymers for high-value industries and Stratasys itself seems to want everything to above all stay the same while simultaneously making more manufacturing-like systems. Added into the mix are new well-funded companies such as Digital Alloys that seem to also target high volume markets. On top of that, we have other desktop firms which are moving up in pricing and capabilities. It does seem like we will have some convergence especially around the five by five by five centimeters, 1000 parts per day mark in engineering plastics. In this area one now has many options. Similarly, in relatively low density and performance metal parts we now see many options emerging also. We still see significant gaps in the market especially in build volumes larger than 40 by 40 by 40 CM and in the capability to print high-performance polymer materials such as PEEK.
For the industry as a whole smoothness, lack of automation and full color are still hindering adoption. Whereas the first three decades of 3D printing was a clubby affair of a few companies acting within their technology silo the last ten have been a pachinko parlor on RedBull crazed confusing mess of innovation and failure by many firms. Do we now see clarity through the haze? One dominant firm per application are and part type? Is that the future? Will EOS rule the polymer implant market while HP rules orthotics? GE does titanium implants and aviation picks depending on which material works best on which machine? Will your car companies all use FDM and crown one of a handful of vendors kings of that market? Is that the type of differentiation that we will see? We're entering yet another exciting time in 3D printing, here in the shadows of the evening news we're building the future of how all the things are made.
Source: 3dprint.com