Digital Is Changing The Economics Of Manufacturing
Digital manufacturing is rapidly changing the fundamentals of how products are developed, scaled and manufactured. By digitizing traditional manufacturing methods, including injection molding and CNC machining, and leveraging newer technologies, like 3-D printing, the industrial internet of things (IIoT) and artificial intelligence (AI), companies are optimizing their supply chains, reducing development cycles, increasing efficiencies, and driving down costs. The Fourth Industrial Revolution continues to gain traction and is completely changing the economics of manufacturing, for those willing to embrace the change that is.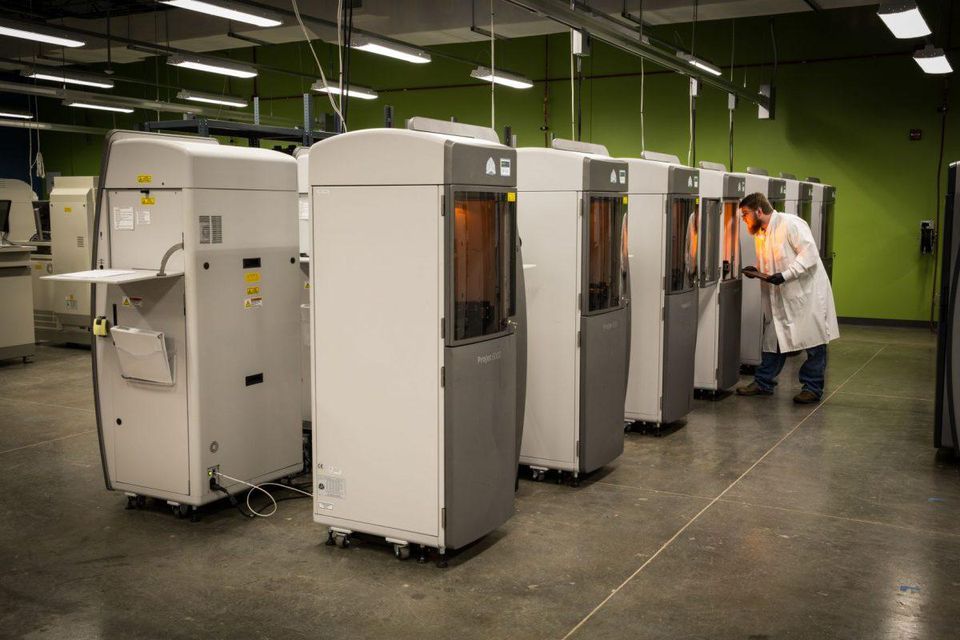 Digital manufacturing breaks down barriers from traditional methods and reduces risk in product development, enabling manufacturers to bring products to market faster, and more effectively than ever before.PROTOLABS
 It Makes Mass Customization Financially Viable
Empowered by connectivity and social networks, consumers are demanding more personalization than ever before. A Deloitte report noted half of consumers are interested in customized products and would be willing to pay more and wait longer if they could have an active role in design.
The move from mass production to mass customization has historically had high cost implications, but the balance is beginning to tilt. Digitization now offers opportunities for manufacturers to engage in automated customization in ways they could have never imagined. Flexible models, analytics, automation, and adaptive supply chains are opening new doors to personalized manufacturing.
Before they write it off as cost-prohibitive, manufacturers must consider the opportunities through a total cost of ownership approach. For example, while supply chain leaders have mainly focused on reducing the costs of components, each one of those components has its own inherent costs associated with tooling, front-end engineering and quality control. Digital manufacturing automates much of the front-end engineering associated with producing custom parts. Interactive design for manufacturability (DFM) tools offer an immediate analysis of part designs before they are manufactured, significantly reducing design risks (and potential rework costs) before production even begins. Digital manufacturing models also improve traceability throughout the manufacturing process via a digital thread that moves from 3-D CAD model to connected production floor to digital inspections and tracked shipping of final parts.
Combining these capabilities can significantly reduce tooling costs for specialty parts and low-volume production runs. It's changing the economics of customization and enabling manufacturers to tap new revenue streams that were previously unattainable. Now that the traditional barriers are falling, manufacturers can seek a competitive advantage by responding to consumer demands with more iterative development, shorter development cycles and more frequent innovation.
Digital manufacturing is also enabling manufacturers to bring products to market sooner, and do it in lower, limited runs much more economically than before. For example, medical startup Invoy Technologies was launching a brand-new weight-loss device to market, and with minimal demand predictability, did not want to commit to mass production right out of the gate. Instead, Invoy turned to digitally-enabled, low-volume injection molding, a cost-effective way to mitigate risk and bring brand new products to market sooner.
 It's Changing the Economics of Product Design and Manufacturing
Digital manufacturing is enabled by multiple manufacturing methods, but one area that has really grown has been industrial 3-D printing. Over the past decade, additive manufacturing technologies have really grown from hobbyist applications to industrial-grade equipment capable of producing engineering-grade, end-use components.
Many major OEMs have come to the table and are helping move additive beyond prototyping to actual production. GE has been rapidly expanding its additive manufacturing business with new applications for the oil and gas, medical, automotive and aerospace industries. HP is also using its own technology in its supply chain to reduce costs and boost speed to market for its Multi Jet Fusion printers. And last year, the FAA gave Boeing approval to use 3-D printed titanium parts in the construction of its 787 Dreamliner.
Additive manufacturing not only enables the creation of new products but is also influencing design. For example, if an engineer had complete design freedom for a heat exchanger, how might he or she design it to accomplish the cooling step and reduce overall costs for the manufactured product? Redesigning the interior channels to cool the air more effectively might enable them to make a smaller exchanger and reduce process and material costs. They might also look to 3-D printing to consolidate and reduce the number of components and individual processes involved in their creation. Therefore, the real benefit of additive is really in the design freedom and assembly reduction, which unlocks tremendous opportunities in designing what previously was just un-manufacturable.
It's Reducing Maintenance Costs and Downtime
Manufacturers know the uptime of their equipment is critical, but many continue to use a reactive run-to-failure approach. It not only creates unnecessary risk but leaves money on the table. A study by Infosys found while more than 80 percent of manufacturers realize machine learning can enhance maintenance, less than 20 percent have instituted any productive maintenance capabilities. In fact, many manufacturers are still relying on manual analysis and using outdated systems on Excel spreadsheets.
With today's capabilities, there's no reason to rely solely on time or use-based schedules and human-controlled checklists. Inexpensive, connected sensors can collect data, run it through complex algorithms and uncover trends and concerns unidentifiable to humans. This enables them to more accurately predict when a component of their manufacturing process will fail.
It can be difficult for some to break from old ways, but planned and anticipated maintenance activities are far more efficient than reactive maintenance due to unplanned problems. Capital investments in software as a service (SaaS) solutions and sensors are minimal when factoring in the reduction in production downtime.
The technology and opportunities are already here. Digital manufacturing can bring new opportunities, new markets, and new levels of efficiency and cost reduction never thought possible. But, one first has to be willing to adopt the new way of thinking that digital manufacturing requires.
Source:Forbes