FibreTuff Open New Facility to Produce the Medical Class 3D Printing Filament PAPC
FibreTuff Medical Biopolymers, a 3D printing biomaterial company based in Ohio, is opening a new facility to manufacture its own brand PAPC filament for medical application.
Innovative Plastics and Molding (IPM), Inc. has the exclusive rights with FibreTuff to produce the new material.The manufacturing of PAPC will begin later this month in company's new facility located in West Unity, Ohio.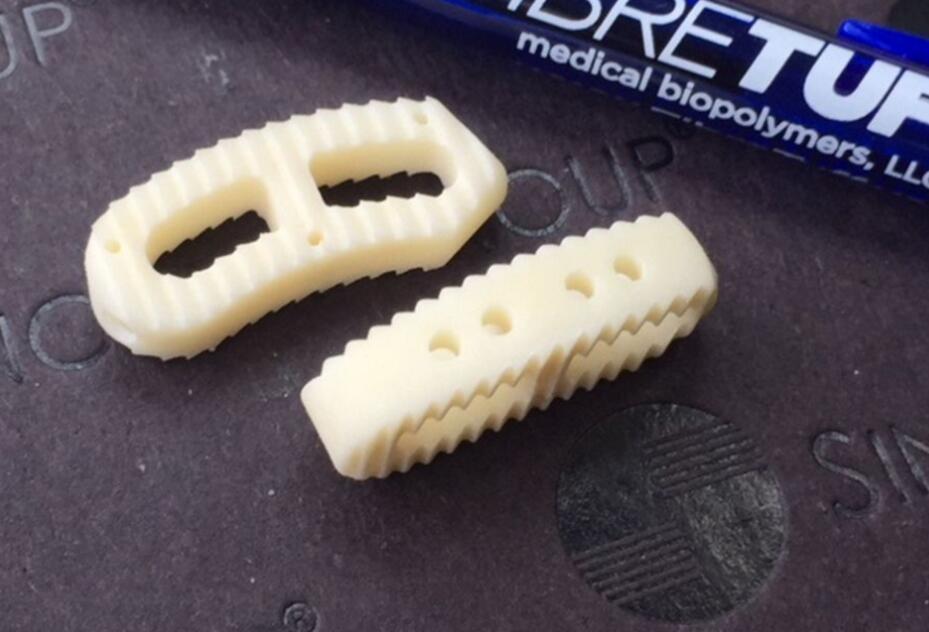 3D printed TLIF Lumbar spacer made from FibreTuff's PAPC. Photo via FibreTuff
FibreTuff PAPC is a compound of polyamide (PA), polyolefin, and cellulose. The 3D printing material will be used to make Class I, Class II and Class III medical devices.
FibreTuff also announced that over the next three years it will hire 20 more people to meet production demand.
 FiberTuff PAPC3D development
FibreTuff developed its PAPC filament in 2017, taking part in a project initiated by Ohio's Center of Innovative Food Technology (CIFT). The purpose of the $500,000 collaboration is to produce a new biomaterial compound to create Class I and Class II medical devices.
The other companies involved in this project are Whiteside Orthotic and Prosthetic Group, a rehabilitation center providing services in orthotics, prosthetics, and pedorthics, JuggerBot 3D, a 3D printing engineering and consulting company, and Valtronic Technologies, a producer of medical devices.
In April 2018, NAMAS, a medical auditing and regulatory body, performed its Class VI tests on FibreTuff's PAPC and certified it as suitable for use in implants that could stay inside the human body for 20 days.
 The benefits of PAPC
Medical devices and implants made from PAPC offer benefits over currently available materials used in medical industry, such as PLA and ABS. The Chief Operating Officer, Ted Wolkowski explained that PAPC devices can be detected by x-ray, as the material is radio-opaque. PAPC does not produce a foul odor during processing.
According to a report by Plastics Technology, the cost of medical devices and implants made with PAPC is nearly 30 percent less than small implants made from other filaments. Additionally, the material has absorbable qualities that make it easier to add medical coatings to the devices, i.e. loading an implant with medication for slow-release into the body.
Source:3D Printing Industry