Kurtz Ersa and LMI Enter into Cooperation in the Field of Additive Manufacturing
Kreuzwertheim / Aachen, September 16, 2020
Laser Melting Innovations GmbH & Co. KG (LMI) is a spin-off from the cradle of metallic 3D printing of the Aachen Center for Additive Manufacturing (ACAM), the leading institute of RWTH Aachen University. The LMI team has more than 20 years of experience in the field of additive manufacturing and has set out with the aim of giving small and medium-sized companies as well as vocational and universities access to the fascinating world of laser beam melting of metals at a low purchase price to enable. For this purpose, the development of the Alpha 140 printer began about three years ago. The market launch has meanwhile been successful, the first models have been delivered and are in production.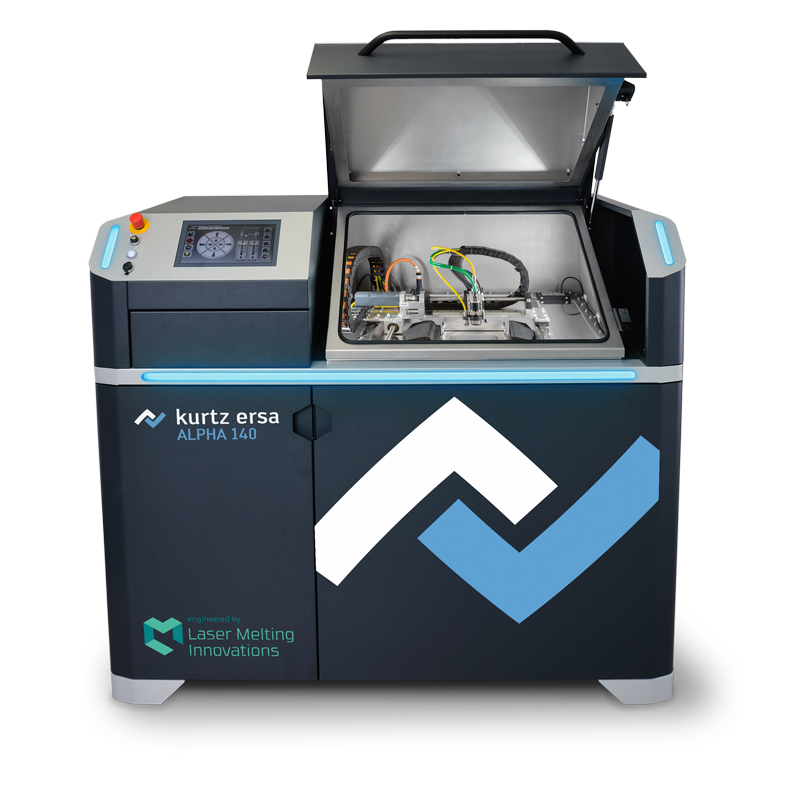 New product in the Kurtz Ersa portfolio: With the Alpha 140 from LMI, Kurtz Ersa is entering the field of metallic 3D printing.
Image Courtesy: Kurtz Ersa
As a family-run mechanical engineering and technology group with over 240 years of experience, Kurtz Ersa focuses on niche technologies and strives for global market leadership in each of the respective markets. The motto "tradition through diversification" has always ensured survival. Kurtz Ersa had been looking for an addition to the existing business fields for about a year. In the low-pressure die casting in particular, the group is feeling the effects of the upheavals in drive technology in the automotive market. "3D metal printing is an excellent addition to our relationships in the manufacturing scene," explains Rainer Kurtz, CEO of Kurtz Ersa.
New cooperation partners (from left to right). LMI: Dawid Ziebura, Sven Scheres, Steffen Stahlhacke, founder Prof. Dr.-Ing. Johannes Henrich Schleifenbaum & Kurtz Ersa: CEO Rainer Kurtz, Head of Technology Victor Romanov, Managing Director Uwe Rothaug.
Image Courtesy: Kurtz Ersa
The closed strategic cooperation between Kurtz Ersa and LMI is of enormous benefit for both sides. The Alpha 140 product is now being marketed through Kurtz Ersa's global sales network. A worldwide 24-hour service is also available. The numerous demo centers are gradually being equipped with machines of this technology.
The production of the Alpha 140 is taken over by the Kurtz GmbH machine shop in Kreuzwertheim. Uwe Rothaug, Managing Director of Kurtz Ersa, has made significant preparations for the cooperation and is looking forward to the addition of the product range: "The cooperation enables us to achieve a fantastically short time-to-market." For Kurtz Ersa, the process know-how is the LMI in the area of additive manufacturing is the key to entering the new business field. For LMI as a young technology company, the sales and service channels of Kurtz Ersa as well as the experience of the established mechanical engineering company offer the ideal complement to the roll-out of metallic 3D printing.
Source: Kurtz Ersa