Formnext: TRUMPF Brings the 3D Printer to Industrial Series Production
TRUMPF is opening up new areas of application with its 3D printers. "Falling component costs are increasingly bringing additive manufacturing (AM) on a par economically with conventional manufacturing. Our systems are ready for industrial series production," says Richard Bannmüller, President and CEO of TRUMPF Laser Technology Germany.
TRUMPF is already using 3D printing in series production for its own parts manufacturing. "The advantages of additive manufacturing outweigh all conventional manufacturing processes for some of our parts. For example, the TruPrint 3000 is crucial for us to use in-house," says Bannmüller. At the high-tech company, AM machines run with its own series components 24 hours a day, seven days a week. 3D printing experts at TRUMPF support other departments in identifying and developing AM applications and in production. Additively manufactured series components include lens holders and motor coolers for the lasers.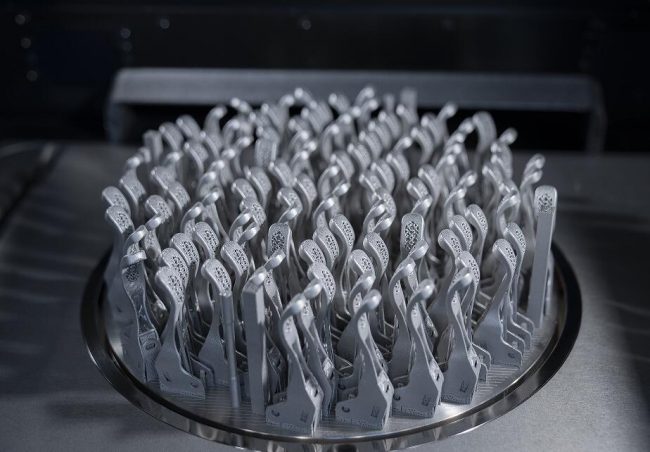 Bicycle parts from the 3D printer with TRUMPF equipment, users can also mass produce bicycle parts. (source: TRUMPF)

 Application possible in many industries
Additive manufacturing of series parts has now arrived in many industries. "Our customer Heraeus additively manufactures components for headphones, for example. However, there is still a lot of untapped potential in the industry, for example the series production of bicycle parts with metal printing. Series production of AM parts in the automotive industry is also conceivable," says Bannmüller. Designer engineers can completely rethink the design of components in additive manufacturing and print geometries that cannot be implemented in other ways, such as cavities. TRUMPF offers a wide range of qualification courses for this purpose.

 AM systems benefit from TRUMPF mechanical engineering expertise
TRUMPF brings decades of mechanical engineering and laser expertise to additive manufacturing. "Our robust systems deliver repeatable results, making them particularly suitable for industrial use. Our experience as a machine builder and laser specialist helps us here," says René Kreissl, Head of Additive Manufacturing business unit at TRUMPF. For example, the AM systems incorporate TRUMPF's own laser sources. TRUMPF is also pushing the automation of its machines. "Our AM systems can be integrated into partially automated production lines. Unlike our competitors, we have open systems in terms of software and powder," Kreissl says.

 Outlook for Formnext 2022
In terms of user industries, TRUMPF focuses on the dental sector, aerospace, medical technology, and tool and mold making. "We are the market leader in AM systems for the dental industry. We want to expand this position even further," says Kreissl. To that end, the high-tech company is launching the new TruPrint 1000, which will celebrate its world premiere at Formnext in Frankfurt. The system is three times as productive as its predecessor.
At the leading trade show for additive manufacturing, the high-tech company will also be presenting a new version of the TruPrint 5000, which will also be available with a green laser in the future. Users can also use it to print large copper components. TRUMPF has expanded its selection of powder alloys for its 3D printing systems. At Formnext, the high-tech company will showcase the potential of new titanium, aluminum, stainless steel and tool steel alloys for additive manufacturing. Users of TRUMPF equipment can thus always implement new applications using additive manufacturing or improve existing applications with new powders.
Source: TRUMPF
For press release, welcome to send to 3D Science Valley at 2509957133@qq.com