That New Pinarello Bolide Hour Record Bike Is 3D-Printed
With less than a week until Filippo Ganna's eagerly anticipated tilt at the Hour Record, Pinarello has unveiled the bike the Italian will ride. The Bolide F HR 3D is the same frame Dan Bigham set the current Hour Record aboard a little over a month ago and is, wait for it, 3D-printed. Pinarello claims the new frame is "the first and the fastest 3D-printed bike ever built" and designed specifically for Ganna's Hour Record bid.
Pinarello has a long history of pushing the envelope when it comes to aero bike frame design. First was the Espada for Miguel Indurain, then the Parigina for Italian 1996 Olympic champion Andrea Collinelli, and more recently with the original Bolide HR for Bradley Wiggins's successful Hour Record bid in 2015. Now the Italian brand has seemingly pushed that envelope further again, with a 3D-printed aero frame said to be the first of its kind.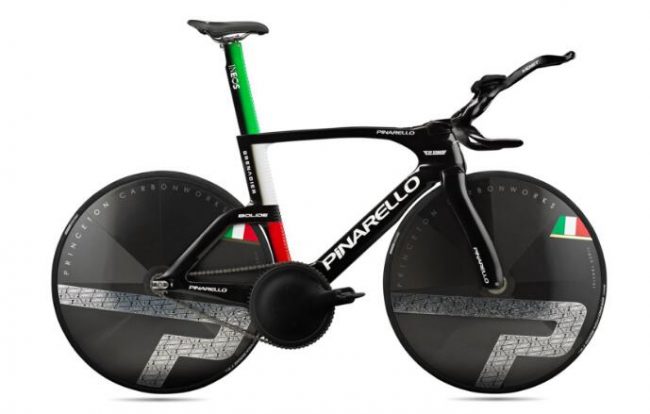 A new era
This is not Pinarello's first foray into 3D printing and the Hour Record. The Italian brand worked with English-based Metron Advanced Engineering to manufacture the handlebars used by Bradley Wiggins for his successful Hour back in 2015. Pinarello has once again partnered with Metron AE, headed up by Dimitris Katsanis, this time to 3D-print an entire frame, fork, and cockpit for the new Hour Record rig.
The new bike is printed using Scalmalloy, an aerospace material specifically designed for 3D printing. Metron is well familiar with Scalmalloy, having used the high-strength scandium-aluminium-magnesium alloy in its Mythos Elix 3D-printed stem announced back in May.
It'll come as no surprise that Pinarello identified aerodynamics as a key component in creating a new frame with the goal of breaking the UCI World Hour Record. Perhaps less obvious, Pinarello also identified both stiffness and comfort as key components of the perfect track bike, and that's where 3D printing comes in.
A press release from Pinarello on the new Bolide HR explains the brand's engineers set out to blend strength, stiffness, and comfort with aero gains. The goal was to create a package hitting these targets in a frame offering custom millimetre-perfect sizing. Existing carbon fibre manufacturing techniques simply couldn't deliver such a precise and innovative design, and so Pinarello turned to 3D printing.
The 3D-printed frame consists of five individually printed Scalmalloy parts, three in the front triangle with the seatstays and chainstays making up the remaining two parts. These individual parts are then bonded together using aerospace-grade epoxy.
If this makes the process sound relatively simple, it is not, as CyclingTips's Dave Rome explored in a recent episode of the Nerd Alert podcast dedicated to 3D-printing.
Trial and error is a common theme for enthusiast 3D printers, but a bicycle frame and a world record attempt leave no room for error. Having worked in cycling and with Pinarello for over a decade already, Metron has plenty of experience in 3D-printing cycling components. The two brands also sent an exact copy of the new bike to EFBE in Germany, a leading lab for mechanical testing of bicycles, e-bikes and components, for a range of fatigue, impact, and torsion tests to ensure there was no potential for error. The new Bolide HR passed said testing and is thought to be the first 3D-printed, fully rideable, UCI-compliant bike to pass ISO4210 standards.
Pinarello on the new Bolide F HR 3D said:"3D printing allowed us to introduce new shapes and features that are impossible to replicate with existing carbon fibre techniques.
The result of all this is a frame with unique aerodynamic shapes throughout, and stiffness levels simply described as "incredible" by Pinarello. Part of this stiffness no doubt comes from the internal reinforcement the 3D-printing process enabled Pinarello to build into the new head tube. Not only did 3D printing open design and stiffness doors, but it also meant the entire project could progress much quicker, unconstrained by the traditional time constraints of mould production for a carbon fibre frame.
"This is such a unique project; we believe it's the beginning of a new manufacturing era," said Federico Sbrissa, Pinarello's chief marketing officer. "The next step will be to make it more affordable by finding ways to scan riders with more affordable equipment and automatically design each unique bike. From a world champion, to every WorldTour rider, and eventually to each and every cyclist out there,"
Pinarello might have produced the first world record-ready 3D-printed frame, but don't expect to be printing frames in your shed just yet. Understandably, the choice of material and machines used is said to be crucial. As such, Metron opted for this Scalmalloy alloy, a large format EOS M400 printer, while high-stress areas such as the fork head and handlebar extensions are printed and reinforced with titanium (Ti6Al4V) on an Arcam EBM (electron beam melting) printer. Again, the bars are said to have passed an "enhanced test regime."

 Bringing the humpback
Manufacturing techniques aside, the new Bolide needs to be fast to achieve Pinarello's objective of reclaiming the Hour Record. Of course, while we are only hearing official details of the new bike today, we already know Pinarello has successfully achieved that Hour Record goal with Dan Bigham aboard the new Bolide F HR 3D for his successful ride in August. That bike was a major talking point following that ride, with Bigham careful not to give too much away on the Nerd Alert podcast soon after his record-breaking ride.

The new seatpost and seat tube were areas Bigham was particularly careful not to let any secrets slip. While he could neither confirm nor deny our suspicions at the time, including that the seat tube ridges could in fact double up as a cheese grater, Pinarello has today provided some insight into the claimed benefits of this striking design.
Pinarello points to the constant up and down motion of a rider's legs as a major component of the alternating airflow on the seat tube and seatpost. This alternating airflow is said to cause the airflow to separate from the seat tube, creating drag-increasing low-pressure zones around the seat tube. Pinarello points to a drag distribution chart it has published and suggests the difficulty the airflow has in truly attaching to the seat tube is partly why the combined drag of the seat tube and sea post is so high, at almost 40% of the total frame and fork drag.
So how do you solve for a draggy seat post? Pinarello says the answer lies with humpback whales, tight manoeuvres, and research at the University of Adelaide dating back to 2006. Humpback whales, despite their size, have a unique ability to perform very tight turns and spectacular jumps out of the water. Researchers in Adelaide found the humpback's tubercles (the protrusions on the front of their flippers) contribute significantly to this seemingly physics-defying ability by aiding the water in remaining attached to the whale's fins, tail, and flipper.
Sound familiar? It probably is. The same research led and technology was used to design Australian sprinter Matthew Glaetzer's track bike for the Rio Olympics in 2016, and Zipp first introduced a similar concept on its 454 NSW wheels in 2017, while Toronto-based wind turbine manufacturer Whalepower's take on humpback-inspired wind turbines is remarkably similar to that which Pinarello has used on the new seat tube design.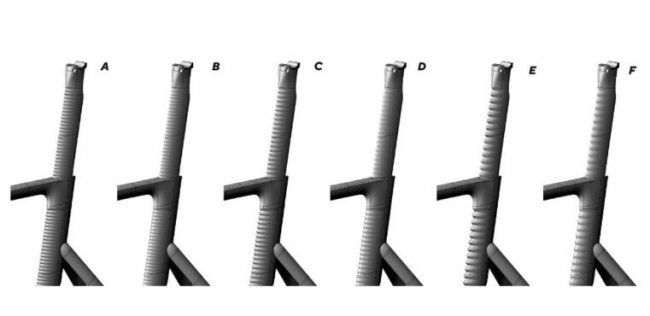 It was the researchers in Adelaide, though, who first investigated the benefits of using a sinusoidal hydrofoil design on a bicycle frame, patenting the design idea in 2016. The researchers observed the separated flow over the seat tube and found the tubercles-mimicking ridges in their design generated vortices in the troughs between the bumps on the seat tube, helping reduce this separation and hence the drag on the frame.
However, before we all rush out to smother our seat tubes in lengths of turbulator tape, Pinarello explains, "just putting a few bumps on the front of the seat tube is not enough to make anyone faster." To maximise the speed bumps' aero advantages, Pinarello turned to its aerodynamic R&D partner NablaFlow. Following "extensive" CFD analysis and wind tunnel testing with riders, Pinarello landed on its final unique pattern of "AeroNodes" said to take full advantage of the pioneering research conducted by the researchers in Adelaide.

 Handlebar
Throughout this season we have seen Filippo Ganna using peculiar-looking time trial aero extensions with an elbow-like kink in the riser section. We speculated on several occasions this was perhaps some form of wake-generating design, intended to create a low-pressure zone for Ganna's legs to whirl around in. With the announcement of the Bolide HR today, Pinarello has finally unveiled some of the details behind Ganna's bars, even if they haven't given any secrets away.
Pinarello was quick to point out that some components may in themselves be slower than alternative options, but it's a component's ability to reduce the drag on the overall bike and rider system that is ultimately most important. The new handlebars are one such component, designed specifically to reduce the overall system drag. As Pinarello explained, the "handlebar geometry was created to reduce the rider's drag more than the drag penalty imposed by its unconventional shape."

 Thank you, UCI
But it's not just humpback whales and 3D printers we have to thank for the new Bolide. Pinarello points to the new frame's reduced frontal area as a source of "substantial gains" and that's only possible thanks to the UCI's decision to remove the 3:1 aspect ratio in the recently relaxed frame design regulations. How narrow is the new frame? Well, Pinarello says the frame is just 54 mm wide at the bottom bracket, down from 70 mm. The wheel hubs are now just 69 mm (down from 100 mm) wide at the front and 89 mm (down from 120 mm) at the rear.
Of course, a narrower frame requires narrower wheels, and that's where Princeton Carbon Works comes in with that double-disc set-up Bigham spoke of on the Nerd Alert podcast. We have more details coming on the new track-specific disc wheels from Princeton but safe to say ultra-narrow front and rear disc wheels are fairly interesting in their own right.
Meanwhile, the removal of the 3:1 rule meant Pinarello could also make the tube profiles both deeper and thinner throughout the frame, with such tube profiles known to provide significant aero gains over tubes within the old 3:1 rule.
The narrow forks are also amongst the most striking aspects of the new design. Pinarello explored both narrow and wide fork and seatstay design options, before finally settling on the wheel-hugging setup we see today. While wide-set forks seen on the likes of the Hope-Lotus GB track bike are thought to offer significant gains, Pinarello's press release explained "the results were too unstable, and the potential gains were not consistent enough to adopt such a design."

 Peak aero?
As mentioned earlier, Pinarello partnered with Norwegian company NablaFlow for it's aerodynamic R&D. This partnership meant Pinarello could run its aero simulations and CFD analysis on NablaFlow's Aerocloud online software, an automated high-performance computing-based CFD analysis platform providing external aerodynamic simulations. Aerocloud is said to enable users to explore the aerodynamic properties of their designs in detail without the need for a professional consultant, reducing both development time and costs.
AeroCloud runs on AWS (Amazon Web Services), the preferred cloud solution for many F1 teams and the FIA for their CFD simulations, allowing Pinarello to run multiple configurations simultaneously. More simulations mean more iterations and testing, which in turn equals greater understanding and more marginal gains, all in less time. As a result the new bike could be refined and perfected right up until a matter of weeks or even days before Bigham's Hour Record. In the words of Pinarello: "Experience shows that you can arrive at a better overall result by doing a lot of carefully considered and reasonably accurate simulations rather than very few super-accurate ones."
Given that Pinarello has seemingly combined 3D printing, mother nature, advanced technology, and some of the best aero minds in the business, one could be forgiven for thinking the brand has finally landed on "peak aero." Well, apparently not. Pinarello explains that while they investigate and record the bike and rider's separate drag contributions, "in reality, the 'secret sauce' is how you add these parts together, how you prioritise them and how you decide what the next steps should be."
Despite working together for a decade already refining that "secret sauce" recipe, Pinarello and Metron claim the improvements are still coming, and suggest, "we are still nowhere near peak aero."
CFD and AWS aside, the proof is in the pudding. The new Bolide F HR 3D has a 100% record so far, with one new Hour Record from one public outing. It would take a brave person to bet against Filippo Ganna making it two from two on Saturday night.
If Ganna does pull it off, two Hour Records with two different riders in less than two months would surely prove a new high point in Pinarello's illustrious Hour Record history and the only validation required of the new bike's performance and aero ability.
Source: cyclingtips
For press release, welcome to send to 3D Science Valley at 2509957133@qq.com