USNC Licenses 3D Printing for Reactor Component Manufacture
The ORNL-developed process prints refractive materials – materials which are highly resistant to extreme heat and degradation – using binder jet printing as the additive manufacturing technique, combined with a ceramic production process called chemical vapour infiltration. UNSC's refractory material of choice for nuclear reactor core components is silicon carbide – which is resistant to high temperatures and is radiation tolerant, but is extremely time-intensive and expensive to machine into reactor parts with complex shapes. The new technology will allow USNC to make such components more efficiently.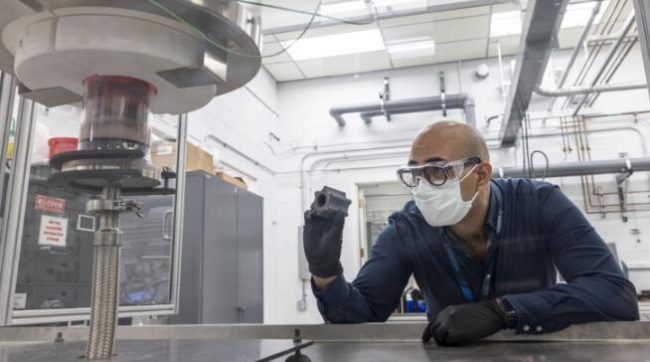 The technique can be used to print complex components (Image: Carlos Jones/ORNL, US Department of Energy)
"This technology is ideal for manufacturing structure and core components for USNC's advanced reactor designs," USNC Executive Vice President Kurt Terrani said. "This is the holy grail of additive, that you can do things faster, that are in geometries that were previously very difficult or impossible with conventional manufacturing methods," he added. Terrani is formerly technical director of ORNL's Transformational Challenge Reactor (TCR) programme, launched in 2019 with the aim of designing, manufacturing and operating a demonstration additively manufactured microreactor by 2023. The programme has since joined with two further initiatives to address the whole lifecycle of nuclear materials and related technologies.
"It's rewarding to see the transition from basic concept to a more mature technology that is actively being developed and deployed by our industry partners," said Jeremy Busby, director of ORNL's Nuclear Energy and Fuel Cycle division.
USNC plans to locate a new Pilot Fuel Manufacturing, or PFM, facility at the East Tennessee Technology Park in Oak Ridge, to take advantage of proximity to ORNL's expertise while scaling up production of specialty components for nuclear and industrial applications.
"Proximity to the lab and its world-class scientists and facilities allow us easy access to expertise in reactor core technologies and additive manufacturing, as well as the latest in radiation, fuels and materials research, all of which benefit USNC's commitment to bring safe, reliable and secure nuclear energy to world markets," USNC CEO Francesco Venneri said. USNC and ORNL also signed a Memorandum of Understanding in September on advanced nuclear fuel and reactor development activities.
USNC's Micro Modular Reactor (MMR) – a 15 MW thermal, 5 MW electrical high-temperature gas-cooled reactor – is currently undergoing licensing in Canada and the USA. Global First Power plans to build and operate an MMR unit at Chalk River Laboratories in Canada by 2026, and the University of Illinois at Urbana-Champaign has informed the US Nuclear Regulatory Commission that it intends to construct an MMR on its campus.
Source: wnn
For press release, welcome to send to 3D Science Valley at 2509957133@qq.com