Fraunhofer ILT Develops 3D Printed Sensetrain AI Sensor System for Train Maintenance
Researchers from the Fraunhofer Institute for Laser Technology (ILT) are developing a 3D printed sensor system capable of intelligently maintaining train components.
Working with industry partners and leveraging funding from the Federal Ministry for Economic Affairs and Energy, Fraunhofer ILT is developing SenseTrAIn – an artificial intelligence (AI)-powered sensor system that wirelessly and continuously monitors the condition of 3D printed components.
Promising applications for the sensor-integrated technology include train door mechanisms, primary and yaw dampers, and wheelset bearing caps. The ultimate goal for the AI-powered sensor system is for it to signal if, when, and where a replacement or repair is necessary.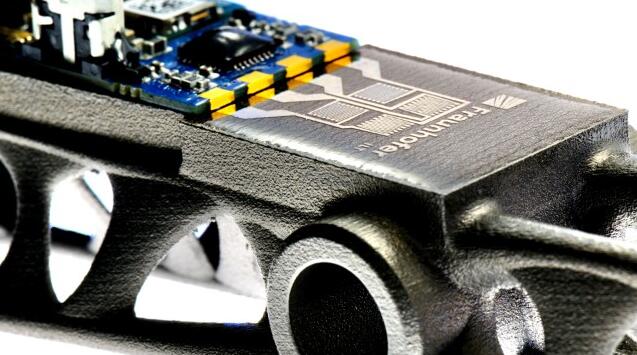 At Formnext 2021, Fraunhofer ILT will be demonstrating the possibilities of sensor integration using an LPBF-printed demonstrator with a printed measuring grid including conductors. Photo via Fraunhofer ILT.

 Monitoring rail parts with SenseTrAIn
SenseTrAIn is a method of efficiently and intelligently monitoring safety-relevant functions within railway engineering, such as train door and chassis components. The industry partners working alongside Fraunhofer ILT for the project include component-integrated sensor developer ME-Meßsysteme, prognostics system developer DATAbility, and transport software creator Vedisys.
The partners embarked upon the project in September, and will work on SenseTrAIn's development and optimization until 2024. The project is being carried out at DB Systemtechnik, Europe's largest competence center for railway technology, and hopes to set the course for intelligent maintenance of Europe's rail network.
Ultimately, the project hopes to develop a comprehensive method of wirelessly and continuously monitoring the condition of sensor-integrated 3D printed components, from sensor technology through to reporting in Deutsche Bahn AG's SAP system.
One such example of this could in future involve sensors in the chassis and doors of a train contacting the SAP system of Deutsche Bahn AG via 5G and reporting defects before they occur.
Defective rail components can cause delays in operations that inconvenience passengers, however replacing components that are still in working order at rigid maintenance intervals is neither ecological or economical. The SenseTrAIn project partners are hoping to address these issues with their novel AI-powered sensor-integrated technology.

AM brake caliper with integrated sensors for measuring braking force and temperature. Photo via Fraunhofer ILT.

 Sensor-integrated 3D printing
The project partners are leveraging laser powder bed fusion (LPBF) 3D printing technology to fabricate the sensor-embedded components. LPBF enables electronic components such as sensors and actuators to be integrated into metallic parts by pausing the printing process at particular points to build sensors into the part, before continuing.
Parts identified as potential applications for SenseTrAIN include door mechanisms, primary and yaw dampers, and wheelset bearing clamps, which seal off wheel bearing housings. Wheelset bearing caps are critical components from a maintenance perspective as increased loads can cause temperature rises and a greater risk of wear. Through SenseTrAIn, temperature and acceleration sensors integrated into the cover could detect hot runners and their causes at an early stage.
To ensure the project's success, the Fraunhofer researchers have identified the need for a large, valid database to optimize the AI-sensors combination. The ILT scientists are using the Trainlab of Deutsche Bahn Technik to test the new sensor technology under realistic everyday conditions. The information gathered from the tests will then be used to train the AI before the partners begin testing the system in everyday operation.
Fraunhofer ILT will be demonstrating the capabilities of their sensor integration technology at this month's Formnext trade fair. The team will showcase a 3D printed demonstrator with a printed measuring grid including conductors in order to illustrate the possibilities of SenseTrAIn for maintenance and monitoring.
Google's Jacquard device being held against a denim sleeve. Image via Stratasys.

 3D printing with sensors
3D printing is being increasingly leveraged by researchers and industry players to improve and optimize sensor-integrated applications.
One particularly popular application of this technology is wearable electronic sensors, such as Google's 'Jacquard' tag that can be attached to everyday items to give them motion-sensitive functionality. Google's ATAP division utilized Stratasys' PolyJet 3D printing technology to prototype the tags, which enable their wearers to control their mobile phones via certain gestures.
3D printing has also been leveraged to produce other wearable tech, such as piezoelectric-powered electronics, as well as sleep-monitoring 'smart beds', sensor-embedded drones and hydration sensors for remote crop monitoring.
Source: 3D Printing Industry
For press release, welcome to send to 3D Science Valley at 2509957133@qq.com