Nano Dimension Becomes Certified U.S. Department of Defense Vendor
NESS ZIONA, Israel, June 11, 2018– Nano Dimension Ltd., a leading additive electronics provider (Nasdaq, TASE: NNDM), today announced it has sold a DragonFly 2020 Pro 3D Printer to a U.S.-based, global top ten, defense company. The sale marks this customer's second purchase of a Nano Dimension 3D printed electronics system. The first system was installed as part of Nano Dimension's beta program in 2017.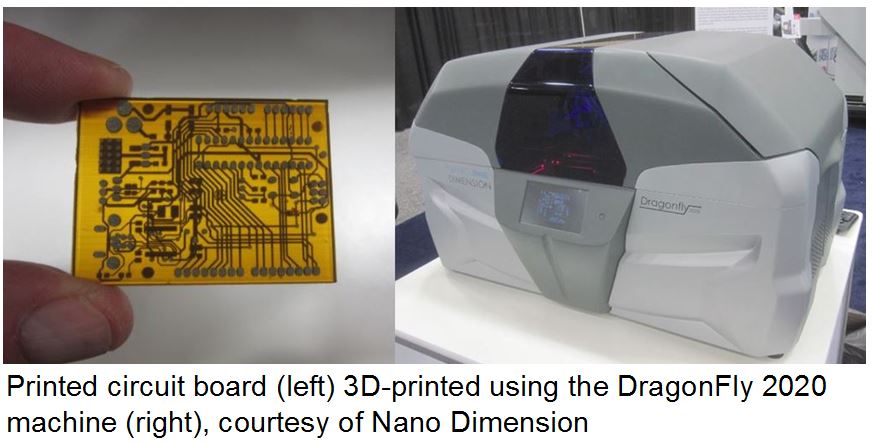 Nano Dimension also announced that its U.S. subsidiary has achieved United States Government Certified Vendor status, having received a Commercial and Government Entity (CAGE) Code from the United States Department of Defense's Defense Logistics Agency. CAGE codes are used extensively within and by the U.S. federal government.
As a registered and approved vendor, Nano Dimension is positioned to pursue and conduct business directly with the U.S. federal government and its many agencies, including the Department of Homeland Security and other United States Department of Defense entities. The defense sector is a key market for additive manufacturing technologies.
"Receiving a CAGE code is a critical step in affirming Nano Dimension's position in the United States. Now, as a recognized U.S. government additive manufacturing supplier for defense projects, our DragonFly 2020 Pro 3D printer may play a crucial role in projects such as keeping risks down and solving complex design challenges, while speeding the R&D process up significantly," said Amit Dror, CEO of Nano Dimension. "We also are pleased to expand our relationship with our existing customers, and open the door to more and more companies who will embrace our 3D printed electronics technology, materials and software, so they can benefit from significant time and cost savings over traditional prototyping processes, to meet rapidly changing demands from defense contractors."
The DragonFly 2020 Pro 3D printer transforms electronics development by enabling companies to reinvent their development processes as well as their products. The high-resolution system lets designers and engineers 3D-print metal and polymer simultaneously. This technology enables IP secure, in-house, manufacturing or prototyping of functional electronics such as sensors, antennas, molded interconnect devices, printed circuit boards and other innovative circuitry.
Resource: GLOBE NEWSWIRE