Authentise and Nebumind Awarded Prestigious EU Grant
Authentise (www.authentise.com), the leader in data-driven workflow tools for additive manufacturing, and nebumind (www.nebumind.com), the ground-breaking provider of visualization and analytics tools for manufacturing data, have been awarded a competitive grant by the European Union for their collaboration.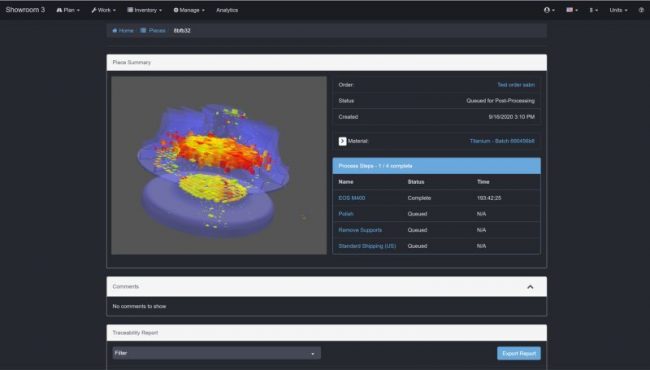 The collaboration, announced in November 2020, integrates nebumind's 'digital twin' visualizations, which fuses machine parameters and sensor data with the original part geometry, with Authentise's aMES data-driven workflow management. This reduces time to set up the visualizations by using data already present in aMES, and provides access to the digital twin from within the interfaces users already work in. This increases part-by-part analytics and thus reduces part processing time and costs. The insight generated will also contribute to automated quality reporting within aMES.
The collaboration is funded by European Union's Horizon 2020 research and innovation programme through Digifed, the Digital Innovation Hubs Federation For large scale adoption of digital technologies by European SMEs.
"This support is incredibly meaningful not only to our joint ability to execute as planned but to the market in general," says Caroline Albert, co-CEO at nebumind. "Enabling integration of digital solutions such as nebumind and Authentise in this way boosts the value to industrial customers who are already overwhelmed with a plethora of different tools and reduces the reliance on solutions sourced from single vendors. Manufacturers in general are playing catch up when it comes to digitization and these benefits make their adoption of the digital thread more likely, and the tools more powerful thanks to a more dynamic market."
"We're delighted to have been selected for this highly competitive programme by the European Union," says Andre Wegner, CEO of Authentise. "It not only speaks to the power of nebumind's digital twin visualization solution but also validates the Authentise approach. Unlike many larger companies, we explicitly don't want to build or own everything ourselves. We'd rather partner. It makes sense because there's still a lot of work to do, and these kinds of partnerships free us up to solve other challenges. It also makes sense for customers because they save time from no longer having to interact with multiple software solutions and are guaranteed cutting edge solutions by specialization and constant innovation. We're delighted that the EU has recognized this and is supporting this integration."
This project has received funding from the European Union's Horizon 2020 research and innovation programme under grant agreement No 761708.
Source:  Authentise
For press release, welcome to send to 3D Science Valley at 2509957133@qq.com