Domin INCEPSION Hydraulic Actuator Grant Approved
Domin are very proud to announce that they have been successful in securing NATEP funding to carry out an exciting and innovative project to revolutionise aerospace actuators, developing widely applicable technology and enabling a More Electric Aircraft architecture.
In this 12 month project Domin will work closely with collaborative partners at Cranfield University and develop a low profile, compact, electrically powered and signalled flight control actuator. Domin will aim to build on experience developing world-class direct drive servo valves, and combine with the design freedoms afforded by the use of Additive Manufacturing to create an integrated subsystem capable of operating at 5x the bandwidth of existing technologies, with half the weight and a 50% lower cost of ownership.
The project INCEPSION (integrated Compact Electrically Powered & Signalled Actuation Systems) will develop enabling technology for the flight systems of the future, drawing significantly less power than existing technologies and facilitating more sustainable flight. Domin will aim to exploit the technology in a number of other sectors, including mobile hydraulics, robotics, industrial applications and automotive.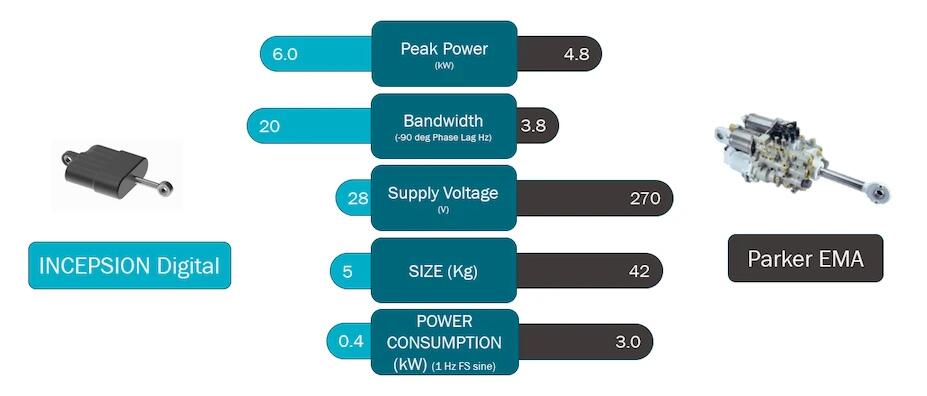 Comparison of Domin Technology vs current state of the art electro-mechanical benchmark, Image courtesy: Domin
The INCEPSION project is supported by the ATI Programme, a joint Government and industry investment to maintain and grow the UKs competitive position in civil aerospace design and manufacture. The programme, delivered through a partnership between the Aerospace Technology Institute (ATI), Department for Business, Energy & Industrial Strategy (BEIS) and Innovate UK, addresses technology, capability and supply chain challenges.
Source: Domin