Thermwood Introduces LSAM 1010 3D Printer with Enclosed Configuration
Indiana-based manufacturing company Thermwood has just unveiled a new version of its Large Scale Additive Manufacturing (LSAM) system: the LSAM 1010. The new system, a low-cost enclosed AM machine, was built to meet the needs of Thermwood's clients.
Last November, Thermwood introduced the LSAM MT, a lower-cost, moving-table version of its industrial LSAM system. Though the accessible large-scale system is suitable for many applications, Thermwood says many of its large customers asks the company for a similar system (in terms of size and cost) but with an enclosed machine configuration. The result is the LSAM 1010, a system that combines the gantry, control and sub-systems of the cost-friendly LSAM MT and the enclosed walls of the industrial-scale LSAM system.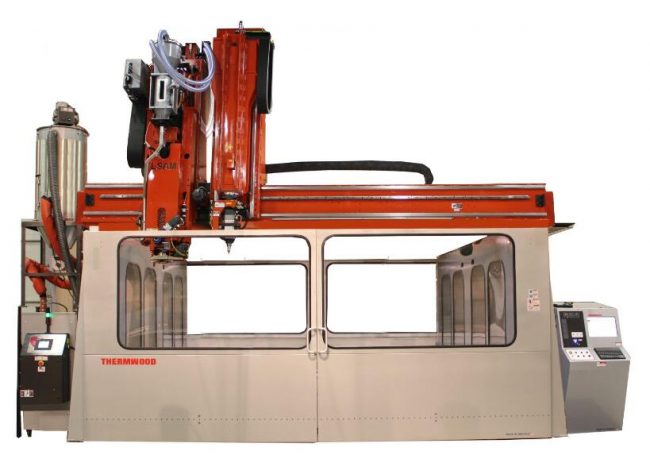 LSAM 1010 Thermwood. Image via Thermwood
As the name suggests, the LSAM 1010 has a build table measuring 10 x 10 feet. Similar to the MT, the new system features a single gantry that precisely moves both the print and trim heads across the build space. The LSAM 1010 has the capacity to 3D print (through deposition) and trim, though not simultaneously.
Thermwood emphasizes that it uses all the same print and trim heads across its LSAM series, meaning that every hybrid machine is compatible with most (if not all) reinforced composite thermoplastic materials on the market today.
In terms of cost, the LSAM 1010 is a middle-range machine: it is slightly more expensive than the low-cost LSAM MT (because of its enclosed system), but significantly cheaper than Thermwood's largest LSAM systems. The company also adds that the cost of the new LSAM 1010 should be less than adding a DIY enclosure to the existing LSAM MT. The printer's footprint is also slightly smaller than the space required for the MT.
Customers interested in adopting Thermwood's new system have the option to purchase a print-only version or can opt for the hybrid machine. The enclosed nature of the new large-scale additive machine also mean that the LSAM 1010 can be built to meet European CE requirements.
Source: 3D Printing Media Network