Introducing World's First Snowboard Binding Designed by Artificial Intelligence
The innovative snowboard brand NOW, Nidecker Group, and ADDIT·ION, the Artificial Intelligence design specialists, have unveiled the first ever 3D-printed AI snowboard binding entirely designed by Artifical Intelligence.
To create a responsive binding, optimised for turning, we had to deliver maximum stiffness with the lowest possible mass. To make that happen, Addit-ion brought their mastery of AI design and 3D printing, Now brought their patented Skate Tech Technology & Nidecker Group brought their extended knowledge of binding Technology.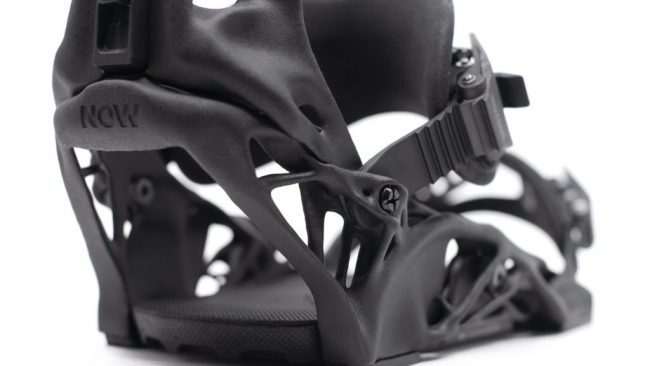 Image via Shop Eat Surf
Together we built a Load Case that would emulate the stress that bindings undergo during aggressive carving and turning, then used a minimal mechanical representation of Skate Tech to generate the ultimate shape around it using Autodesk generative design.
We had dozens of different outcomes to compare, with different materials and technologies, but after hours of simulation and data analysis, we came up with the best option, to be printed in PA12.
"This concept binding Is the starting point towards the new paradigm of sports gear, where optimization algorithms and mass customization will grant unique and tailor fit products for every specific need", said Saulo Armas, Co-funder of ADDIT·ION.
"The result is the A.I. BINDING, the first ever snowboard binding created by an Artificial Intelligence which – thanks to its design – is 25% lighter than current bindings." said Daniel Schmäh, R&D Director – Snowboard Bindings at Nidecker
Choosing 3D printing as the manufacturing method for the product wasn't a trivial decision.
"With powder based printing technologies, you don't need any support material, and you can print almost any desired shape. This gave the algorithm absolute freedom to think out the best outcome without any manufacturing constraints." Said Oriol Massanes, artificial intelligence expert at ADDIT•ION.
3D printing also opened the door to re-design other parts of the binding, and most importantly opens the possibility of complete customization.
"To see the result of this knowledge exchange is simply incredible!" said JF Pelchat, founder of NOW bindings.
This adventure is just the beginning of a multitude of collaborative possibilities with other Nidecker Group brands in the near future.
Source: Shop Eat Surf