Evonik Develops World's First Free-Flowing Bioresorbable Powder for The 3D Printing of Implantable Medical Devices
February 4, 2020, Evonik announced the development of the world's first bioresorbable polymer in powder form suitable for the high-resolution printing of implantable medical devices on Selective Laser Sintering (SLS) equipment.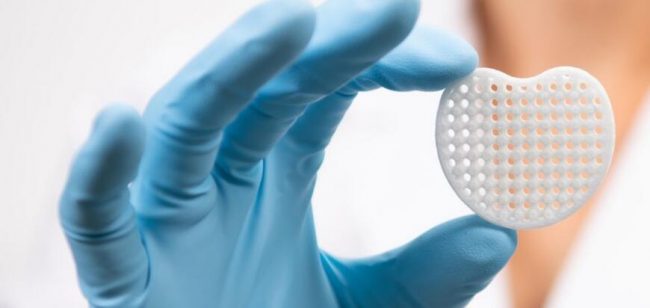 RESOMER® PrintPowder is a free-flowing powder with tight specifications and an optimized particle size distribution for efficient processability. Evonik's advanced powder preparation capabilities can facilitate the supply of ISO 13485-certified formulations for development and commercial use. A range of customization options are available upon request.
Mechanical properties and degradation characteristics of devices utilizing RESOMER® PrintPowder can be precisely engineered to meet key application requirements such as strength, durability and the prevention of stress shielding. Craniomaxillofacial (CMF) plates, spinal fusion cages, scaffolds for soft tissue repair and dental mesh are among the implantable products that can leverage the powder-based polymers to improve patient healing and device performance across orthopaedic, dental and soft tissue application areas.
In addition to the supply of RESOMER® PrintPowder, Evonik can also support customers in the 3D printing of feasibility samples on its own SLS equipment, as well as providing other associated testing, analysis, characterization and regulatory services.
"The free-flowing processability of RESOMER® PrintPowder will, for the first time, allow medical device companies to utilize SLS 3D printing technologies to create complex bioresorbable implants with precisely tailored mechanical properties," said Dr. Jean-Luc Herbeaux, SVP and General Manager of the Health Care business line. "With the launch of RESOMER® PrintPowder, Evonik becomes the first commercial GMP supplier of bioresorbable polymers with a complete portfolio of powders, filaments and granules suitable for use with all core 3D printing technologies."
The Health Care business line, which is part of the Nutrition & Care segment of Evonik, serves more than 1,000 pharmaceutical, nutraceutical and medical device customers worldwide. Its portfolio of RESOMER® bioresorbable polymers, Endexo® surface modification technologies and application technologies services is a core element of the Health & Care growth engine, which helps drive Evonik's profitable and balanced growth.
Source: Evonik