SmarTech Releases Reports on Aluminum Alloy 3D Printing and the Automotive AM Market
For the last several years, industry analyst firm SmarTech Analysis has been providing the additive manufacturing industry with market data and analysis on topics ranging from 3D printed nanomaterials and metal powders to 3D printing in the eyewear and oil & gas industries. The company's latest work is centered around 3D printing with aluminum alloys, and 3D printing in the automotive industry.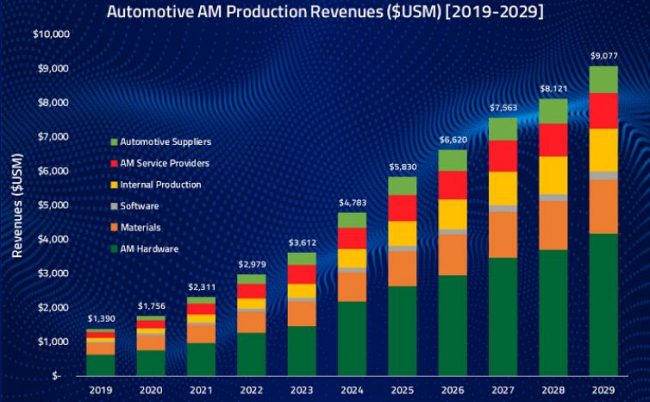 First, SmarTech released a market tracking and forecast report and database for aluminum alloy 3D printing opportunities, which the report says accounted for nearly 10% of 3D printed metal content last year, leading to a 43% growth in shipments of aluminum powder.
The report – part of a two-piece analysis package – highlights what SmarTech calls the "rapidly diversifying aluminum segment in metal printing," and is the next part of the company's new series of market intelligence offerings. Tracked data in the analysis covers revenues by end user industry, consuming print technology, and geographic region, as well as material shipments.
"The package can easily be plugged into existing internal market intelligence resources or dissected to provide business intelligence across organizations," SmarTech explained about the report, which can be accessed here.
In the report, SmarTech states since its last study was published, two notable developments are currently happening to influence the market, the first of which is that the global supply chain for aluminum manufacturing materials seems to have "crossed the threshold" in terms of supporting AM technology as a next-generation opportunity. It seems that aluminum 3D printing is starting to catch up with nickel, steel, and titanium now.
"The continued development and challenges associated with developing solutions for printing of aluminum parts via bound metal printing processes—whether bound metal deposition or metal binder jetting processes –are ongoing," SmarTech wrote in the report. "However, many stakeholders in these areas have shifted focus to other more immediately impactful materials like steels. Sintering of printed green stage aluminum parts is likely to be commercialized, but SmarTech expects that aluminum printing will be highly concentrated in the powder bed fusion (PBF) segment for the foreseeable future, acting as a competitive insulator for PBF against other metal AM processes."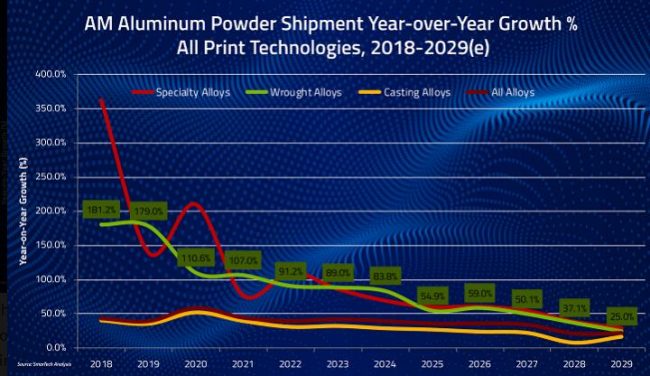 The report also stated that the development, and ensuing commercialization, of all major groups of AM aluminum alloys has "increased significantly." SmarTech anticipates that 3D printing of "popular wrought alloy formulations" that have been edited for economic processing and stability will continue to grow, though it's not counting out specialized, AM-specific alloys that contain transition metal or rare-earth elements. Because of this, in addition to aluminum alloys being used in casting formulations, the next five years should see a really diverse AM opportunity with this material.
SmarTech also released its fourth annual market study of automotive 3D printing, which you can find here. According to the report, automakers, suppliers of automotive parts, and AM services that cater to that market are continuing to adopt 3D printing, which will "result in an overall $9 billion opportunity by 2029." The company predicted in 2018 that the current time period is extremely important "for defining AM adoption by the automotive segment."
"The transitional shifts from 3D printing for prototyping to 3D printing production – and from traditional, formative (analogue) manufacturing to digital additive manufacturing – are not as streamlined as was initially envisioned," the report states. "As the technology evolves, it becomes increasingly clear that addressing the specific final part production requirements of adopting industrial segments is a task that is several orders of magnitude greater than the production of functional prototypes. Thus, the investments required are also several orders of magnitude greater. These larger investments are driven and—SmarTech expects—will continue to be driven by potential rewards, in terms of business opportunities, that are several orders of magnitude greater than those deriving from limiting the scope of additive manufacturing to its current use in prototyping."
The automotive sector is continuing to focus on steel in terms of metals, in addition to titanium for more high-end applications, such as short batch production runs and motor sports. Aluminum is currently used for prototyping, but in the future could play a part in making more affordable and lightweight end use parts. While the Americas are leading in adoption of polymer 3D printing, and Europe is the lead in metals, China will likely generate the most revenue cumulatively in the automotive market; the US and Germany are the second and third largest automotive AM markets.
"New AM systems and technologies, which have just begun to enter commercial availability, are now increasingly able to provide larger parts, larger part batches and faster production capabilities (both via hardware evolution and increased process automation), along with more readily available end-use materials," the report states.
In the report, SmarTech also presents profiles on every major automaker that map out their publicly released AM activities and detail their strategies.
Volkswagen Group emerges as the company that has made some of the most significant investments in this field, preceding other large German automakers such as BMW and Daimler Benz," SmarTech writes. "Ford, FCA and PSA are also expected to invest significantly and carry out several production initiatives. In Asia, much of the 3D printing activities in automotive are expected to be carried out by external AM service providers."
Source: 3DPrint