3D Systems and GF Machining Solutions Expand Partnership in Greater China – Enabling Customers in World's Top Manufacturing Region to Redefine Production Environments 
3D Systems (NYSE:DDD) and GF Machining Solutions, a division of Georg Fischer AG (FI/N:SIX Swiss Ex), today announced an expanded partnership in the Greater China region that will enable customers in the world's leading manufacturing region to enhance their metal parts production and redefine their manufacturing environments. By combining the strength of 3D Systems' innovation and expertise in additive manufacturing with GF Machining Solutions' renowned leadership in precision machining and industrial automation, manufacturers will now be able to more efficiently produce complex metal parts within tight tolerances, and reduce total cost of operation.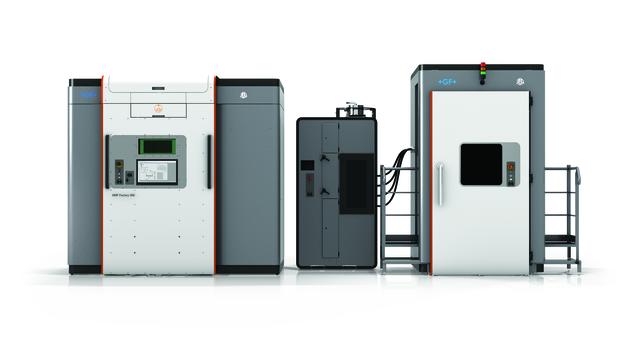 "The Chinese and Taiwanese markets are known for global manufacturing leadership," said Herbert Koeck, executive vice president and general manager, global go to market, 3D Systems. "Manufacturers in this region are looking for ways to transform their production workflows in order to maintain their competitive position. Our joint metal 3D printing solutions with GF Machining Solutions fit seamlessly into the traditional shop floor and are unmatched in the industry."
The DMP Factory 500 solution is a scalable manufacturing system designed to help metal manufacturers simplify their workflow to build higher quality seamless metal parts up to 500 mm x 500 mm x 500 mm with lower total cost of operation.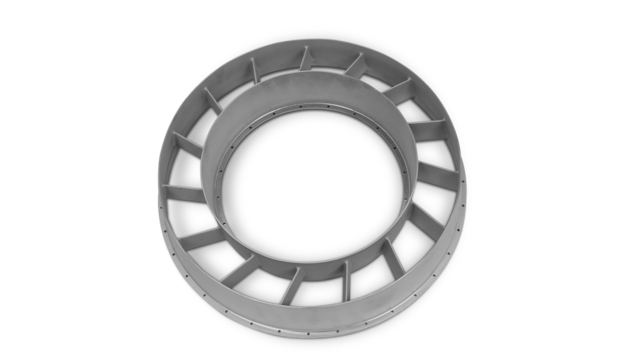 As of August 1, 2019 manufacturers in China and Taiwan will be able to order 3D Systems' and GF Machining Solutions' co-branded scalable metal additive manufacturing solutions (i.e., DMP Factory 500, DMP Factory 350 and DMP Flex 350) exclusively through GF Machining Solutions. The companies' co-branded solutions – which integrate traditional and additive manufacturing technologies – are a new concept in scalable, digital factory automation that includes software for digital production workflows, including: enhanced part design, 3D printers, materials, electrical discharge machining (EDM), milling equipment, advanced post-processing technologies, and services. These new design and manufacturing options can lead directly into improved existing products, innovative new designs, new business models, and new markets.
Turbine rear vane produced in LaserForm(R) Ni718 (A)on the DMP Factory 500 Solution, which includes 3Dxpert and GFMS' Cut E 600 for the separation process. Post-processing was done by GF Precicast.
Customers in the Greater China region will also have access to GF Machining Solutions' Customer Innovation Center (CIC) in Shanghai.  Engaging with the CIC provides customers with the ability to consult and collaborate with experts from 3D Systems and GF Machining Solutions to develop applications with metal 3D printing solutions which include materials, services, hardware and software. As part of this process, manufacturers will have the ability to benchmark their parts and products to ensure quality control and validate final parts against specifications – ultimately saving them time, money, and providing faster time to market.
"China and Taiwan are strategic key markets for GF Machining Solutions where we support our customers with an organization of more than 350 direct application, service and sales personal," said Laurent Castella, head of market region Asia, GF Machining Solutions. "We are delighted to enhance the support to our customers in the transition towards additive manufacturing, with our new Customer Innovation Center (CIC) in Shanghai and by a dedicated group of additive manufacturing experts."
3D Systems and GF Machining Solutions have a presence in more than 50 countries, which includes production facilities, research and development centers, and broad sales and service networks encompassing internal teams as well as channel partners.
Source: 3D Systems