Innovasis launches first 3D printed Stand-Alone Titanium ALIF System featuring HAnano Surface®
Innovasis, Inc. is the first company to receive US FDA 510(k) clearance for a Stand-Alone ALIF System featuring HAnano Surface®. HAnano Surface® is a 20 nanometer thin surface modification composed of crystalline hydroxyapatite (HA) particles that through shape, composition, and structure mimic human bone tissue.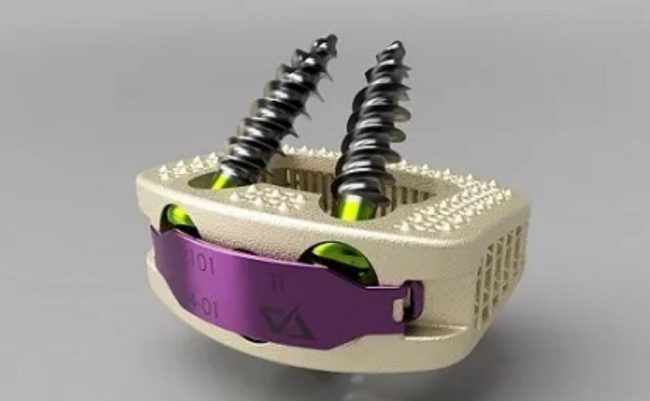 Image via OrthoSpineNews
The Innovasis AxTiHA® Stand-Alone ALIF System is an intervertebral fusion device for use in patients with degenerative disc disease (DDD) at one or two contiguous levels of the lumbar spine (L2-S1). The implant is used to facilitate fusion in the lumbar spine and is inserted using an anterior lumbar interbody fusion (ALIF) procedure.
With over 250 devices implanted, Innovasis' AxTiHA® Stand-Alone ALIF System continues to provide good outcomes for both patient and surgeon. Through the BioBase® Data Registry, patient reported outcomes are continually measured and showing positive results further demonstrating the performance of HAnano Surface®.
The AxTiHA Stand-Alone ALIF implant also features the large graft cavity and open geometric structure providing increased volume for autograft loading and bone through growth. The IBF device includes integrated fixation by way of three converging bone screws and optional screw anti-backout locking clip.
"I've been very pleased with this as a lumbar solution, from Innovasis. Technically, its been great to work with and clinically, my patients have been doing great! Also, if I ever have a suggestion for improvement, Innovasis has been wonderful taking that into consideration." Said Colin Haines, MD, FACS, Director of Research, Virginia Spine Institute.
Source: OrthoSpineNews
For press release, welcome to send to 3D Science Valley at 2509957133@qq.com