Round-the-clock Precision Additive Manufacturing of Printed Electronics
The DragonFly LDM™ Lights-Out Digital Manufacturing system is the industry's only comprehensive additive manufacturing platform for round-the-clock 3D printing of electronic circuitry. This precision additive manufacturing platform uniquely integrates an extremely precise inkjet deposition printer with dedicated nano-inks and optimized 3D software to print electronic circuits such as Printed Circuit Boards (PCBs), antennas, capacitors and sensors.Incorporating proprietary, state-of-the-art Lights-out Digital Manufacturing (LDM) technology, the DragonFly™ requires little or no operator intervention.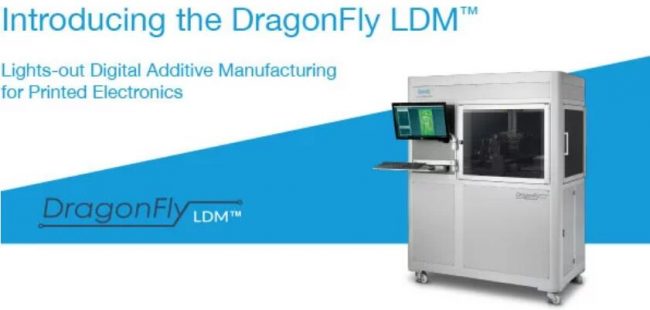 With the DragonFly LDM™ designers can move rapidly from concept and design validation to production of precision electronic components, while keeping the entire process securely in-house. Companies can now reduce demand on prototyping and short-run manufacturing resources and lower the total cost of operation in comparison to traditional manufacturing methods. The DragonFly LDM™ is designed for industry 4.0 and manufacturing for the Internet of Things, and is the extension of the award-winning DragonFly Pro precision system.
Key Features:
Long uninterrupted printed for increased uptime and improved yield
Supports 3D printed multilayer printed circuit boards (PCBs), capacitors, coils, sensors, antennas and more
Simpler and faster operation for minimal maintenance Switch
New automatic printhead self-cleaning system
Offered also as an upgrade for existing DragonFly Pro users
Imagine These Scenarios
Innovating freely without traditional manufacturing process constraints.
Printing individual sections of a circuit design for on-the-fly testing.
Creating vias and through holes with no drilling or plating required.
Printing electronic circuitry in-house in just hours.
Innovating while saving space, weight and cost with designs incorporating complex geometries and new functions.
Streamlined workflows and easy operation
Long uninterrupted 3D printing runs with minimal supervision for increased uptime.
 Lights-Out Digital Manufacturing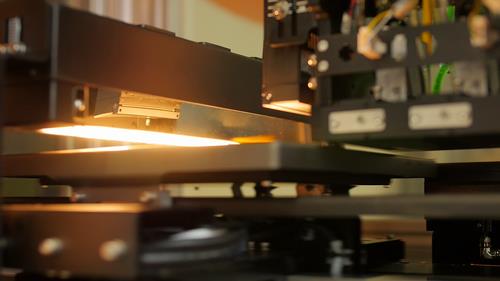 The Lights-Out Digital Manufacturing (LDM) is a manufacturing technology in which systems run with little to no intervention, around the clock. In the case of additive manufacturing, LDM means DragonFly users can 3D-print more functioning electronic circuitry faster, extending the DragonFly's rapid prototyping capabilities beyond prototyping. Users can now, 3D print one-off prototypes as well as low-volume manufacturing of printed electronics.
The DragonFly LDM augments the capabilities of the award-winning DragonFly Pro system with new proprietary, state-of-the-art technology that enables 24/7 uninterrupted 3D printing. Improvements include new advanced printer head software management algorithms and automatic-self-cleaning of its print heads every few hours. The new system is equipped with real-time automatic material monitoring capabilities that ensure maximized runtime, optimization of Overall Equipment Effectiveness and significantly improved workflow and production processes. The new technology minimizes the frequency and duration of scheduled downtime to typically just one weekly maintenance operation.
 Multi-Material Additive Manufacturing of Printed Electronics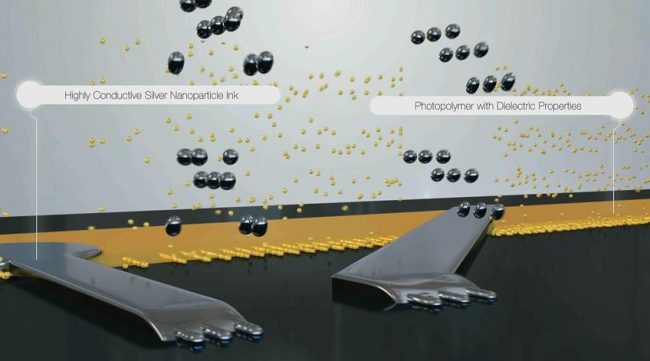 Simultaneous multi-material additive manufacturing is a revolutionary approach that helps redefine the electronics of tomorrow for attributes including density, size and flexibility.
The DragonFly LDM™ is fitted with two printheads, one for nano-Silver conductive ink and the other for dielectric polymer ink. This set-up allows the DragonFly LDM™ to concurrently print with both advanced inks in a single print job.
DragonFly LDM inkjet deposition system is setting new precision standards for 3D printed electronics., making it ideal for industries with the most demanding design and quality requirements, such as aerospace, automotive, telecommunications, healthcare and more.
 Optimized 3D Software – Switch
Powering the DragonFly LDM™ is Switch, our proprietary 3D-optimized software package that prepares electronic designs for printing on the DragonFly LDM™.
Switch supports traditional electronics industry file formats such as Gerber, VIA and DRILL. It presents a unique interface that displays a detailed and accurate rendition of a design's structure, thus facilitating a highly precise 3D print job.
With Switch, users can adjust many characteristics of the 3D file, such as layer thickness, conductor width, layer order, punching, rotation options as well as the shape or object outline. In addition, the software helps optimize the printing process by maximizing the use of the printing surface.
 Virtually Limitless Design Flexibility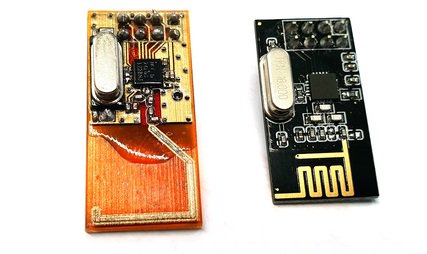 By synthesizing precision and accuracy with multi-material additive manufacturing, the DragonFly LDM™ unlocks a whole new world of design possibilities for printed electronics. A wide array of PCB features, such as vias and through-holes, can be fully 3D printed in-house without subsequent etching, drilling and plating. A range of non-planar electronic components, such as Molded Interconnect Devices (MIDs) and electromagnets, also can be printed and tested on-the-fly.
The DragonFly LDM™ is transforming how product development teams work – waiting days or weeks for a custom prototype to be fabricated offsite can finally be a thing of the past. The freedom to innovate empowers progress, encourages product advancement, lowers development risks and enables faster time-to-market. Ultimately, it creates a better end-product.
Source: Nano Dimension