To 3D-Print Or Not to 3D-Print? Software Identifies Parts for AM
It hasn't taken long for 3YOURMIND to make its presence known in the 3D printing arena.
When the German additive manufacturing (AM) software company entered the industry less than five years ago, the initial focus of co-founders Stephan Kuehr and Aleksander Ciszek was to create a 3D-printing ordering marketplace with a direct-to-consumer sales model. Essentially, 3YOURMIND wanted to fill the void between CAD design programs and service bureau production capacity.
3YOURMIND's AMPI software sorts inventories for parts that should be considered for additive manufacturing or parts that can remain using traditional manufacturing methods. (Images provided by 3YOURMIND)
At the time, there wasn't much thought about how manufacturing production floors incorporated AM or how a part was distributed. Within a year, Berlin-based 3YOURMIND had its integrated CAD system in place, allowing a manufacturer to upload a CAD file to match its viability for 3D printing. The platform would then perform a pricing algorithm based on technology, material, processing, and postprocessing methods to compare it against the service bureaus in its system.
But while its initial marketplace software did gain some traction over the company's first year, something was still missing in the execution.
"We wanted to democratize everything within the marketplace, but eventually noticed that service bureaus actually have a lot of longstanding customers who are not comparing prices as frequently as we expected," said Brian Crotty, 3YOURMIND product development manager. "They know what they want to do, and they prefer to keep working with a specific service bureau they are comfortable with. And it wasn't really beneficial for the service bureaus either to always be competing head-to-head in that kind of marketplace."
Then 3YOURMIND had a lightbulb moment. The real problem wasn't about connecting the average consumer with such robust AM service bureau capacity. It was about helping producers that were already leveraging 3D printing on a larger scale.
"We realized there was a need to better connect service bureaus with active manufacturers," said Crotty. "Processes specific to additive manufacturing needed to be managed better because there's a different set of requirements around that than doing a traditional web commerce system."
In 2016 3YOURMIND restructured its system and launched a new iteration of its enterprise platform to manage 3D-printing production workflows and ecommerce for AM services. The company was able to salvage much of the technology it initially had in place by packaging together its best practices: 3D model scanning for production suitability, complex pricing algorithms for different production aspects, invoice generation, and communication between the service bureaus and end customers.
The business model overhaul paid off in more ways than one. That same year, 3YOURMIND was awarded the German Innovation prize in the start-up category. Then in 2017, German firm Unternehmertum Venture Capital stepped up with a $12 million investment to complement an earlier seed investment from another German firm, AM Ventures. This mobilized 3YOURMIND to expand more throughout Europe (Munich, Paris, and Poland) and into the U.S., with offices in San Francisco, New York, and Detroit.
"That's where we really became more of the company that you see today," Crotty said of 3YOURMIND, which also recently unveiled its Agile Manufacturing Execution System (MES) software, which automates AM on production floors for better efficiency and agility, at the Chicago Additive Manufacturing Users Group (AMUG) Conference in early April.
 Identifying Parts to 3D-print
And with that facelift came the development of 3YOURMIND's Additive Manufacturing Part Identifier (AMPI), a software platform that automatically scourges databases and inventories to identify parts and components that are suitable for 3D printing. It also can determine if a process should switch from traditional manufacturing to AM.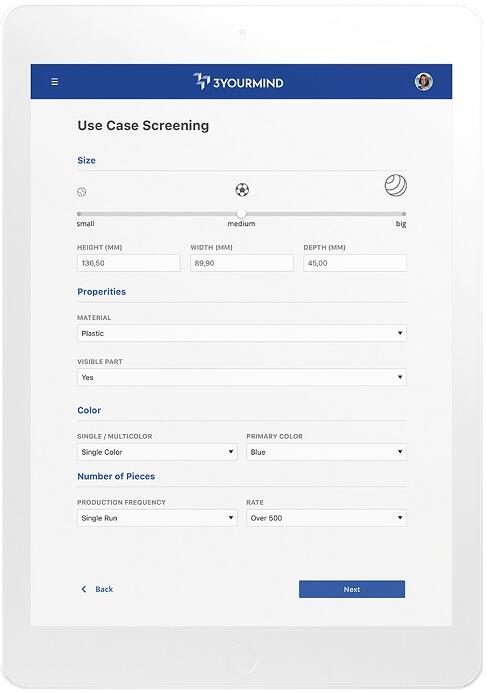 AMPI's Use Case Screening Module evaluates a part immediately and determines its applicability for AM.
The first iteration of the software came in 2017 after the company noticed an influx of inefficient 3D printing requests. Following extended conversations with service bureaus and machine manufacturers, 3YOURMIND realized there was still an alarming misunderstanding of what parts are suitable for AM.
"We saw that there was a lot of potential 3D orders coming in that were, to put it mildly, complete nonsense," admitted Crotty. "I mean, it's easy to see why; this is still a very young technology. It wasn't until very recently that universities introduced more specific courses related to this specific technology. So, it's been really limited to a relatively small number of people who really understand the nitty gritty of producing parts specifically for additive manufacturing."
The platform isn't meant for companies that are designing components from scratch. It's geared towards those manufacturers with an existing large part inventory while using five or more 3D printers. AMPI's end-to-end technology fully automates printability analysis, the optimization of components, material selection integrated with price calculation, the placement of print jobs in the production work flow, and comprehensive data analysis for optimizing AM.
And after several conversations with those customers managing massive spare part inventories while trying scale AM processes, 3YOURMIND refined the platform in October 2018 by introducing a more advanced module known as Use Case Screening.
"With the new version, we've stripped back the preparatory work and the expertise needed during the whole process of part identification for AM to make it even faster and even to be usable by average employees," said AMPI Product Manager Dominik Lindenberger.
Without a program that collects all that component data, it becomes difficult for a company to handle and process inventories of all its parts. That's especially true with older parts that are linked with very little or no data.
So, the Use Case Screening module allows, for example, a fabrication shop employee in charge of inventory analysis to do a part evaluation in a manner of minutes. Once that data is captured, the system assigns a preliminary AM score to each item to signify how applicable it is for AM prototyping and development.
"Designers can run new parts through our screening process and check whether they are potential AM parts before they even open a CAD program," said Lindenberger. "They can then create an AM optimized design, avoiding costly redesigning of parts."
So, a company's AM expert can come in once a week, scan what new parts are in, look at the scoring and criteria, and then immediately identify what makes sense to further explore for development or a prototype run.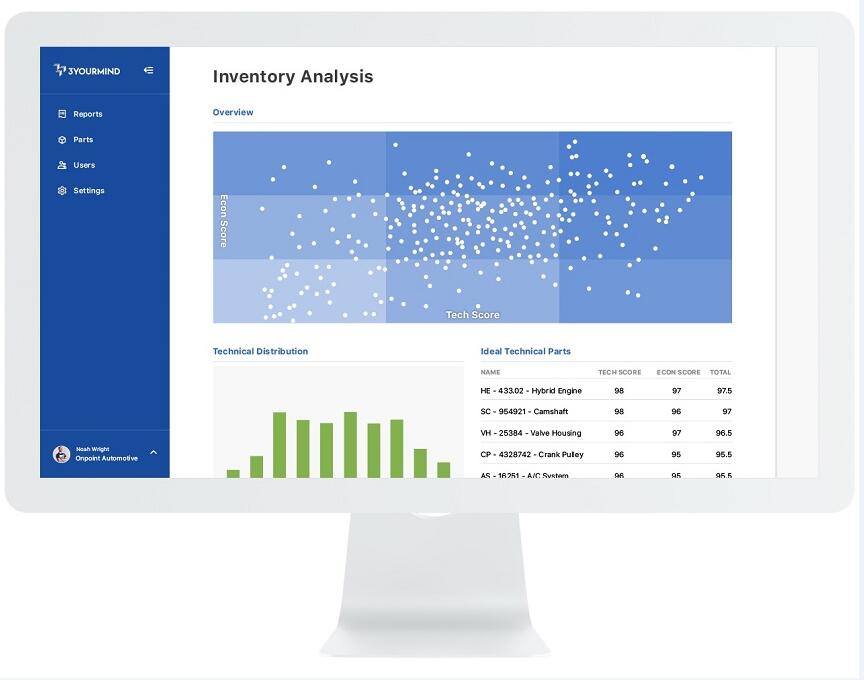 When inventories are unorganized with convoluted data, the platform's inventory analysis breaks down the process into three steps.
AMPI also features a module that integrates to a company's existing enterprise resource planning (ERP) system or other part database system. For a company that's leveraging AM on a larger scale, its ERP is likely to file a significant component inventory data. The module then sorts the inventory based on parts that should be considered for AM or parts that can remain using traditional manufacturing methods.
The summary reports for the AMPI modules break down parameters like type of material, part dimensions, the number of ordered parts, whether a part is critical or noncritical, and supplier information.
"A company's AM experts can take the reports and say, 'Here's our list of 100 parts out of thousand that we should evaluate over the next six months and consider for AM production,'" said Crotty.
But how does the software really function in practice when inventories are unorganized with convoluted data? To address that issue, 3YOURMIND breaks down the inventory analysis into three steps:
The first step begins with a two- to three-month consulting process. 3YOURMIND integrates its evaluation system with a company's existing inventory datasets by converting codes, part serial numbers, material types, and use cases. Then an algorithm is customized for things like weight optimization, supply lines, purchasing streams, and so on.
The second step involves running an analysis to prototype parts, making sure the algorithms and format are correct. The high-level data and context are adjusted, and parts are contextualized into categories such as materials and possible technology.
The third step begins once the reports are applicable. Then process is opened to more inventory, allowing the customer to start using the AMPI software. Here the company can request algorithm refinements and start 3D printing part by part based on software criteria.
 Complexity of AM Growth
3YOURMIND is by no means finished refining its AMPI platform. If anything, the company feels like it still has a long way to go. And, admittedly, that's due to the complicated nature of the platform within a continuously evolving 3D printing technology.
"We thought we would be able to get the process more automated much quicker in terms of getting results," said Crotty. "The reality is that additive manufacturing is quite complex. Databases are also quite complex. And getting the two of them together is even more complex."
But the German software company also believes that addressing and improving the AM processes of these spare parts, components, and other unsexy tooling methods will move the technology, as well as the standardization surrounding it, forward.
"These are not something like 3D printed engines that have five times the efficiency of old engines," said Crotty. "The parts working unnoticed in the background are actually the use cases over the next couple of years that are really going to be driving the growth of the industry."
And with less intensive processing, certification, communication, and costs (opposed to something like highly specialized 3D-printed engine production), this approach will help create a better understanding of how to streamline more efficient AM processes, standardization, and serial production.
That will be the continued focus of 3YOURMIND: refining its multiple platforms so its software as a whole can become a standardization point for AM.
Source:The Additive Report