Substractive and Metal Additive Manufacturing Combine in New Materialise Partnership
3D printing service and software provider Materialise has announced a new hybrid manufacturing partnership with global IT services company HCL Technologies .
Combining CNC machining and additive manufacturing, the companies will develop a platform to boost the production of high grade metal parts for healthcare, automotive, aerospace, art and design, and consumer goods industries.
CAMWorks 2018 in SOLIDWORKS CAM. Clip via HCL Technologies
Headquartered in Uttar Pradesh, India, HCL is the developer of CAMWorks, a computer aided manufacturing (CAM) 3D design tool for CNC machining, integrated with Dassault Systèmes SOLIDWORKS platform.
Through this new partnership, CAMWorks will be "Powered by Materialise additive manufacturing (AM) technology" becoming CAMWorks AM for SOLIDWORKS.
Key features of combining the two technologies in this digital platform include:
– Close tolerance, with Machine to Mean capabilities "based on fit, form and function vs. manufacturing's need to machine geometry"
– Easy transfer of CAM to AM designs
– Complex design
– Metal 3D printer interfacing with all "main" machines
– An ability to create additive dependent support structures on CAM modeled parts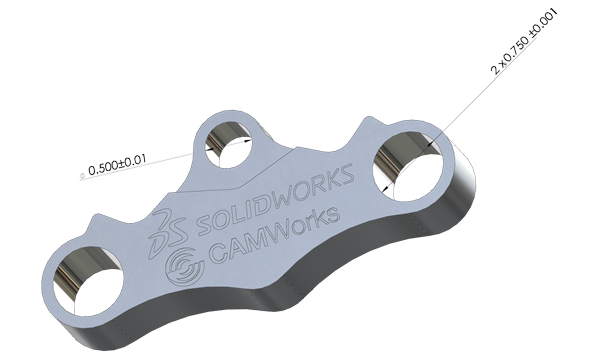 Demonstration of CAMWorks MKachine to Mean capabilities. Image via HCL Technologies
According Stefaan Motte, Vice President of Software at Materialise, comments, "The market space and applicability of the Additive Manufacturing technology has been growing dramatically in the past 5 years,"
And, importantly, Materialise believes:
"INTEGRATION WITH CURRENT MANUFACTURING SYSTEMS IS THE NEXT STEP TO UNLOCK DIGITAL TRANSFORMATIONS IN MANUFACTURING."
Other recent software integrations from Materialise include pairing with Creo 5.0, the Magics addition to Siemens NX and, in medical, Mimics inPrint for syngo.via each ensuring that Materialise cements its position as a provider of one of the most widely used 3D printing software providers in the industry.
GH Rao, President of Engineering and R&D Services at HCL Technologies concludes, "By combining advanced integrated CAM technology from HCL with the innovative 3D printing technology from Materialise, we look forward to enabling companies to create innovative products which can be brought to the market faster and at a lower cost."
As we have observed throughout the industry, companies are applying great value to the potential of metal 3D printing, to quote Terry Wohlers in his keynote speech at RAPID + TCT 2018, "Metal is a smoking hot."
Recently, Materialise has demonstrated its reinforced commitment to metal additive manufacturing through the launch of e-Stage – a platform capable of automatically adding support structures to 3D models designed for metal.
In October 2017, the company also acquired ACTech that specializes in the rapid production of short run parts and prototypes.
Sources: 3D Printing Industry