Cytosurge's Fluid FM 3D Printer Upgrade Allows Metallic Printing on Existing Structures
Cytosurge, a Swiss nanotechnology company, has announced an upgrade to its Fluid FM μ3Dprinter. The extended functionality allows additive manufacturing to augment traditional microfabrication methods.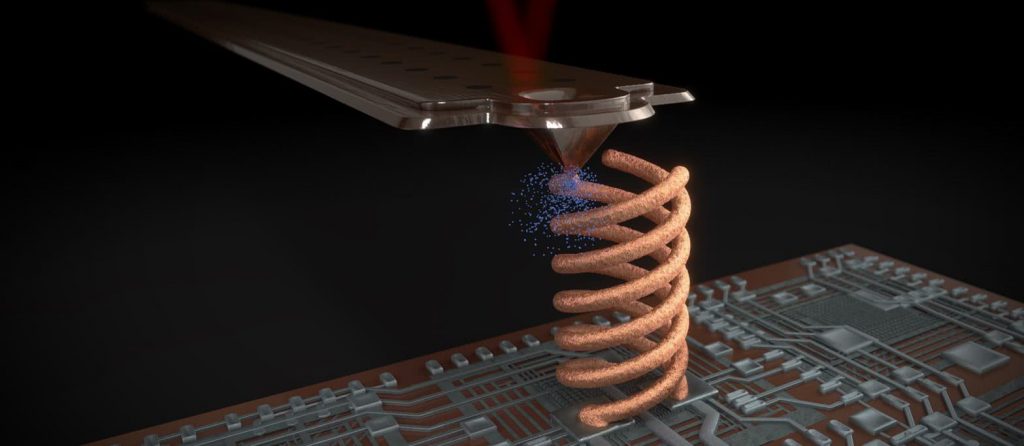 FluidFM micropipette printing on a microchip. Image via Cytosurge
 Metal 3D printing process at room temperature
Founded in 2009, Cytosurge – a spinoff of ETH Zurich – began the development of the FluidFM process due to the lack of technologies in the market for producing micro and nano-metallic structures.
Through an electrochemical process, FluidFM technology uses a micropipette to control the deposition of its ion-containing liquid (a copper sulfate solution) via an aperture measuring 300 nanometres. This solution is then converted through a chemical reaction with an electrode into a hardened material that can be deposited onto a print bed.
Working at room temperature, the printer is able to produce high-quality metal object structures ranging from 1 μm³ to 1'000'000 µm³. Designs such as overhanging structures with 90-degree angles can be 3D printed using this process which eliminates the need for structural support when printing complex 3D objects.
Upon the first release of the FluidFM technology, Dr. Pascal Behr, Co-founder and CEO of Cytosurge stated:
"The newly developed 3D printing method is suitable for applications in various markets. We see potential applications especially in the watch and semiconductor industry as well as in medical device sector."
 An upgrade for existing structures
Cytosurge has extended exisiting functionality by adding two high-resolution cameras. These cameras are integrated with the FluidFM µ3Dprinter to enable a more precise 3D print, and this allows 3D printing onto existing structures.
One camera is tasked with imaging the object or surface to be printed on, while the other camera is used for system processes such as automated loading of the FluidFM iontip print ends, printer setup, calibration and computer-assisted alignment.
As a result, the user can 3D print metallic objects on micro-electromechanical-systems (MEMS) including integrated circuit boards.
The upgraded FluidFM µ3Dprinter has applications including experiments at a sub-micrometer scale for research in life sciences and physics.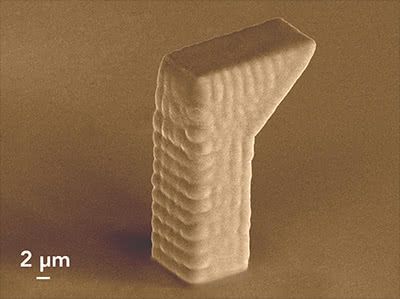 A solid object with an overhang printed in a single step using FluidFM technology. Image via Cytosurge.
 Microfabrication and additive manufacturing
Though large-scale projects often make headlines, an additive manufacturing revolution is also going on at the microscale.
The Photonic Professional GT 3D printer from Germany's Nanoscribe,is one example of a process in use to make small high-resolution polymer components, used in medical and micromechanical applications.
Last year, researchers in the additive manufacturing department at TU Wien demonstrated the precision of 3D printing on existing structures with a project that seamlessly printed a microscopic-sized castle onto the tip of a pencil.
Cytosurge believes the Fluid FM μ3Dprinter can open the door to a new world of metal additive manufacturing.
Resource: 3dprintingindustry.com