Tradiebot Launched Industry 4.0 Training System for Auto Industry
A new research project has been launched to develop a revolutionary Industry 4.0 training system for the automotive collision repair and service industry.
Tradiebot Industries and Deakin University will work together to explore the use of virtual and augmented reality technologies and how it can benefit the auto repair industry.
The project will develop the industry's first Virtual/Augmented Reality Training and Service Solution for the $7 billion automotive repair industry.
The new technology redefines the way information, communication and training is delivered for existing repairers and those seeking a career in the industry.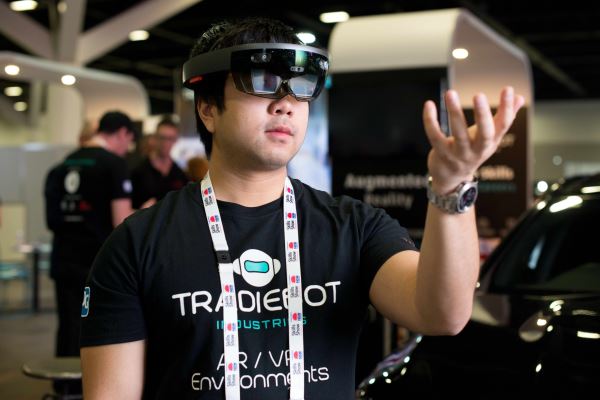 The announcement was made at Skills Show Australia 2018 in Sydney this week, where Tradiebot Industries is exhibiting its transformative projects for the first time.
Tradiebot says training using virtual and augmented reality technologies blurs the line between the physical world and the cyber world, creating a sense of immersion and bringing complex modern-day vehicle repair catalogues alive.
The project is being developed using Deakin University's CADET Virtual Reality Lab – the first of its kind in the world. Users can walk round, walk through, and even touch objects in the virtual world and test systems and products that are yet to be realised using virtual reality technologies.
 VR training for spray painting
Future apprentices and their parents attending the Skills Show were the first to experience Tradiebot Industries' new 4.0 automated and virtual environments, including VR training for spray painting and AR training for auto repair.
Dr Ben Horan, Director CADET VR Lab, Deakin University said: "Immersive Reality, which encompasses VR and AR, provides a fantastic opportunity to help overcome some of the skills training challenges in sectors such as collision repair.
"Virtual Reality can provide access to training environments which are either difficult to access or don't exist, and Augmented Reality can help provide digital assistance while performing a task.
"We have worked with many industry partners and applications to help translate these technologies into competitive advantage."
 Serious shortfall of skilled talent
Mario Dimovski, Founder, Tradiebot Industries said Tradiebot is creating technologies to revolutionise the automotive collision repair sector.
"Like many trades, our industry is facing a serious shortfall of skilled talent and an ever-widening skills gap as repair businesses struggle to keep up with the latest OEM repair methods and industry best practice.
"Rather than wait for our technologies to hit the shop floor and face a productivity-sucking gap while talent is trained up to use them, we are partnering with the leading employers who will be deploying these technologies, and developing state of the art training solutions now to teach the skills that will be needed."
 Exciting new innovations
Automotive industry heavyweights Capital S.M.A.R.T. Repairs and PPG joined Tradiebot Industries and Deakin University at the Skills Show to discuss the world-leading approach to training for current and future workforces.
They are confident the exciting new training solution will help to unlock and accelerate promising talent in science, engineering and future technologies.
Kevin Woolerton, Business Improvement Manager, PPG said: "PPG has long-standing a reputation as an innovator so it is, perhaps, no surprise that we are always keen to welcome exciting new innovations and support their transition to market.
"The collision repair industry is constantly changing and, with each evolution, new technologies arrive and are embraced before going on to become part the 'new normal' repair process.
"PPG is very pleased to partner with Tradiebot Industries in the development of breakthrough technologies that will help to transform repair processes."
Sources:Roboticstoday.com