Essentium Research Shows Change Management a Priority for Additive Manufacturing
March 20, 2020, Essentium, Inc., a leading innovator in industrial additive manufacturing, announced the third in a series of findings from independent global research on the current and future use of industrial 3D printing. The study reveals that when it comes to adapting company operations to support large-scale 3D printing, there is a sizable gap between business functions that are thriving and those facing stumbling blocks with this organizational change. According to 3D printing stakeholders, design (62%) and engineering (61%) groups are experiencing the most success in adopting 3D printing at scale, while procurement (29%), and finance (26%) are struggling to achieve success.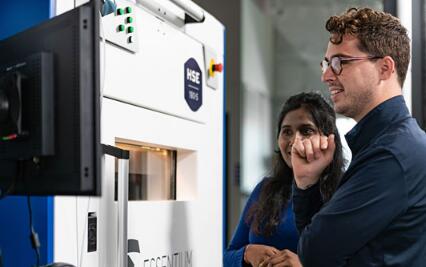 As additive manufacturing moves mainstream, it not only rewrites the economics of production, it heralds a new era in manufacturing that will impact design, time-to-market, design cycles, customization, supply chains and pricing. However, reaping the rewards will require transformation in business processes from finance to procurement, training, design and engineering and beyond.
Even the most experienced teams such as procurement and finance need to acquire new skills to fully unlock the benefits of additive manufacturing. While design is the most critical area of 3D printing and typically more adaptable in its efforts to support large-scale 3D printing, they are also the functional area requiring the most change. More than half (55%) of companies report they need to increase designer expertise in order to scale production of 3D printed parts. Other key organizational changes include evolving procurement strategies and processes (45%), changing mindsets of production teams (38%), redesigning supply chains (37%), and developing trusted TCO and ROI models (36%). A handful of participants also reported in some "other" challenges like difficulty with time, familiarity, and the customer mindset.
Essentium and its partners are focused on helping customers embrace this change by delivering an open ecosystem that ensures greater control of innovation, more choice in materials, and industrial-scale production at ground-breaking economics. The company is also partnering to provide all the planning, installation, training and support necessary to help customers accelerate the shift from prototyping to industrial-scale additive manufacturing.
Blake Teipel, Ph.D., CEO and Co-founder of Essentium, said: "The bottom line is that additive manufacturing has the potential to dramatically transform manufacturing and profoundly impact the future of manufacturing. In this new world, companies have an obvious choice: either keep pace or get left behind. We are working closely with teams across organizational functions to ensure they have the skills and processes to leverage 3D printing to their advantage now and into the future."
Survey Methodology:
162 managers and executives from large manufacturing companies across the world completed the survey on their current experiences, challenges and trends with 3D printing for production manufacturing. Participants included a mix of roles and were from companies across industries including aerospace, automotive, consumer goods and contract manufacturing.
Source: Essentium