voxeljet Launches New Product Line: VX1000-S for Serial Additive Manufacturing for Light Metal Casting Applications
voxeljet AG (NYSE: VJET) has launched its new VX1000-S IOB printing system for serial production of sand cores for aluminium casting. So far, the company focused on organic printing processes in its sand printing line of business. The new VX1000-S IOB inorganic system significantly improves throughput and ensures high environmental compatibility during the whole process.
 R&D to Lead the Industry
voxeljet developed a solution for the serial additive production of crucial engine parts, such as water jacket cores. A water jacket is a liquid-filled casing surrounding a device, typically out of metal, having intake and outlet vents to allow water to be pumped through and circulated. The flow of water to an external heating or cooling device allows precise temperature control of the device.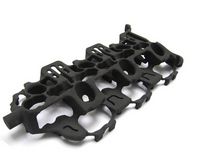 Water jacket core. Image via:voxeljet
The new VX1000-S IOB uses a special two-component inorganic binder system able to balance the technical requirements of the printing, core making and casting process: component one is the liquid binder based on a modified blend of alkali silicates, component two is a solid additive.
The advanced layering unit and high-speed printhead technology reduce the layer time to 12 seconds, generating a volume output of ca. 54 l/h. In addition to that, the inorganic materials only emit water vapor during the casting process. This significantly improves air quality and working environment in foundries.
The VX1000-S IOB offers a competitive advantage for automotive manufacturers. The technology has been engineered for highly complex geometries, which are particularly useful in the precise temperature management of not only internal combustion engines, but also electric motors, inverters and battery systems.
"voxeljet's industrial printers enable high-quality print resolutions and constant layertimes and output volume. Our new S-line of 3D printers uses larger widths of our printheads, making our indirect metal processes even more productive compared to other direct metal additive manufacturing processes. I am convinced, this will become a state-of-the-art manufacturing process." says Dr. Ingo Ederer, CEO of voxeljet.
 High Speed Sintering (HSS)
In addition to the recent launch of new materials for its HSS product line for the production of direct plastic parts, voxeljet has significantly improved the speed of its existing VX200-HSS platform by 100 percent by reducing the layer time to only 20 seconds. This great achievement comes with easier unpacking and homogenous texturing of the components and extends the possible applications of HSS products for e.g. the automotive or sporting goods industry.
voxeljet will present the VX1000-S IOB system at hall 3.1, booth D18 at this year's formnext show, the international exhibition and conference on the next generation of manufacturing technologies in Frankfurt, Germany. For further information and a live demonstration of the VX1000-S IOB process visit them at the press conference at formnext on the 13th of November from 12:15 to 12:45 p.m.
Source: Business Wire