FAA Approves Additive Manufacturing Bracket for GEnx Engine
GE Additive has announced yet another step forward for GE Aviation's GEnx-2B aircraft engine for the Boeing 747-8. A 3D printed bracket has been approved by the Federal Aviation Administration (FAA) for the engine, replacing a traditionally manufactured power door opening system (PDOS) bracket.
GEnx-2B engine
With the news of the FAA's change in design approval, GE Aviation is preparing to begin mass production of the 3D printed brackets this month at its Auburn, Alabama facility. The parts will be 3D printed using a fleet of GE Additive Concept Laser M2 cusing Multilaser systems and are expected to be installed in GEnx engines to be shipped out by January 2019.
The 3D printed PDOS bracket, which is used to open and close the fan cowl doors of the engine for access to the fan compartment, offers a number of advantages over its traditionally manufactured counterpart. For one, GE Aviation will reduce material wastage by up to 90% (the original part was machined from metal and resulted in about 50% material waste). The 3D printed bracket is also 10% lighter than the original part, thanks to an optimized design.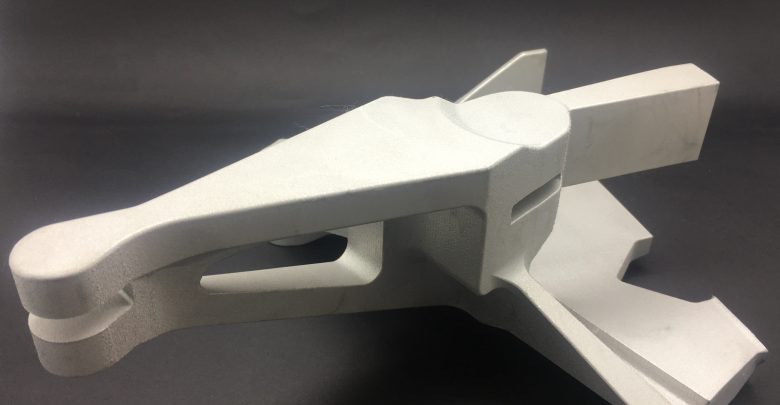 FAA GEnx bracket
"We chose this project because it represented several firsts for us," commented Eric Gatlin, general manager of GE Aviation's additive integrated product team. "It's the first program we certified on a Concept Laser machine. It's also the first project we took from design to production in less than ten months."
Moving into mass production of the brackets, GE Aviation says it will print four brackets in a single build to make the process as efficient as possible. This has been achieved by implementing a custom interlocking design for the four brackets in the build chamber. In combination with using a cobalt-chrome alloy rather than a nickel-based superalloy, the interlocking will enable GE Aviation to realize faster print times.
The company adds that by keeping the production in-house, it will be able to reduce overall manufacturing costs for the engine bracket.
"It's been outstanding to watch teams from GE Aviation, GE Additive across the US, Mexico and Germany collaborate," added Jason Oliver, President and CEO of GE Additive. "In such a short space of time, they have really excelled with the PDOS bracket and achieved a truly groundbreaking success. Seeing the M2 machines produce flight quality hardware, and demonstrating what it is truly capable of, is another great milestone in our own additive journey."
Source: 3D Printing Media Network