Addihive Provides Solutions to Issues Affecting Metallic Additive Manufacturing
Additive manufacturing, or 3D printing as it is more popularly known, has the potential to revolutionise current manufacturing practice. Complex devices with multiple moving parts can be made in a single process with no further assembly required. It also opens up the prospect of truly personalised manufacture of devices such as prosthetics, artificial heart valves and so on.
Despite this potential and clear advantages over traditional processes the rate of adoption of the technology has been slow, to say the least. "It's been a lot slower that expected," says Patrick Byrnes, research and development manager with Addihive, which is based in Co Limerick. "A lot of the equipment being supplied at the moment is more suited to an R&D setting than a manufacturing environment."
Addihive was established to address this issue by providing solutions to some of the constraints which have affected metallic additive manufacturing up until now.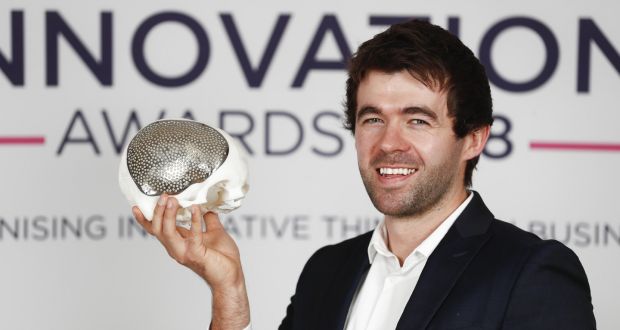 "Addihive enables serial additive manufacturing in highly-regulated aerospace and medical device industries through market leading innovative solutions," Byrnes adds. "Additive manufacturing or 3D printing in metals is disrupting these global market segments at an accelerating pace where new approaches and engineering challenges are presented for part quality, system validation and process control."
One of these challenges arises in the sphere of health and safety. "When you are moving metallic particles around at high velocity in a confined space it is like a grain silo and particles can ignite," he says.
There are also issues with material handling and wastage. The metals involved are very high value and even more losses can be very costly. Furthermore, with individual additive manufacturing machines costing up to €1 million each, efficiency is at a premium.
Addihive has created a technology solution known as Powderloop which sits on top of the manufacturing unit monitoring the process through all its stages, collecting metal particles for recycling and monitoring levels of oxygen, nitrogen and hydrogen in the system to ensure chemical integrity."Our mission is to streamline, complement and scale the additive process with our customer base through the implementation of proprietary technology and market-leading solutions," says Byrnes. "We have been in operation since January 2017 with a team of three engineers and, to date, we have developed a number of patent-pending innovations across pre- and post-processing platforms. We had seen a relatively strong push on the marketing and uptake in additive manufacturing equipment with multinational customers, but nobody seemed to cater for the pre- and post-process ecosystem and we created a number of innovations to exponentially improve environmental health and safety, overall equipment efficiency and process quality."
In short, the Powderloop technology makes the additive manufacturing process quicker, cheaper, cleaner and safer. "Our vision is to accelerate the uptake of additive manufacturing and disruptive technologies from SMEs right through to multinationals," Byrnes adds.
Source: The Irish Times