Why You Really Should "Attend" 3DHEALS2020 Live
3DHEALS2020 aims to serve as the biggest global networking and fundraising event focusing on healthcare 3D printing, 3D bioprinting, biofabrication, and related emerging technologies. It will gather influencers and audiences (virtual and live) from more than nine countries, providing insights and opportunities that will benefit a variety of stakeholders, ranging from early-adopters, entrepreneurs, corporate innovation initiatives, and investors. Since 2015, 3DHEALS has hosted more than eighty events with more than one hundred and twenty speakers all over the world, and more than forty online or offline startup pitches all over the world in the past four years. 3DHEALS2020 will be the world's largest event of similar nature and content in 2020.
3DHEALS2020 is designed to cater to a wide range of professionals, ranging from healthcare early adopter, manufacturers, engineers, legal professionals and policymakers, C-Level executives, entrepreneurs, investors, and more. 3DHEALS aims to create an effective program that maximizes the attendee's experiences and decreases the barriers in communication among stakeholders.
Since its inception in 2015, the group's activities have expanded from just San Francisco to 20+ cities all over the world based on popular demand. Collectively, the group has organized 80+ events, with 120+ speakers, and 30+ community managers all over the world.
Here are three but not all the reasons Why you should attend 3DHEALS2020:

 Reason One: Content Rules
3DHEALS2020 content represents the FUTURE of healthcare 3D printing and bioprinting ecosystem. 3DHEALS has created new video and podcast channels to bring the audience closer to our speakers. 3DHEALS cares about our speakers and attendees in a personal way that no other conferences, online or offline, can be comparable. Some of the notable panels include:
Biofabrication/Bioprinting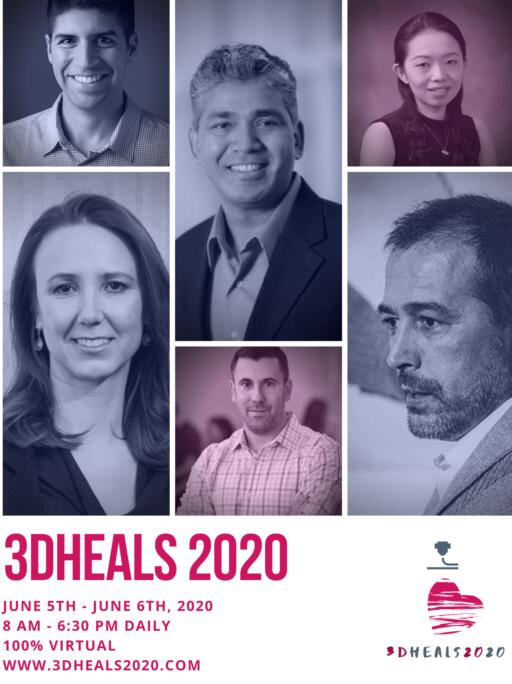 Thanks to the help of 3DHEALS 's bioprinting ambassador Dr. Mayasari Lim, these panels and workshops collect some of the brightest minds in the world of tissue engineering, biofabrication, and bioprinting. It includes the newest generation of startup founders. Names such as Stephanie Willerth, Adam Feinberg, Jordan Miller are already well-established and loved in the scientific communities, who just founded their own startups within the last 12 months. More established startup founders whose companies are also critical to the eventual success of biofabrication, tissue engineering, and cell therapy at large will also join us live, including Melanie Mathieu from Prellis Biologics, Jon Rawley from Roosterbio, John O'Reily from Xylyx, Taciana Pereira from Allevi, and Kevin Caldwell from Ossium Health. An added bonus is that Qrquidea Garcia ("Orchid") from JNJ Innovation will also join us on this panel, discussing how an industry leader can work with innovators and startups in this exciting burgeoning field.
Legal and Regulatory Concerns for Healthcare 3D Printing and Bioprinting
There is no doubt that legal and regulatory issues will be one of the most critical factors determining the success of future healthcare 3D printing and bioprinting products. However, 3D printing in healthcare is a super new field, and legal experts in this field who has established a track record and legitimacy are only a handful. This session will include the most comprehensive list of legal and regulatory concerns, including intellectual property/patent issues, product liability, FDA pathway, manufacturing standards, and more, specifically for healthcare 3D printing. The speakers are not just well-versed on how to interpret the law and policies, but also how to interact with policy makers, organizations, standard bodies at this early stage of an industry, with real-life examples.
Buzz words should carry more meaning and more weight. If you are not satisfied with superficial showcase style discussion of point of care using 3D printing intended to sell products and services, join this panel of international speakers to explore their past journeys, current challenges, and future ambitions in this candid conversation on when and how we can achieve the point of care using 3D printing. Care can be an anatomical model, implant, service solution, or prosthetics. Care delivery is different at UCSF, Stanford, Germany (Kumovis), India (Anatomiz3D), and developing countries.
Metal/Orthopedic 3D Printing
Metal 3D printing is dominating the current healthcare 3D printing industry and represents the largest group of FDA approved 3D printed medical devices. Metallurgy has a history as long as humanity, and 3D printing is adding a powerful new branch to our civilization. This expert filled panel includes both of our keynote speakers for 3DHEALS2020, including Sam Onukuri from JNJ, and Dr. Alan Dang from PrinterPrezz. Adding to this fun group are two well-known startup founders, Mike Cordonnier and Kuntay Aktas.
Do Chemists Rule the World?
I will let you answer that question yourself after joining this session.
The power of material science is often underestimated in healthcare 3D printing innovation and in our daily life. What roles do material manufacturers play in 3D printed medical devices? Who invests in startups? What are the latest trends in innovation? Join speakers from Henkel, Evonik, Origin, and 3Degrees for an in-depth discussion.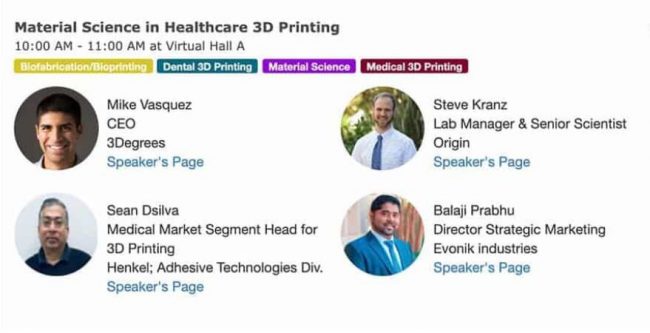 Will Software Eat the World?
Marc Andreessen famously coined the phrase "Software is Eating the World". Would you agree with that in the context of healthcare 3D printing and bioprinting?
Regardless of the debate, it is clear that software will play an instrumental role in advancement of digital manufacturing and 3D printing innovations. The key is How. The other key player is the designer using the software, what role do they play? Join this exciting panel on software and design for healthcare 3D printing.
Another important session focusing on software is Artificial Intelligence /Data Management in 3D Printing session, where Dr. Sang Joon Park from MEDICALIP will present ways to tackle one of the major barriers to entry in healthcare 3D printing: segmentation, using artificial intelligence and effective data management.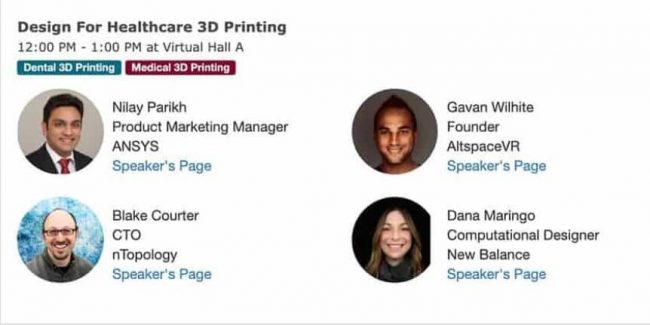 3D Printing World Report
I think if this pandemic has taught anything is that globalization has consequences. Being well-acquainted with global 3D printing innovation hubs and ecosystems is a requirement for success. 3DHEALS2020 is fortunate to have America Makes director John Wilczynski and NAMIC director Dr. Chaw Sing Ho along with experts from Turkey, India, and Taiwan to share how healthcare innovations can thrive in both local and global environment.
Dental 3D Printing
No healthcare 3D printing conference is complete without a good discussion on digital dentistry. Dental 3D printing is one of the fastest growing and democratizing field in healthcare 3D printing. Thanks to the dental ambassador Dr. Nabeel Cajee's help, 3DHeals is able to curate an unprecedented group of speakers from a combination of academia and industry, end users and manufacturers focusing critical issues facing the industry both short and long term.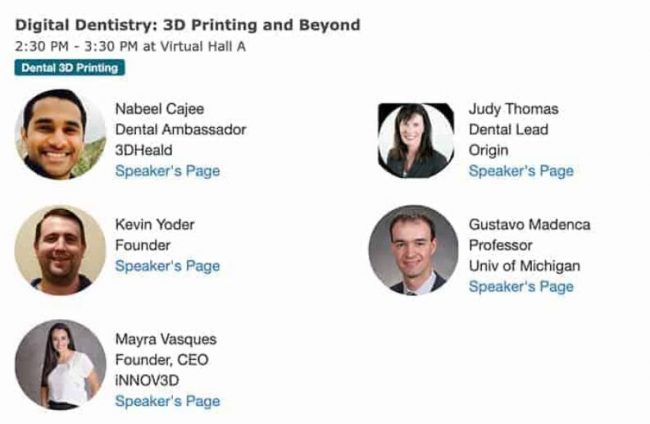 3D Printing in Space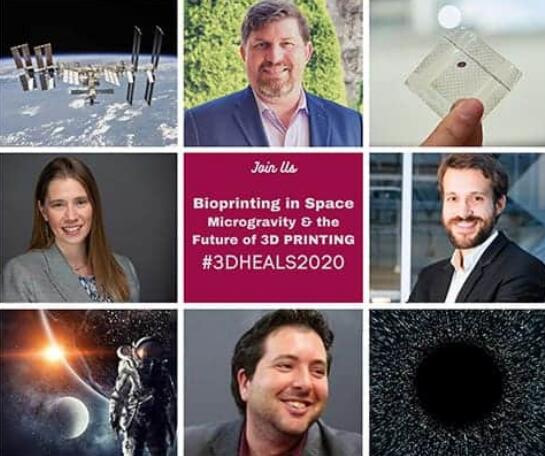 When Elon Musk revealed his ambitious plan for the Mars expedition, he asked, "why travel anywhere"? The true motivation behind the expedition is often beyond personal gain and curiosity. There is a deeper kind of driving force. It is the driving force that inspired our ancestors to invent tools and to discover fire millions of years ago. It is the driving force that enabled us to land the moon and to discovered nuclear power. We have this driving force because that is who we are, and that is what gives humanity meaning. It is a force that comes from our deepest desire to survive for as long and as much as possible as a species.
So why does 3D printing and bioprinting in space matter? For one, the world in microgravity is entirely different and result in a thought paradigm shift, says ISS/CASIS outreach manager Rachel Clemens. In particular, bioprinting and biofabrication using live cells show tremendous promise in microgravity. This world-class expert panel including speakers from NASA Vascular Tissue Challenge, ISS/CASIS, Techshot, and Allevi at 3DHEALS2020 will update us on where the science is, and what next immediate application will take off.

 Reason Two: Virtual 3DHEALS2020 is 100% live.
While in-person meeting has its magic that is hard to duplicate, 3DHEALS2020 aims to achieve similar if not better outcome for engagement, networking with speakers and conference attendees. The conference uses two well-tested tools: Zoom webinar and Whova event app.
Whova event app allows you to start a conversation with any speakers and other conference attendees as soon as you register and download the conference app. You can even organize your own virtual events with other conference attendees, post job opening, and share your photos with the conference attendees now, before the event. Think of any other events you have attended, this will be one of a few events where you have a much more extended period of time to get to know one another.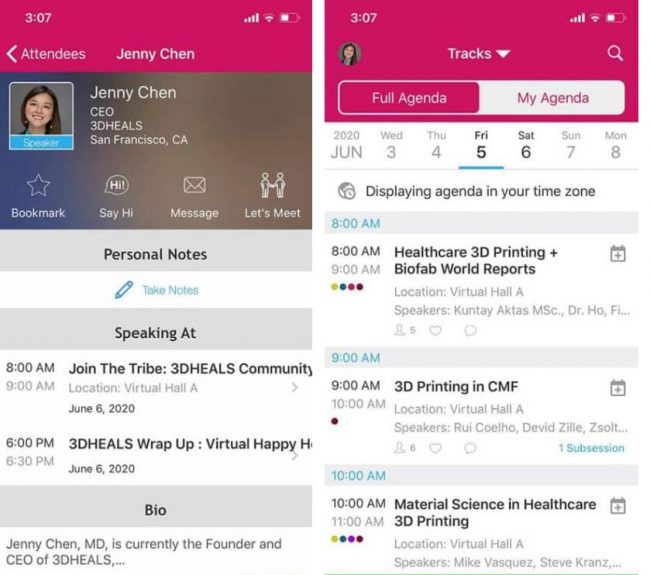 Reason Three: Pitch3D/Entrepreneurship Focus
Pandemic should not stop you from fundraising for your startups or from finding a co-founder.
Some of the most exciting aspects of working at 3DHEALS are discovering and meeting new startups, their founders, other innovators, new visions, adjacent technologies, and the investors behind them. However, changing the world is not easy, and fundraising remains as one of the biggest challenge founders will meet.
Since April 20th, 2018, 3DHEALS has hosted online and offline #Pitch3D regularly, introducing 30+ startups from all over the world to institutional investors who are interested in healthcare 3D printing, bioprinting, and adjacent fields including AI and cybersecurity (within 3D printing), 3D scanning, VR/AR, 3D Visualization, synthetic materials, and regenerative medicine. In other words, 3DHEALS focuses on technologies that will enable decentralized and personalized healthcare a reality in our lifespan.
Up to twenty startups will be accepted to pitch in front of institutional investors and the main 3DHEALS2020 audience on both June 5th and June 6th, 2020, daily. The virtual pitch is FREE to all selected startup founders.
In addition to an opportunity to pitch, 3DHEALS2020 has also created an investor panel where experienced venture capitalists share their perspectives on funding the emerging field, and a fireside chat sessions with CEOs and co-founders of Aspect Biosystems and Fluidform.
In a word, 3DHEALS2020 is likely the most startup-friendly, founder-friendly conference this year, online or offline.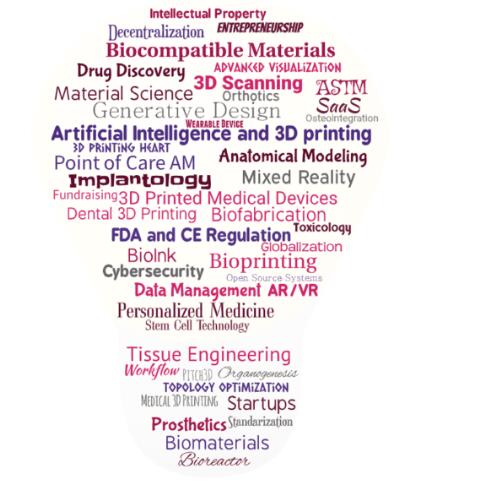 Source: 3DHEALS