Microlight3D Offers a New Kind of Microscale 3D Printing
For 15 years, Patrice Baldeck and Michel Bouriau led intense research and development at the Université Grenoble Alpes. They were working on a two-photon polymerization 3D printing process that would become the basis of Microlight3D, founded in 2016. The process would be the first-ever non-additive two-photon polymerization direct laser writing technology. Microlight3D's technology allows a laser to move freely in three dimensions, performing uninterrupted printing inside a polymer resist.
The benefits of the technology are many. It produces extremely high resolution and smooth surface finish comparable to injection molding. It also offers a great deal of design flexibility and eliminates the need for post-processing. It's a fast technology that produces robust parts in any shape – 100 times smaller than a strand of hair. These microscopic parts have a wide variety of applications, including in micro-optics, microfluidics, micro-robotics, metamaterials and cell biology.

Microlight3D is the only company to commercialize 3D microprinters that use sub-nanosecond lasers. Compared to femtosecond lasers, sub-nanosecond lasers have long, energetic pulses, which enable a more efficient polymerization process.
The process begins with a 3D model, like any other 3D printing process. Microlight3D algorithms calculate the path that the laser will follow in order to 3D print the object, and then the focused laser solidifies the specified locations, with sub-micron resolution, within a liquid material bath. The free movement of the laser allows the fabrication of the part without the layer-by-layer limitations of typical additive manufacturing. Once the print is complete, a solvent bath washes off the excess monomer.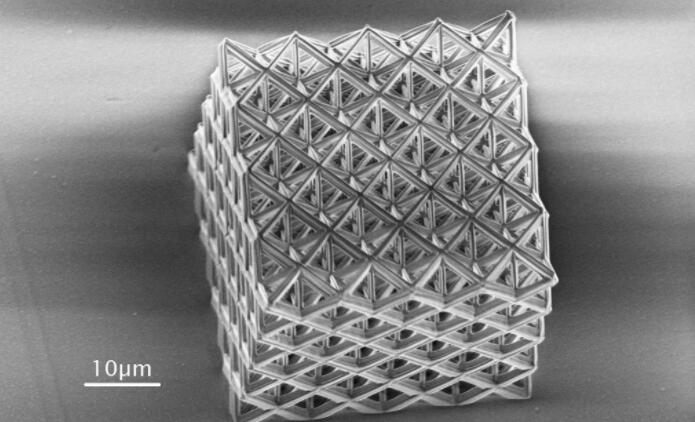 Microlight3D's open 3D microfabrication platform, μFAB-3D, is geared toward research applications such as surface structuration, metamaterials, microfluidics and scaffolds for cell culture. It's compatible with a wide range of materials, including biomaterials. It features a proprietary, intuitive software with customer-specific plug-ins, and can print objects up to 100 x 75 mm squared, on flat or non-flat substrates.
Once Baldeck and Bouriau decided to take their technology from the university to the commercial sector, things moved fast. Bouriau and Denis Barbier, formerly the CTO of Teem Photonics, led the transfer of the technology from the lab to the startup, which received support from SATT Linksium, a technology transfer acceleration network. The company then recruited Philippe Paliard, an applications engineer with end-user interface experience, and Gabriel Gonzalez, a software engineer. Within 18 months, Microlight3D's technology had evolved from a prototype to a high-performance product.
Microlight3D can customize its 3D printers to customers' needs, in terms of material, hardware and fabrication procedure plug-ins. The company's printers are available worldwide, and have already been sold in Europe, the United States, China, Singapore and Taiwan. Microlight3D holds multiple patents and has already won several awards, and it has many goals for the future. The company plans to introduce a new product in November of this year, as well as to evolve its technology further. It intends to achieve a faster writing speed which would enable larger micro objects, as well as to improve accuracy, volume, and surface smoothness and to widen the already large array of compatible materials. Software improvements are also in the works, to enable more complex designs and manage bigger files.
Microlight3D also plans to open a commercial subsidiary and hire commercial personnel in the United States. The company is based in France.
Source: RICK REA