First Us Surgeries Successfully Utilize 3D Printed Peek Spinal Implants
In a medical 3D printing breakthrough, the first US surgeries featuring a revolutionary spinal implant made from Evonik's VESTAKEEP® i4 3DF PEEK filament biomaterial were conducted earlier this month. Developed by Curiteva, a US-based technology firm, the implant has been approved by the US Food and Drug Administration and is the first-ever 3D printed, fully interconnected porous polyether ether ketone (PEEK) implant of its kind for commercial use.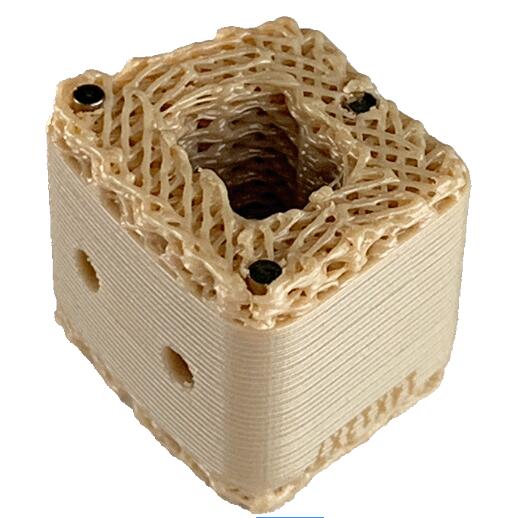 3D printed PEEK spinal implant. Photo via Curiteva
German chemical company Evonik first announced the i4 3DF PEEK material in 2018 and commercial availability began in 2020.
The groundbreaking surgeries took place in mid-April, utilizing the Inspire platform manufactured by Curiteva with Evonik's VESTAKEEP i4 3DF PEEK high-performance polymer. The proprietary, patented 3D printer responsible for creating the implant was also designed, programmed, and built by Curiteva, an US company founded in 2017.
Dr. Alex Vaccaro, President of Philadelphia-based Rothman Orthopedic Institute, lauded the development, stating that the lattice PEEK architecture enabled by Curiteva's 3D printing process represents a significant advancement in spine, orthopedics, and neurosurgical procedures involving biologic implants.
Similarly, Dr. Kevin Foley, Chairman of Semmes-Murphey Neurologic and Spine Institute and professor of neurosurgery, orthopedic surgery, and biomedical engineering at the University of Tennessee Health Science Center, praised the Inspire porous PEEK technology, highlighting its impressive interconnected porosity, modulus of elasticity equivalent to cancellous bone, strong biomechanical properties, radiolucency, and bioactive surface for osseointegration.

 PEEK 3D printing filament for surgical implant applications
Evonik's VESTAKEEP i4 3DF PEEK filament biomaterial, designed specifically for additive manufacturing processes, meets the stringent requirements of ASTM F2026, the standard for PEEK polymers approved for surgical implant applications. Marc Knebel, Head of Evonik's Medical Devices & Systems market segment, emphasized the filament's exceptional biocompatibility, biostability, and X-ray transparency, making it an ideal material for orthopedic and maxillofacial surgery.
As a leading manufacturer in high-performance polymers and additives for over 20 years, Evonik's products have been instrumental in 3D printing applications. The company also produces a testing-grade PEEK filament and other 3D printing materials for various demanding environments, including resins for photocuring and powders for sintering-based manufacturing processes.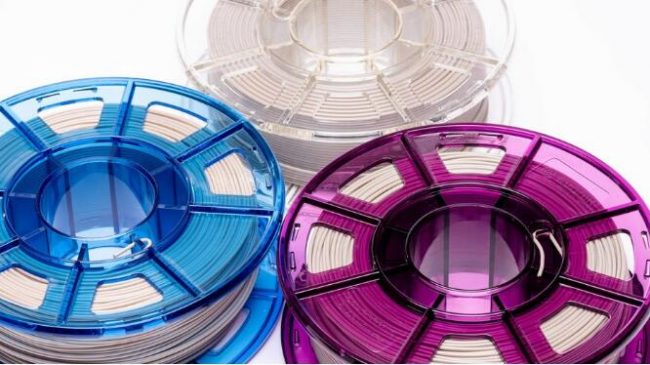 ESTAKEEP PEEK filaments for medical 3D printing applications. Photo via Evonik.

 Materials for medical applications of 3D printing
Elsewhere, Dutch PEEK 3D printing start-up Bond3D and medical implant developer Invibio Biomaterial Solutions are working together on next-generation spinal cages that facilitate better patient recovery. These spinal cages not only retain the healing benefits of their predecessors but also possess the necessary porosity to stimulate new bone formation. The cages are currently undergoing regulatory steps to gain FDA approval.
Bond3D specializes in the production of functional components from high-performance polymers for critical applications in medical, aerospace, energy, and automotive markets. Working with Invibio Biomaterial, Bond3D has developed highly-porous spinal cage 3D printing capabilities that enable the creation of fourth-generation implants with enhanced biomechanical and biocompatibility properties to aid bone regrowth. The companies are in the final stages of submitting an FDA application for one of these devices in partnership with a US-based spinal implant developer.
In addition to polymers, recent advances in the use of 3D printed ceramics for medical applications are advancing. Recently, 3D Printing Industry spoke to Johannes Homa, CEO of Lithoz, who emphasized the importance of uncompromised material quality in 3D printed ceramics. Also, in the interview Daniel Bomze, Director of Medical Solutions at Lithoz, discussed the company's development of bone replacement materials, such as Lithabone HA 480, which is chemically identical to human bones and offers excellent biocompatibility and osseoconductivity. As the 3D printed ceramic implant dissolves, it is replaced by the patient's natural bone material. Lithoz's medical ceramic applications include patient-specific cranial implants and bone replacement for critical size defects in long bones.
Source: 3D Printing Industry
For press release, welcome to send to 3D Science Valley at 2509957133@qq.com