Czinger Vehicles and Xtrac Collaborate to Introduce Industry First, Topology Optimized and 3D Printed Gearbox
Czinger Vehicles has introduced yet another world-first innovation, partnering with the global leader in Motorsport & High Performance Automotive (HPA) gearbox production, Xtrac, to pioneer the first topology-optimized and additively manufactured gearbox case. The production of the gearbox uses a unique printing process and proprietary aluminum alloy, resulting in significant mass savings, outstanding structural performance, production quality, and efficient printing times. Furthermore, this approach eliminates the need for tooling, achieving a substantial reduction in development time, and the ability to make real-time design improvements. The gearbox is an early example of the company applying this advanced technology to powertrain systems and further enables the 21C's industry leading performance.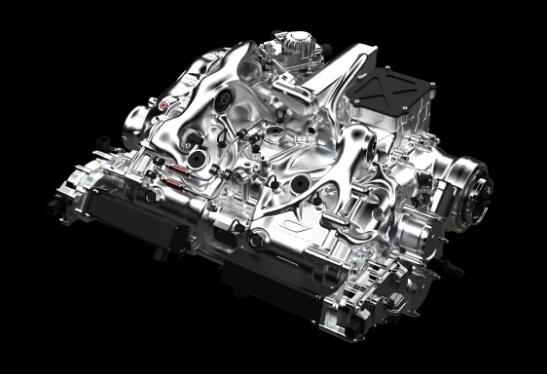 Xtrac maintains a longstanding legacy of excellence in gearbox manufacturing, designing and manufacturing top-line motorsport transmissions and differentials since 1984 and in those 30 plus years, over 1,200 unique gearbox designs have been produced. The brand consistently turns out top-line gearboxes used in top level professional motorsport globally. Partnering with Xtrac to engineer and develop the 21C's 3D-printed gearbox is a testament to Czinger's strong commitment to performance.
The cutting-edge gearbox boasts leading performance specifications:
Automated 7‑speed semi‑sequential gearbox.
First 48V‑electrically actuated twin barrel system resulting in the fastest automated single clutch synchromesh gearbox in existence.
Dual barrel gear actuation allows for seamless EV‑to‑Rear Drive blending for smooth city driving.
Sub‑100ms shifts combined with blending of front‑axle EV power allows for seamless shifts for high performance driving.
Highest torque transmitted per mass of gearcase for any road‑legal vehicle.
Says Czinger Co-Founder and SVP Operations Lukas Czinger, "We are proud to team Czinger's world-class engineers with those at Xtrac; together, we have developed an incredible, industry first, gearbox that is truly at the pinnacle of performance. We can't wait to shatter more track records as we utilize this system in the 21C"
"What our Xtrac engineers have accomplished in tandem with Czinger and Divergent is groundbreaking. Xtrac is pleased to be at the forefront of cutting-edge gearbox manufacturing by creating these 3D printed casings. It has been extremely interesting and very stimulating for our engineers working closely together to bring this cutting edge innovation to life," says Xtrac CEO Adrian Moore.
Source: Czinger 
For press release, welcome to send to 3D Science Valley at 2509957133@qq.com