Wilson Introduces First-Ever 3D Airless Prototype Basketball During 2023 AT&T Slam Dunk Contest at NBA All-Star
As the Official Basketball of the National Basketball Association (NBA), Wilson Sporting Goods Co. has once again proven to be one of the most innovative brands in sports – daring to do what no brand has done before. The 3D Airless Prototype Basketball was introduced Saturday night during the first round of the AT&T Slam Dunk Contest by Houston Rockets' player, KJ Martin.
"We are so proud to unveil Wilson's 3D Airless Prototype basketball as a physical manifestation of our continued commitment to sport innovation," said Kevin Murphy, General Manager, Team Sports at Wilson. "This is just one example of how our team approaches the game and why we are the number one basketball company in the world today.
The first-of-its-kind 3D printed ball is truly playable, nearly fitting the performance specifications of a regulation basketball, including its weight, size and rebound (bounce). The ball, however, does not need to be inflated because it is comprised of a black, see-through lattice with eight panel-like "lobes."
While the 3D Airless Prototype Basketball showcases the shared drive for innovation between Wilson and the NBA, there will be no changes made to the Wilson NBA official game ball, which will continue to be comprised of the same leather materials, eight-panel configuration, and performance specifications currently in use.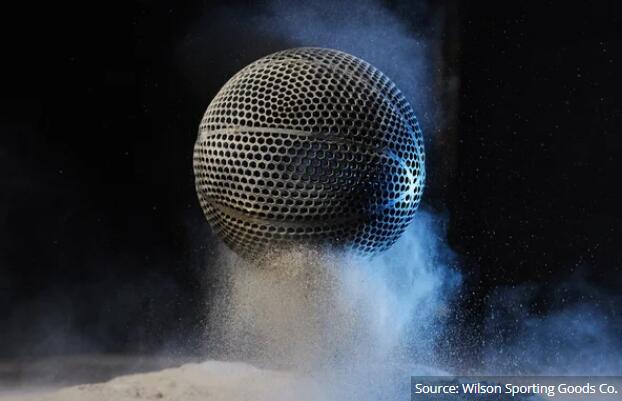 A world first: polymer 3D printed Wilson Airless Prototype
Source: Wilson Sporting Goods Co.
This is my first time participating in the NBA All-Star festivities, and to do so with Wilson, in such a memorable way on a big stage here in Utah is really special," said KJ Martin, Houston Rockets. "The game continues to evolve with each generation of players, and to have a brand partner continue to push the envelope through innovation is so important to the future of basketball.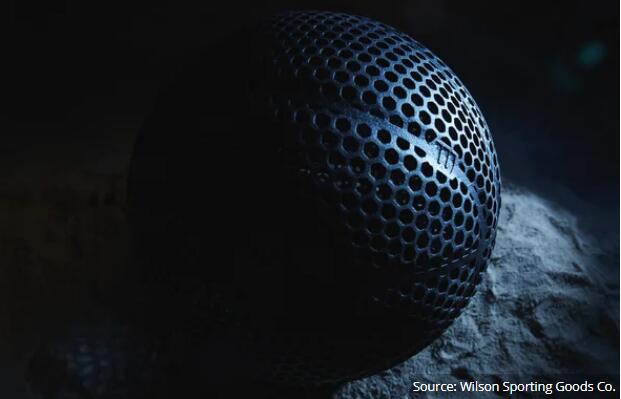 Finished 3D printed Wilson Airless Prototype | © Wilson Sporting Goods Co.
Source: Wilson Sporting Goods Co.
The Wilson Labs team created the design for the 3D Airless Prototype Basketball at the brand's Innovation Center in Chicago before bringing the design to life with key partners. General Lattice provided computational design services, DyeMansion provided color and finishing solutions, and EOS provided additive manufacturing from its technical center, which is powered by AT&T's high-speed fiber network.
Source: EOS
For press release, welcome to send to 3D Science Valley at 2509957133@qq.com