Smart Bike Helmet Integrates 3D Printed Nylon Shell and High-Tech App-Controlled Features
Berlin-based innovation studio nFrontier has premiered a new revolutionary new bike helmet prototype, PYLO, which combines the latest in digital, safety, design, and manufacturing technologies for the first time in bike helmet design. The helmet is designed with the needs of both urban commuters and athletes in mind, combining lightweight materials with a contemporary stylish design, and cutting-edge technologies. The 3D-printed nylon structure of the helmet shell is optimized to absorb deep impact at a much higher level than conventional mass-market polystyrene helmets. Altogether, PYLO integrates many industry-first features, including key automotive safety and driver assistance technologies, with an array of smart safety high-tech such as LIDAR radar sensors, 3D immersive sound, LED light indicators, a Face Shield Airbag, a Smart 360° Surround Safety System and a versatile 3D-knitted inlay. With these innovations, the proclaimed 'world's smartest bicycle helmet' is set to revolutionize bicycle riding, making it safer, smarter and more high-tech than ever before.
Images via of nFrontier

 INNOVATIVE HIGH-TECH SOLUTIONS REVOLUTIONIZE BIKE RIDING
Developed and designed by German studio nFrontier, PYLO is currently being reviewed for market entry. 'Our vision was to develop an exciting next generation helmet that will advance bicycle rider safety technology into the 21st century. We wanted to create a previously unseen experience — converging different technologies, features and materials into one helmet', explains nFrontier CEO Daniel Buening, who also conceptualized the helmet.
For the first time in bicycle helmet design, a 3D-knitted inner liner is incorporated as a layer between the head and the 3D-printed nylon structure of the robust helmet shell. This keeps the helmet in place, guarantees an optimal, custom fit, and offers a maximum level of comfort. Knitted with a double layer offering cotton on one side, and wool on the other, the liner can be worn on either side depending on the season to keep the contact surface cooler or warmer. For extra protection and better visibility in bad weather, the helmet is also equipped with a visor and integrated LED lights. Moreover, PYLO's most prominent feature is the world's first Face Shield Airbag designed for a bicycle helmet, blowing up from the rear to protect not only the skull but also the lower face from injury – something that has been previously overlooked in typical helmet design.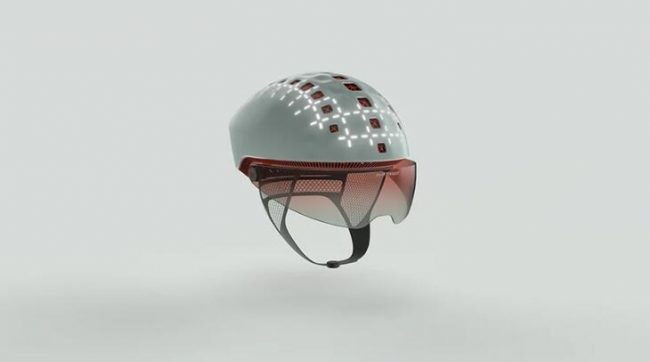 Perspective front view of the PYLO helmet. Images via of nFrontier

  A SAFER, SMARTER, MORE HIGH-TECH CYCLING EXPERIENCE
nFrontier also develops a 360° Surround Safety System with 3D immersive sound with LIDAR at its heart. This audio-based warning system provides higher levels of safety compared to visual- and AR-based systems, and alerts cyclists of the exact location and direction of dangerous dead-angle situations or approaching vehicles. Further enhancing safety in heavy urban traffic, the helmet also features LED head and rear lights and LED indicators, activated simply by double-tapping the left or right side of the helmet while riding the bike. Gyro sensors automatically detect riders' manoeuvres to turn on brake lights.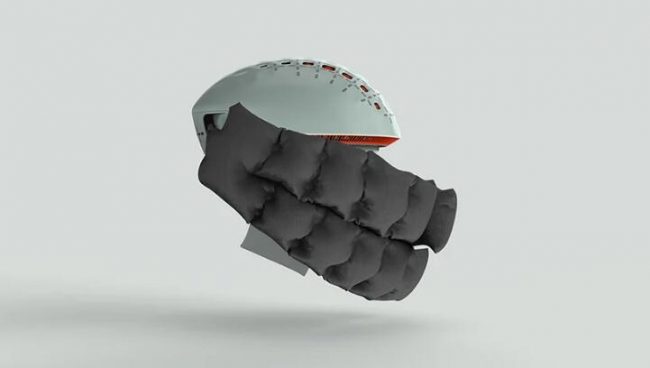 side view including expanded face shield airbag.Images via of nFrontier
All helmet features are controlled by the rider through an app, providing safety features like turning head lights on or off and connecting the wireless sound earphones. The 3D knitted inner liner also keep earphones safely in place which are connected to the active warning app alerting the cyclist of any incoming dangers.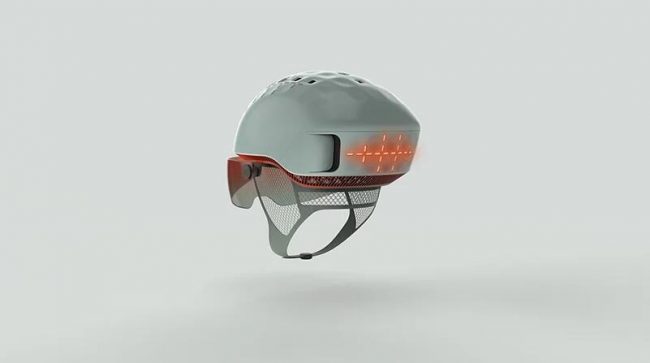 rear view with braking light on. Images via of nFrontier
In recent years, global bicycle markets have been surging, thanks to consumers' demand for sustainable mobility and physical exercise, as well as cities deciding to ban cars and make downtown areas greener. Bike popularity has accelerated dramatically during the Covid-19 pandemic due to anxiety over public transportation, firmly establishing the bike as an effective alternative both for last-mile connectivity and commuting. A growing product range including easy-to-handle, mid-priced bikes and hybrid, state-of-the-art (e-)bikes have accelerated this trend. However, with growing popularity, the number of accidents has climbed, too. "To enhance bike rider safety, we see the urgent need for a technology transfer from the automotive, electronic, and computer industries", says Daniel Buening. "Reducing the number of accidents is a key driver to bicycle utilization as a means for sustainable mobility."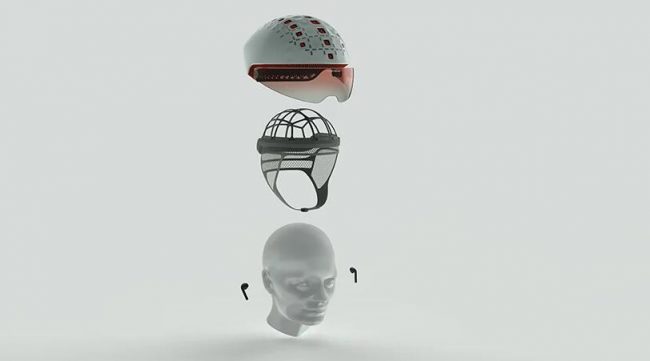 explosion diagram showing helmet shell, 3D knitted inner and ear plugs. Images via of nFrontier
Source: Desinboom
For press release, welcome to send to 3D Science Valley at 2509957133@qq.com