First Use of 3D-Printed Nuclear Fuel Debris Filters
Nuclear fuel debris filters manufactured by Westinghouse Electric Sweden AB using 3D printing technology have been installed at unit 2 of the Olkiluoto nuclear power plant in Finland and unit 3 of the Oskarshamn plant in Sweden.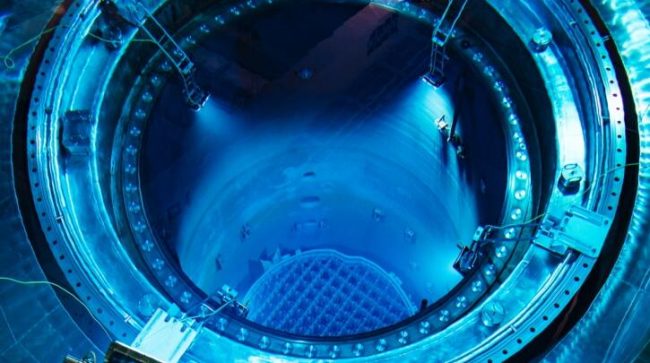 The Olkiluoto 2 reactor vessel (Image: TVO)
Westinghouse created the StrongHold AM filter in close cooperation with plant operators Teollisuuden Voima Oyj (TVO) and OKG AB. It said the filters are fully manufactured through 3D printing techniques and offer enhanced capture features to prevent debris from entering the fuel assembly and potentially damaging the cladding, which could cause unplanned and expensive outages.
Additive manufacturing – or 3D printing – simplifies the manufacturing process by building a three-dimensional object from a computer-aided design model, usually by successively adding material layer by layer.
"As the first 3D-printed fuel debris filter for insertion in a nuclear power plant, the StrongHold AM marks a major milestone in our effort to further improve the boiling water reactor (BWR) fuel reliability by leveraging advances in manufacturing technology," said Carina Önneby, Westinghouse Vice President EMEA Fuel Delivery.
During a recent refuelling outage at the Olkiluoto 2 BWR, two fuel assemblies equipped with 3D-printed filters for exclusion of foreign material were loaded in the reactor.
"We can boast playing a pioneering role, even globally, in the utilisation of this new technology at nuclear power plants," said Fuel Procurement Team Leader Arttu Knuutila from TVO. "We can now gain important practical experience in the use of 3D-printed metal products which will become an ever more important operational solution going forward. It is important to have a strong network of partners like Westinghouse who deploy additive manufacturing to drive enhanced capability."
Fuel debris filters were also installed at the Oskarshamn 3 BWR in Sweden.
"Fuel damages can force us to temporarily suspend operations, which affects security of supply and entails unnecessary costs," said Oskarshamn 3 Plant Manager Andreas Roos. "Reducing the risk of fuel damages is very positive for our business."
Source: Nuclear News
For press release, welcome to send to 3D Science Valley at 2509957133@qq.com