Limit Human Error and Speed up the Production with INTAMSYS 3D Printer
Ed Cooley is a professional photographer and a self-described problem-solver who's always thinking of new ideas to improve his camera gear. This eventually led to the purchase of his first 3D printer, a low-cost machine primarily geared towards hobbyists and makers. With it, he would do everything from designing custom brackets to creating new mounts, enclosures, and other everyday camera gear. While this opened Ed's eyes to what was possible with 3D printing, his printers were not cutting it when it came to making strong parts that could withstand daily use.
In addition to being a photographer himself, he started Steam Art & Graphics, a business printing photos, and art onto metal substrates for other photographers and artists. This business turned out to be very successful, growing by over 500% per year. While this was incredible, such rapid growth required his team to rethink their workflow. Knowing what 3D printing was capable of, Ed began looking for a better alternative. This is where the INTAMSYS 3D printer would come into play.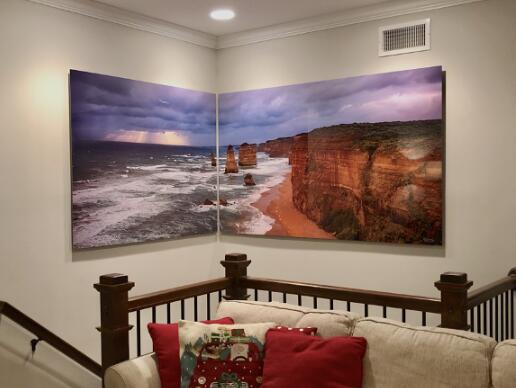 An example of metal prints

 The problem
Steam Art & Graphics had to incorporate automation into their processes to maintain their rapid growth. After inspecting their workflow, the team identified one specific task that could be greatly improved.
As they were dealing with custom-sized pieces, any time an order would come in, workers would need to essentially build a new frame saw from scratch. This process involved them getting out a ruler and getting precise measurements so that they would be able to accomplish the needed sized cuts. As this was a game of millimeters, human error would often come into play, and measurements often had mistakes. Because of the high cost of the substrate, every mistake would cost the company between $100 – $300, which added up fast since they were a rapidly growing startup. These frequent mistakes not only resulted in lost materials but also time, which tacked on even more costs to the problem.

 Solution
Steam Art & Graphics decided to automate the frame saw creation process by building a tool that would perfectly align and cut each individual piece. They turned to 3D printing and built several prototypes on multiple different printers but quickly realized they were creating subpar parts. While acceptable for prototyping, the parts didn't have the necessary strength or heat resistance required to hold up to actual daily use.
His team knew that in order for this process to work, they needed a printer that was capable of producing stronger parts. However, most printers capable of fulfilling their requirements had costs in the 6+ figure range, something that was out of their current budget. That's when they found INTAMSYS, which offered a 3D printer capable of producing strong parts at a fraction of the cost.

 Benifits of the INTAMSYS 3D printer
Ed contacted INTAMSYS, who provided him with a sample part using PEEK material, a high-performance thermoplastic filament known for its industrial strength. After the part came out perfectly, Ed's team went ahead and purchased the INTAMSYS FUNMAT PRO 410 3D printer.
Due to the printer's ease of use, Steam Art & Graphics was able to have the INTAMSYS FUNMAT PRO 410 up and running on their production floor quickly. In no time at all, they were able to have the frame cutting tool fully built and automated. The frame automation project used a combination of PETG, CF-PEI where stiffness and strength was a concern.
With the introduction of the INTAMSYS FUNMAT PRO 410 3D printer, Ed's company now required zero manual work to cut frames. Once their system receives an order, it sends instructions to the automated 3D printed frame saw, and it makes perfect cuts every single time. On top of getting rid of human error, the machine is also able to cut frames 30% faster than its human counterparts. The printer can also work longer hours than humans and is currently running nearly non-stop on the factory floor. Due to this, Steam Art & Graphics can finish orders that would normally take 3-5 days in 1-2 days. This results in them being able to save thousands of dollars while improving production output.

 Future plans
Incorporating the INTAMSYS FUNMAT PRO 410 3D printer into his company's workflow enabled the company to keep up with a 500% increase in demand while simultaneously lowering costs and improving efficiency. After seeing the success that the 3D printer had, Ed's company already has its sights set on finding new ways to further expand automation inside their factory. Their next project is to design and build a robot that would automatically cut boxes based on their respective project's dimensions. They plan to do all of this with the help of the INTAMSYS FUNMAT PRO 410 3D printer.
Source: INTAMSYS
For press release, welcome to send to 3D Science Valley at 2509957133@qq.com