Relativity, a company 3D printing entire rockets, raises $140 million from venture firms Bond, Tribe
Space start-up Relativity Space just raised the money it needs to transform the rocket supply chain in the U.S. with 3D printing.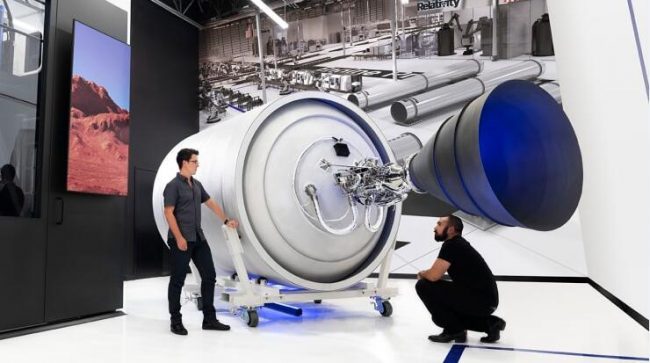 Relativity co-founders Tim Ellis (left) and Jordan Noone stand next to a 3D printed second stage of the company's Terran 1 rocket. Image Courtesy: Relativity
The four-year-old company in Los Angeles, Calif., said it has the funds it needs to reach orbit. Relativity announced on Tuesday it closed $140 million in new fundraising, led by Bond Capital – a fund whose partners include Mary Meeker – and recently-formed Tribe Capital. Meeker helped spin Bond out of Kleiner Perkins last year and the $1.3 billion fund's investment in Relativity is its first in the space industry.
"We were looking for the very top of the top in investors in the world," Relativity CEO Tim Ellis told CNBC, adding that Meeker has "built dozens of very iconic household names."
Relativity has now raised $185 million since its founding. In addition to Meeker, the company's latest fundraising also attracted investments from former Tiger Global partner Lee Fixel, Creative Arts Agency founder Michael Ovitz, Zillow co-founder Spencer Rascoff, Republic Labs, and Jared Leto.
"While these investors may not come from the space industry, they're extremely savvy about business," Ellis said.
Leto's appearance on the company's cap table may seem surprising, until one notes the actor's portfolio of technology investments.
"He's got a ridiculous tech portfolio: AirBnB, Uber, Spotify, Stripe and more," Ellis said of Leto. "And, obviously he's head of the band, '30 Seconds to Mars,' so there's some connection there to our long-term business."
Relativity's board of directors has grown to five, with Bond's Noah Knauf now joining Ellis, Relativity co-founder Jordan Noone, Social Capital's Jay Zaveri and Playground Global's Jory Bell.
While Relativity had a valuation of about $100 million before this round of fundraising, Ellis declined to comment on the company's new valuation.
"It's clearly a large step up," Ellis said.
Relativity aims to build entire rockets using 3D printing. With the rise of new competitors such as SpaceX, the rocket building industry has undergone a decade of transformation as cost-cutting became a central focus. But with a factory of its Stargate printers and its $10 million Terran 1 rocket, Relativity is working to build rockets in weeks – rather than years. According to Ellis, it takes companies between 24 months to 36 months to build available rockets.
"Because you have to order the materials and then there is a long lead time in the supply chain, that has hundreds of thousands of suppliers," Ellis.
By comparison, Ellis says Relativity's factory of 3D printers will have very little in the way of a supply chain or traditional rocket manufacturing techniques.
"We'll build rockets in 60 days and 60 days later we can build a better version," Ellis, adding that it would create "a hyper-evolvable development cycle."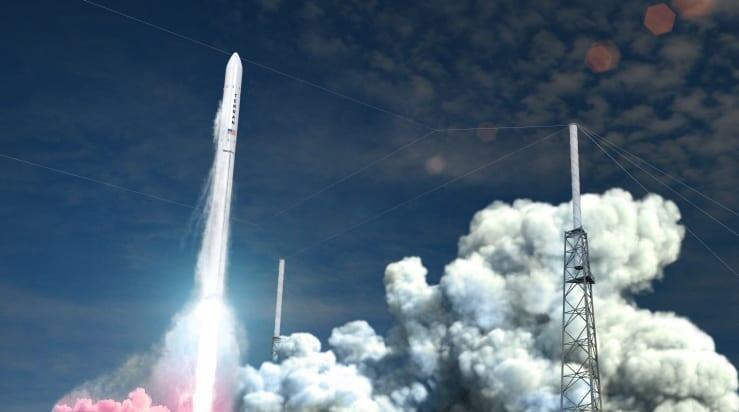 A computer rendering shows Relativity Space's rocket Terran launching from Cape Canaveral's LC-16 launchpad. Image Courtesy: Relativity Space
Relativity is also upgrading the design of its payload fairing, the rocket's nosecone that protects a spacecraft or satellite during the intense launch process. Terran 1's fairing will now be 3 meters in diameter – that's a little over half the size of the fairing on SpaceX's Falcon 9 rocket and about three times the size of small rocket builder Rocket Lab's Electron rocket fairing.
"Now the first orbital test launch, instead of December 2020, is early 2021," Ellis said.
Delaying the first Terran 1 launch was worth it in his opinion because of the added capability and the many more sizes of spacecraft Relativity will be able to launch.
Relativity has a growing manifest of launches, with contracts to launch spacecraft for Telesat, mu Space, Spaceflight Industries and Momentus – four companies launching a variety of satellites.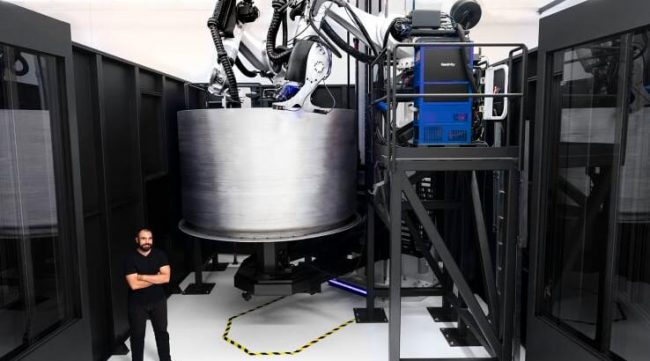 Relativity co-founder and CTO Jordan Noone stands next to one of the company's Stargate 3D printers. Image Courtesy: Relativity
Relativity also has a new stable of Stargate 3D printers, a process which is also known as additive manufacturing.
"We have several of them now up and operational," Ellis said.
The second iteration of Relativity's Stargate line will allow the company to print pieces twice as tall as its previous printers. Ellis says this will mean Relativity can develop and update its rockets much faster than traditional manufacturing methods.
"It allows us to iterate extremely quickly," Ellis said.
Already, Relativity has printed pieces of its Terran 1 rocket's first stage, the largest portion of the rocket. The company has built a complete second stage, the upper part of the rocket, and Ellis said Relativity is in the process of printing a complete first stage now.
"It's actually a really different architecture," Ellis said of the new Stargate printers.
"The build platform is on a robotic lift, so it moves up and down now and lets us print taller. This architecture is more scalable, so it lets us print faster with higher quality," Ellis added.
In addition to the new printers, Relativity also passed a recent milestone in the development of its rocket engine Aeon 1. The company printed and tested a turbo pump for the rocket, which Ellis explains is "one of the hardest parts to develop and test with 3D printing."
"The turbo pump is one of the few moving parts inside a rocket," Ellis said. "It needs to be a very, very precise part."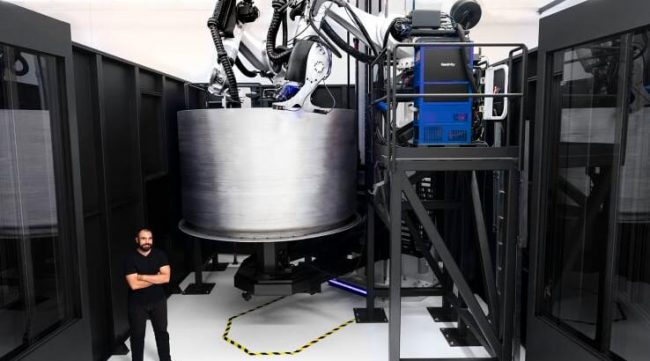 Relativity co-founder and CEO Tim Ellis stands next to a 3D printed part of the company's Terran 1 rocket, with two of the Stargate printers visible in the foreground.Image Courtesy: Relativity
Relativity has an agreement in place with the U.S. Air Force to launch from Cape Canaveral's Launch Complex 16 (or LC-16), where Ellis says the first few launches will happen.
"We're also working on securing a west coast launch site by the end of this year," Ellis said, although he declined to say which locations they were considering.
Relativity's footprint has grown rapidly since it secured its previous round of funding in March 2018. The company had about 10,000 square feet of space leased then. Today, Relativity has 280,000 square feet and Ellis said the company is on track to have nearly half a million square feet of total infrastructure by the end of 2019.
"We're working on a new LA. factory that will be even taller" than the company's current building, Ellis said. 'We're confident that [we'll secure a new headquarters] this year."
In addition to Los Angeles and Cape Canaveral, the company also has a 20-year lease at NASA's Stennis Space Center in Mississippi to test fire its rocket engines. With access to four robust testing chambers, Stennis rounds out Relativity's rocket development.
Printing rockets on Mars
While Relativity is building its own rockets, part of the company's vision involves getting its 3D printers off the Earth.
"The last thing is keeping the long term goal of 3D printing on Mars," Ellis said.
Relativity wants to eventually load its Stargate printers onto much larger rockets that are bound for the Red Planet. Once there, the printers would be able to build Relativity's rockets.
"A lot of our inspiration was that there needs to be different companies working on different parts of getting to Mars," Ellis said.
While SpaceX's Elon Musk is vocally pursuing a rocket capable of sending people to Mars and building a colony, Ellis mentioned the massive rocket Blue Origin is building, the space company of Jeff Bezos. Known as New Glenn, the Blue Origin rocket is under development and is scheduled to be ready for launches in 2021.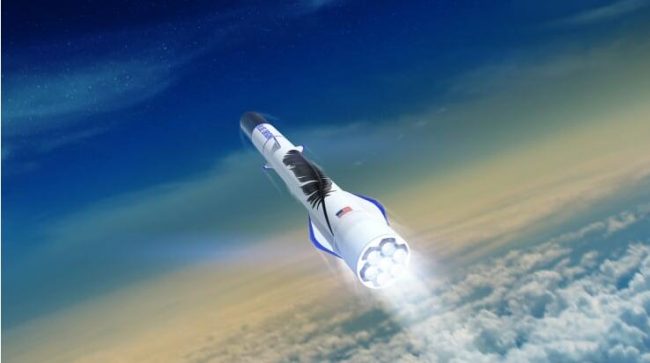 Artist rendering of Blue Origin's New Glenn rocket.Image Courtesy: Blue Origin
"We'd be one of the biggest New Glenn customers of the future," Ellis said.
Asked whether Relativity has any agreements in place with Blue Origin, he added that his company had not begun formally negotiating with Bezos' venture.
"I think they're generally aware, although we haven't spoken to them specifically on that yet," Ellis said.
Source: CNBC