Metal AM in Motion: How Velo3D is Reimagining High Pressure Tanks
When looking at the landscape of manufacturing methods, there are clear overarching reasons to choose one over another.
Taking this broad survey of different industries and manufacturing methods, however, it can obscure the small success stories that define specific applications of production technologies. By exploring core parts, and how emerging manufacturing methods like advanced metal AM can disrupt and revolutionize their production, it offers a window into broader capabilities and features of these unique manufacturing techniques. So, which is the best technology for you to use for your part? The truth is, it depends.
In this article we'll examine one specific part: high pressure tanks. Seemingly simple, they are more difficult to produce than one might expect. As a critical section of any advanced space vehicle, these tanks must meet exacting standards required for space flight. Fortunately, they can be quickly, accurately, and flawlessly manufactured using Velo3D's advanced metal AM solution.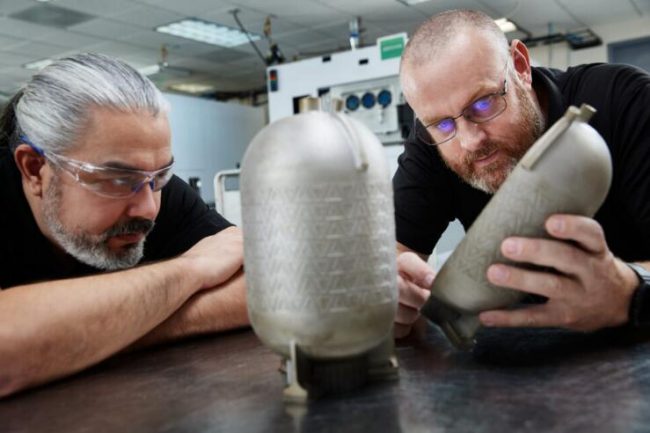 Image via Velo3D

 What Are High Pressure Tanks?
Metal pressure vessels are essential in a number of applications. They're used to house liquid and gasses at a higher pressure than the external environment. For industries like space, for example, these high pressure tanks can be fuel housings on high-value assets like satellites or rockets. And, as with everything in space applications, fuel tanks need to be optimized for size and weight without sacrificing strength.

 What Are Challenges to Producing High Pressure Tanks?
In rockets and satellites, high pressure tanks need to fit into tight design parameters, and are often adjusted based on external design decisions. Because of tight packaging requirements on spacecraft, if one design element is changed, that typically means other components need to go through additional design iterations to meet space requirements.
Unfortunately, these domino-like adjustments are a complicated process when dealing with components comprised of a dozen or more discrete parts. Older, more manual design processes can hit roadblocks with a lack of flexibility in adapting these designs efficiently.
On the build side, high pressure tanks need to be optimized for size and weight while remaining strong enough to handle extreme environmental conditions. Traditionally manufactured through brazing, welding, or bolting cast or machined components together, fuel tank construction is often a manual and lengthy process. In addition, because of the nature of the product, every weld, mating surface, and connection point is also a potential site for leakage. On high-value assets like rockets, there is no room for error.
Conventional additive manufacturing seems like a safer alternative compared to more traditional production methods to quickly produce the geometries required for advanced fuel tank design. For surfaces at angles below 45 degrees to the build plate, however, conventional printers often require support structures. For pressure vessels, these supports are often difficult or even impossible to remove. Furthermore, once removed, the surface finish of the supported area is often rough and may contain valleys or peaks that can reduce performance during fatigue testing.
Thin walls and high aspect ratios are features common in pressure vessels. However, depending upon the geometry, these features may be risky to print. Conventional printers use contact-based recoaters to add a new layer of metal powder to the build chamber. By design, conventional recoaters contact the part during every recoat, and thinner parts are often susceptible to undesired deformation or movement from recoater contact. This unintended part movement leads to dimensional inaccuracy or print failure.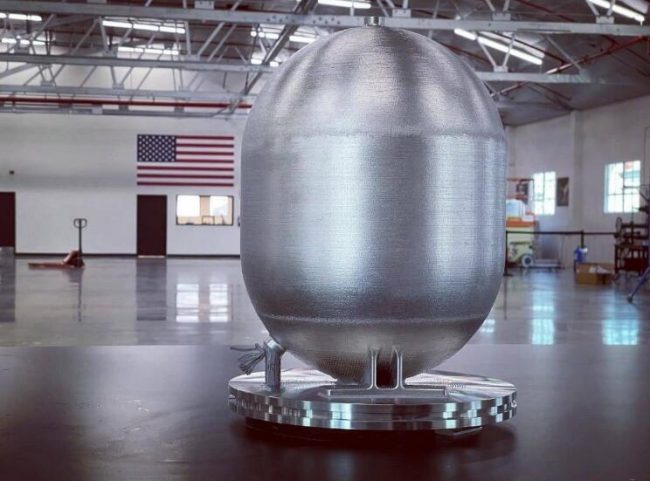 Launcher's Orbiter Propellant Tank Printed with Inconel Using Their First Velo3D Sapphire® Printer

 How Advanced Metal AM Transforms High Pressure Tanks in Design and Build
While traditional manufacturing methods and conventional metal AM systems struggle with these tanks in different ways, the innovations on display in an end-to-end advanced metal AM system reimagines how these core parts are both designed and produced.
On the design front, advanced metal AM excels in part consolidation. By printing the entire fuel tank, complete with internal plumbing, bracket fixtures, and iso-grids, engineers can reduce part count from a dozen parts down to a single component. This consolidation has a twofold effect: first off, the tank retains its complexity while minimizing weight, and secondly, if the design needs to be adapted or scaled based on packing requirements, it can be executed in a single step rather than an entire redesign process.
Even the most powerful design software is nothing without the right manufacturing technology. Velo3D's end-to-end solution is the most advanced metal additive manufacturing platform available. It enables engineers to print the geometries that they need with high-quality surface finishes. Internal channels and flow paths for fluids as well as large cavities like those found in pressure vessels can all be printed as a single monocoque design. And with ~1,000 sensors generating a TB of data per build, each laser event in every part is tracked and verified for quality. This ensures that even the most complex designs are printed without compromise.
By executing high pressure tank manufacturing through a single end-to-end advanced metal AM system, teams are able to drastically cut lead times endemic to legacy parts production methods. Instead of taking months for a part to pass through multiple contract manufacturers or putting a tank requiring extensive post-processing—engineers can have a finished part in a matter of days.
Through advanced end-to-end metal AM, industries from energy to space and beyond are able to reimagine how their high pressure tanks are designed and executed.
Source: Velo3D
For press release, welcome to send to 3D Science Valley at 2509957133@qq.com