GE Aviation Invests in Five M Line Systems
GE Aviation is acquiring five GE Additive Concept Laser M Line systems. The first four M Line systems will be installed at GE Aviation's Additive Technology Center (ATC) in West Chester, Ohio, during 2022. A fifth M Line system will be installed at Avio Aero's Turin site in Italy to support serial production of additive components for the GE Catalyst turboprop engine during 2022.

 Customer-Centric Innovation
Throughout the M Line's three-year maturation phase, GE Additive teams have worked collaboratively with GE Aviation and a small cohort of other aerospace and medical sector customers who are already in serial additive production to rigorously beta test the M Line system.
Always with a focus on delivering the highest specification, this phase has resulted in more than 300 design improvements with additional safety and software features incorporated into the system, as customers' needs and requirements have changed in response to the more rigorous demands of customers aiming to move into additive serial production.
Continuous improvement and input from GE Aviation informed the most critical and fundamental change to the system – an increase to the build envelope by 54% to 500mm x 500mm x 400mm – to enable GE Aviation's progression to the serial production of larger additive parts.
Over the past 18 months, attention has shifted to materials development for aerospace applications with some of the highest requirements in the industry for part quality in terms of material properties, as well as build-to-build and machine-to-machine stability.
GE Additive and GE Aviation ATC teams have partnered to accelerate locking down the materials parameters for aluminum, cobalt chrome and nickel alloy 718.
"The time and work we have collectively invested with our GE Additive colleagues to define, shape and then iron out the specification and functionality of the M Line means we now have a scalable solution that can build large components in a high-volume production environment, while meeting our cost entitlement goals," said Chris Philp, site leader for GE Aviation's ATC.

 The Future of High-Rate Additive Production
Once installed at the GE Aviation ATC, two M Line systems will be dedicated to aluminum alloy, and one each of the two other systems to cobalt chrome and nickel alloy 718, adding additional manufacturing capacity to GE Aviation's existing additive infrastructure in its state-of-the-art development facility.
"Our goal is to realize the aviation additive industry's first automation-ready production environment," said Benito Trevino, general manager – additive integrated product team at GE Aviation. "Once installed, we envisage that our multi-machine approach, with the M Line platform at the heart of production, will help us reduce our lead and print times by over 50%."
"At GE Aviation, we are continually developing more additive content for new engines, and the size and complexity of the parts increases with every generation of products developed," said Chris Philp. "With the M Line, we get the full capability we need to develop intricate additive geometries on large structural components."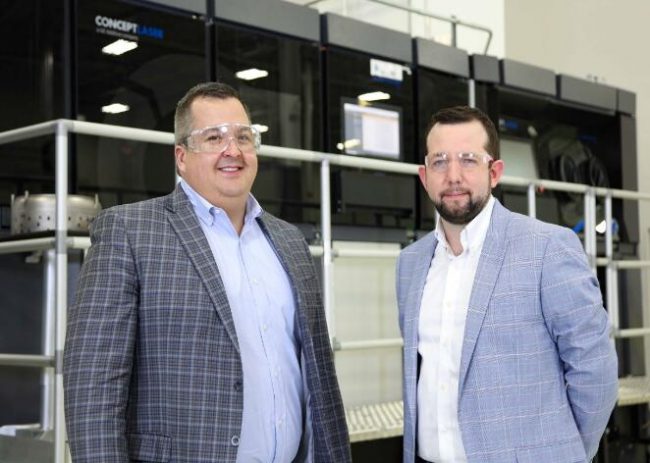 (L-R: Benito Trevino, general manager – additive integrated product team, GE Aviation and Chris Philp, ATC site leader, GE Aviation)

 Delivering quality parts, at cost, at scale
The M Line is a highly advanced, industrialized production system that is suited to experienced metal additive users who have started to scale production volumes. Its stitching capability enables customers with large part size demand to increase productivity and reduce cost for additive production.
The M Line offers a new type of machine architecture that delivers an exceptional level of modularity, innovation and automation (automation future release) and enables economical series production on an industrial scale. The system delivers this by decoupling the machine units used for part production and for set-up and dismantling processes. These tasks can now be carried out in parallel and physically separated from one another meeting high environmental, health and safety standards. Machine down time due to maintenance processes, such as supplying or exhausting metal powder, is reduced to a minimum, delivering considerable time and cost savings for users in serial production.
The M Line's flexible architecture also reduces costs as production grows. Users have the ability to independently add Laser Process Stations (LPS) or Material Handling Stations (MHS) based on capacity needs. Users can also experience significant cost benefits as numerous LPS units can be served by a single MHS, which substantiates serial part production volumes and lowers footprint and investment.
Leveraging GE Additive's extensive materials and parameters portfolio enables existing customer to lower development costs for customers by transferring machine parameters from the Concept Laser M2 Series 5 to the M Line with minimal engineering effort.
"By fully embracing the versatility of Lean and the spirit of continuous improvement, we have evolved the M Line over recent years to be ready for real-world, serial additive production. Our focus is on offering industrial solutions that deliver quality parts, at cost and at scale," said Jan Siebert, general manager – machines & equipment at GE Additive.
Source: GE
For press release, welcome to send to 3D Science Valley at 2509957133@qq.com