Arris Composites, Airbus Collaborate on Composites Research for Lightweighting Cabin Brackets
Advanced manufacturer Arris Composites (Berkeley, Calif., U.S.) reveals a research project with Airbus (Toulouse, France) which focuses on the production of cabin brackets. This project aims to demonstrate significant reductions in aviation emissions by leveraging innovative manufacturing methods and materials, including composites.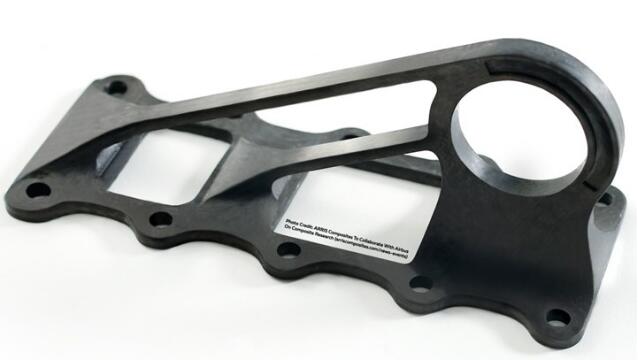 Composite bracket. Photo Credit: Arris Composites, Airbus
According to Arris, replacing a metal bracket (220 grams) with a topology-optimized, 3D-aligned continuous fiber composite part (50 gram), achieves more than 75% in weight savings; this also translates into highly optimized fuel savings, since hundreds of these brackets are part of a single aircraft. For example, 100 aircraft manufactured in a year with 500 brackets each add up to 50,000 lighter weight brackets that contribute to a lifetime fuel savings of 113 million metric tons and a reduction of 357 million metric tons in CO2 emissions (weight reduction effect on fuel savings and a conversion factor of fuel to CO2 emissions; see the International Council on Clean Transportation's analysis report on commercial aviation).
"Airbus is on a path toward cleaner, more sustainable air travel within our lifetime, and it takes exploring disruptive ideas with a substantial impact and practical application to make that change," says Bastian Schäfer, innovation manager at Airbus. "The way we design and manufacture airplanes is changing because of emerging technology companies like Arris who share and enable our vision of better air travel. We've known that biomimicry, topology optimization and advanced composites are the future, and Arris is helping us bring together these design and material ideals to manufacture the future of flight today."
Further, Arris Composites notes, its Additive Molding technology, using a combination of additive manufacturing (AM) and high-speed compression molding processes, will have a large impact on replacement parts and future aircraft structures, proving that reducing carbon emissions is possible. Airbus itself is committed to exploring technology pathways like this to support its vision of more sustainable air travel for future generations.
Source: Composites World
For press release, welcome to send to 3D Science Valley at 2509957133@qq.com