Building Electric Hypercars with Additive Manufacturing
Led by Arash Farboud, founder and lead designer, Arash Motor Company predominantly makes boutique, lightweight, high power, and beautiful sports cars in low volume. Mr Farboud's cars are designed to provide each owner with a unique and exhilarating journey down the open road. The company offers several models, including the AF8 Cassini sports car and AF10 electric-petrol hybrid.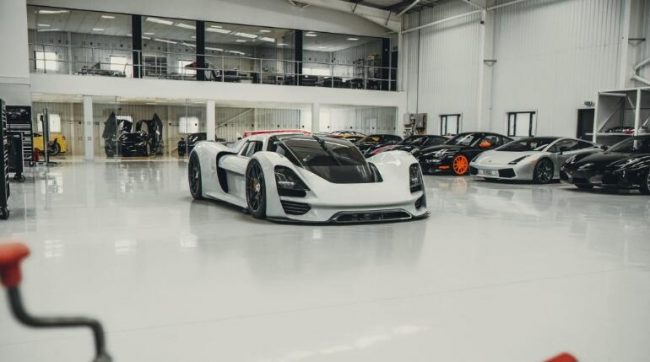 As a long-time MakerBot user, Mr Farboud has been using 3D printing in his design and development process for years. His production facility currently includes the MakerBot Replicator 2, Replicator Z18, and Method X, all of which are continuously used throughout the company's projects. 3D printing allows the team to try out its suggestions on improving performance – from the composite structures, engines and electric motors to the aerodynamics.
For the company's latest electric hypercar project, Mr Farboud and his team utilised all three MakerBot 3D printers for a range of applications providing the flexibility and speed needed for production. Built with ultimate performance in mind, the new hypercar comes equipped with a carbon motor cartridge, multiple electric motors, an advanced battery pack, and a sleek aerodynamic design.

 Engineering the future
Starting with a full-scale model produced using the Replicator 2, the team then began to design the complex chassis and aerodynamic structure using the Replicator Z18. This included new techniques like suspension and wing design, wishbone suspension checks, hub and centre lock fitments, and scale models to show structural parts.
Using a range of materials on the MakerBot Method X, including MakerBot Nylon Carbon Fibre and ABS, the team 3D-printed production parts to be used directly on the vehicle. The Method X produced components in real form, allowing the team to use the parts for stress tests, brackets, gears and other components for the car.
In terms of the product, the MakerBot Method X offers industrial-grade 3D printing in a more accessible size and cost compared to traditional industrial 3D printers. Because the Method X can essentially fit on a desktop or table (coming in at 64.9cm (H) x 43.7cm (L) x 41.3cm (W and weighing 29.5kg), engineers have direct and immediate access to their printed parts – really underscoring the 'rapid' part of rapid prototyping.
The combination of Method X's circulating heated chamber, dual performance extruders, dry-sealed material bays, and rigid steel frame allows the printer to deliver consistently higher dimensional accuracy and better layer adhesion and part strength.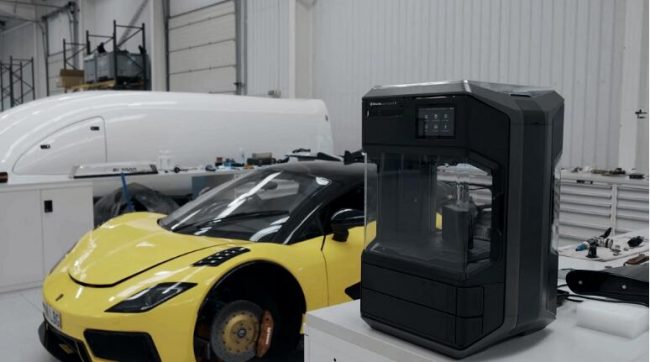 The printer's open materials platform and modular extruder system also allow users to experiment with a range of polymer, composite, and metal 3D printing materials, such as ABS, nylon carbon fibre, ABS Kevlar, and 316L stainless steel. This allows customers to test out different materials for different applications, including functional prototyping, tooling and manufacturing aids, and end-use part production.

 Deskilling and upskilling
The hypercar comprises a number of complex pieces such as the rear and lower rear wing so the team had to figure out an alternative to machining aluminium in order to reduce weight. To achieve that objective, it used 3D printed nylon carbon parts instead.
"We're using a lot of bracketry and fastening and fixing points around the car in 3D-printed nylon carbon fibre and are also using a lot of interior structures in ABS and nylon carbon fibre because it's quicker and easier to make," Arash Farboud comments.
"The goal is to get over 95% of the car manufactured in a composite material and reduce the complexity of manufacturing via 3D printing. We're only focusing on the parts that really matter in composite manufacturing – chassis, body panels, some interior structures. Essentially, we're deskilling some processes and upskilling others to maintain quality standards."
Previously, the team outsourced parts to be machined locally or overseas, which was costly and time-consuming. Now, the CAD model is sent directly to the Method X to make a part, check it, and test it.
"3D printing in-house also means we can get things done quickly and at the lowest cost possible – which means we're able to experiment without fear of escalating costs," Mr Farboud adds. "At the end of the day, the only outlay is our time and filament."
With three designs from sketch to scale modelling, to CAD modelling to fixtures, servicing, and interiors, the team was able to shorten its timeline, which can be from 12 months to several years. From that point on, it was able to create a couple of prototype and test vehicles – and then move towards full production.
"The MakerBot 3D printer series reduces the time from a file on the computer screen to prototyping and checking for touch and feel. That's a big thing. Sometimes you miss a hole or a fixture, but you can catch that on a CAD model. Then, after it's printed, you can physically check it," Mr Farboud says.
The team uses nylon 12 carbon fibre for structural parts and anything that is put under tension. In addition, due to their strong thermal properties, both ABS and carbon fibre are frequently used as part of other machined carbon fibre structures, which would need to be cured at 90°C.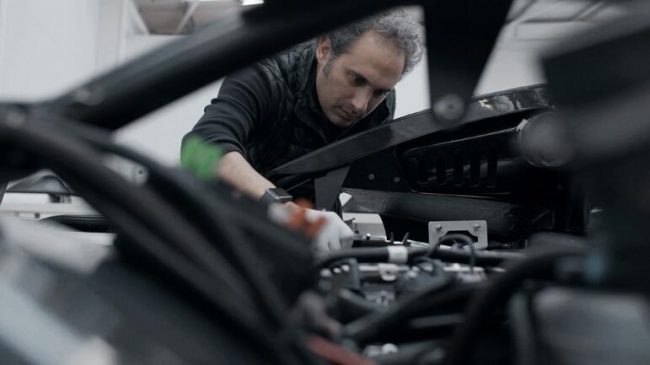 Arash also uses MakerBot Tough – a material that is ideal for mid-stage prototypes because of its ease of use – for the majority of the work, which has medium requirements for performance in terms of structural stability and pressure management. The team plans to experiment with more Method materials.
"The Method X has a built-in advantage of having a heated chamber which is critical for us as it allows for dimensional accuracy," Mr Farboud explains. "As the part is being made the base doesn't move and there is no warping which is essential for high accuracy 3D printing."

 Hyper-accelerating production
Previously, Mr Farboud and his team would go through the time-consuming and cumbersome process of prototyping with aluminium which involved fabricating, bending, welding and shaping,
"This takes a long time and requires highly skilled people – and now that skill is challenging to find and is becoming even more expensive. With 3D printing, the steps toward making trial parts have become easier with the focus now on getting the CAD design right. After that, you just press go play and the part gets made."
The team uses MakerBot CloudPrint to slice, manage, preview, queue and monitor prints which allows the designers to view the status of the prints on any of the printers.
Mr Farboud and the team at Arash plan to continue using Method X to create more production parts: "Most people think that 3D printing filaments are not strong enough, or that 3D printing is only used for models or prototypes. But that's absolutely not the case. We're actually using these parts on our cars."
In the UK, MakerBot technology is sold and supported by Daemon 3D Print.
For press release, welcome to send to 3D Science Valley at 2509957133@qq.com